Nilesh Joshi- The Corporate Professional Who Gave Wings To His Writing Passion
Maintaining professional life and passion with perfection is something  very few can do. This time I am  glad to interact with one such author who is a passionate author and a dedicated corporate professional. There are many things that we can learn from author Nilesh Joshi. Join me to know the journey of Nilesh Joshi and enjoy every bit of this session.


1) Welcome, Nilesh. It's a pleasure to have you on this platform of Indiacafe24.com. Our readers would surely want to have a sneak peek about you and wish to know about you. Kindly share a brief about you, your education, and your family.
I am a writer by passion and a corporate professional by vocation. More importantly I am a traveller and a seeker who is trying to make sense of this life. I am passionate about art & poetry besides my love for traveling and seeking experiences. I believe I genetically inherited my passion towards writing and story-telling from my late father. My father Mr. N N Joshi was an eminent writer in Hindi literature and had written 7 books during his life time. Whenever I am not at work or writing, I like to spend quality time with family and my cats. I at times love to cook and experiment with new dishes during the weekends. My wife is kind enough to allow me into the kitchen.
 2) You are born in the family of an eminent Hindi Author. So the credit of you becoming an author goes to whom….. Your father or are there any other members having a strong connection with the world of literature?
Earnestly while growing up writing was a least priority for me and as I kid I envisioned myself more as an explorer than a writer . Writing happened to me mores as an accident than a planned choice. Having said that, when I started writing my family especially my farther were extremely supportive which helped me go beyond the first few pages.
3) Which authors and their work inspired you the most?
Most of the reading that I do is in the realm of non-fiction, however if I really introspect I have been deeply touched by the poetry of Walt Whitman and William Wordsworth.
4) Can you recall that moment when you first realized that there is an author within you? Or it was someone else you discovered the author in you?
Writing was something which happened to me as an accident. It was like a mutant gene which got triggered under pressure. To tell you the whole story I had a break up at the age of 28, and while I was engrossed with the maladies of my life my mother seemed more aggravated by the thought of me seemingly being too old and potentially remaining single for the rest of my life. In their haste to get me married , my folks asked me to fill a questioner so that they could create a profile for me on one of the online matrimonial websites  . Though reluctant, I thought that I might as well go with the flow , however was completely overwhelmed by the first question that I read. The question was " Describe Yourself " and at that moment I realised that there was very little that I knew about myself. There was more to me than this body or mind . There was more unknown than known and this set me on the quest to find myself and ultimately start writing.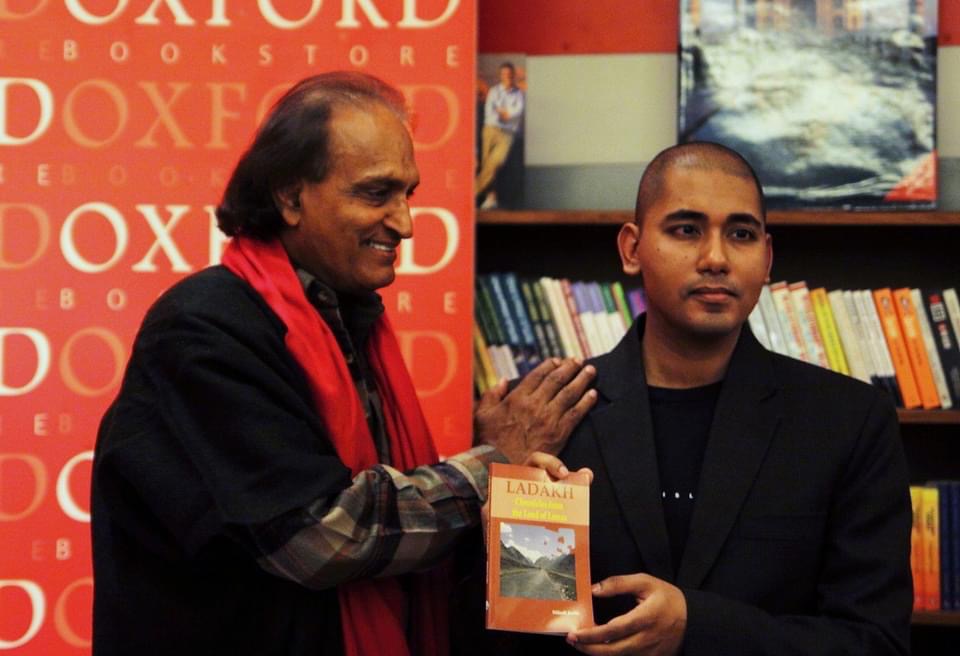 5) You are associated with one of the biggest e commerce platform Amazon. So, is in any way you got the advantage to learn how to promote books and help it reach the readers in maximum numbers? Will you share a few tips in this regard for young authors?
I was a part of Amazon till some time back however I am no longer associated with the organisation. Amazon like most of the big four has high integrity standards and there is no undue advantage that an employee will get. The entire process of a book featuring as a bestseller is algorithm based which broadly is a combination of reviews and sales between an aforesaid period. My only recommendation would be (and I am myself guilty of not doing this ) to have an engaged social media audience who will be able to act as your promotors and the spread the word about your work .
6)  How you felt when your book bagged the best seller tag?
Oh I was absolutely ecstatic !!. In-fact  on the first day when it got featured under the top twenty listing's I was not sure if I was reading it correctly and immediately sent a screen shot to my publishing agent ( The Book Bakers). It took me a while before the feeling sank in. However from there it got listed in the top 10 and then in the Top 3 , sharing space with some of the big names .It was indeed a good feeling.
7)  Ladakh: Chronicles from the land of the Lamas …… is your debut book….can you plz share a brief about it ?
So as I told you earlier , Ladakh : Chronicles from the Land of Lamas was written at a time when I was in deep introspection. The book caries a bit of that vibe. On the surface it is a story of a heartbroken young man who after loosing what he thought to be the love of his life embarks on a soul searching journey , however beneath the facade of the story line it actually is an introspection about life itself and the purpose behind an individual's very existence.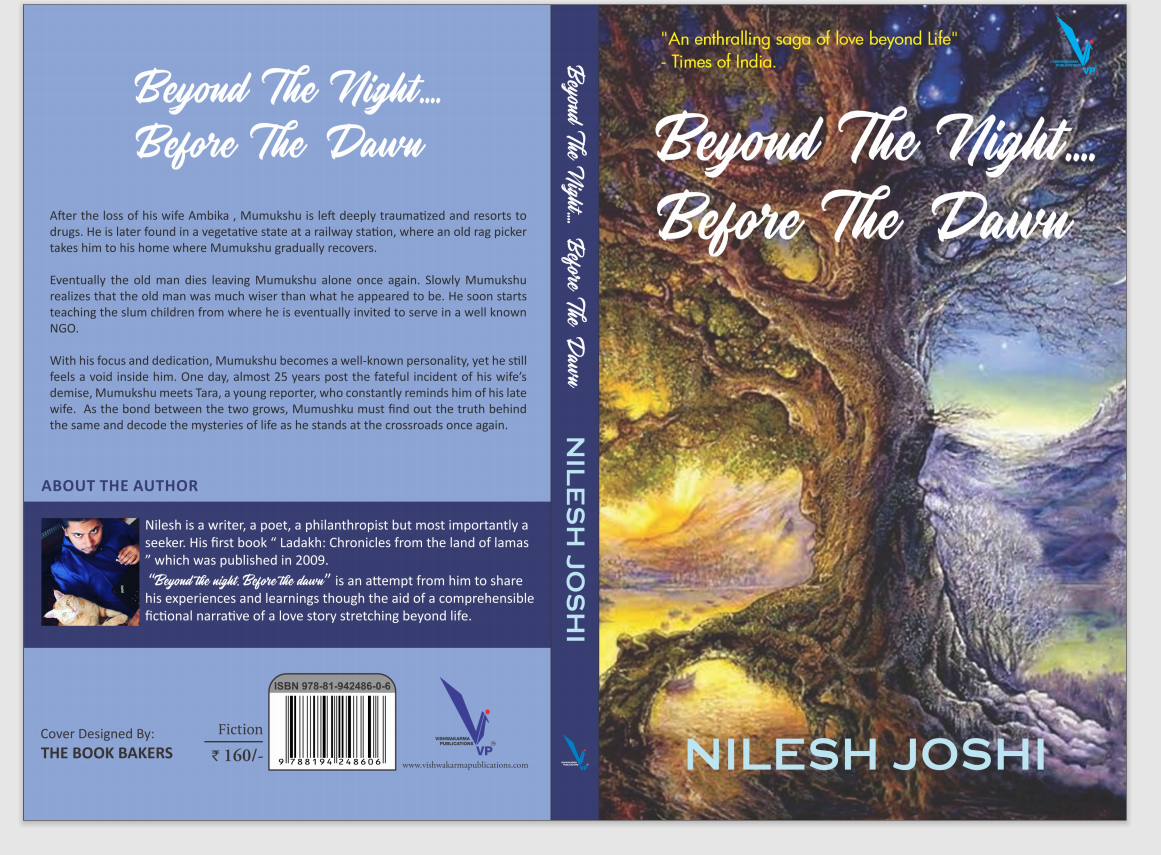 8) Beyond The Night, Before The Dawn… is the second book … How different is it from the first one? If I ask you to name the one which as per you among the two is the best work of yours…. Can you tell? ( from view point of reader and not as the author)
It's like making a mother choose between her two children ..(LOL). But if I have to really decide, maybe taking into account a readers perspective I would say Beyond the Night … Before the Dawn as it is much deeper in nature .
While Ladakh : Chronicles from the land of Lamas talks about Life as a journey , Beyond the Night …Before the Dawn is a deeper insight on the perception of Life, a quest for knowing the unknown. The book was a part of my soul searching journey and took almost 10 years to materialize. Not because I was short of words but rather due to the lack of experience on the subject that I was trying to write about.
The pursuit of experiencing the subject I had chosen, often required me to forgo logic and stay away from home for long intervals. There were times when I would be staying amidst the ruins of Delhi for weeks and there were months when I was staying in remote caves of Uttarkashi in the Himalayas.
The next big roadblock for me was to find a way to convey all this information that I had perceived to the reader and yet not make the book sound preachy. That is when I chose to write the story in the form of a fictional read
 9) I got to know that you are in love with art and poetry. What type of poetry attracts you the most?
I am attracted to any art form , be it paintings , photography , music or poetry which is deeper in nature and has a more profound  meaning . So while on music I am drawn more towards the Sufi and Psychedelic genre,  in poetry I mostly inclined to transcendentalism.
 10) Being in a responsible position with Apple, how do you manage to get time to write such amazing books?
What I have realised is that there can be no moment more perfect than the current moment , because it is only in the current moment that we truly are alive. You will only be able to fully experience that moment if you are truly passionate about what you do . What drives me to find time to write is my thirst to know more and writing helps me to introspect, formalise my thoughts and maybe know myself better.
11) Is there any possibility to quit the job and become a full-time author?
For sure is it starts paying me more !!! Bills are a reality.
12)  The conflict between the publishers and authors is very common. Have you faced such problems while finding a publisher for your book?
During my first book I had a request from my then publisher to include a few pages on the itinerary that I followed while traveling from Delhi to Ladakh. To me this was against the spirit of the book however my then publisher felt that this would help them in selling the book under the genre of travelogue thus boosting the sales. For Beyond the Night …Before the Dawn I did not have any conflict and the entire transaction was seamless, primarily due to my literary agent "The Book Bakers" with the amazing support of Vishwakarma Publishers.
13) Is there something that you feel, you need to improve in your next project?
Yes definitely, PR and Marketing .
14) What are your other passions in life?
I am passionate towards the cause of animal rescue. I am not associated with any organisation or group  and work independently for
Animal's living on the streets .
15) What are your future plans- what else you want to do?
One of the projects that I am currently working on outsides the realm of writing is a small school based out of Uttarakhand. The school is aimed towards the underprivileged and not only provides free of cost education to the children of the area but also acts as a source of employment for the local youth. My plan is to expand this project in the coming few years.
16)  What next in the pipeline in books and of what genre?
I' am still dabbling with a few ideas , however the genre will remain philosophical fiction .
17) Share some tips for young authors who wish to make a mark in the industry with their work?
I guess the most important aspect for someone to be successful in any filed is that you need to be passionate about what you are doing . When you are passionate about something you will be true to the subject , you will do your research and will stay committed , ensuring that the actions that you have set in motion see their full circle.
18) Define Nilesh Joshi the corporate professional, and author in one line?
Someone who believes in continuously learning and staying curious
Participating in Outsetbooks Book Marathon