Luke Gracias – An Author With Multi Talent
Horror is one such genre of Novels which need to be written brilliantly well to create the real impact of horror in the mind of readers. If you get the chance to read the novel The Devil's Prayer by Luke Gracias, you will understand what horror is. Luke  joined us to share his story of becoming an author. Check out the session


It a pleasure to have you on this platform of Indiacafe24.com. Our readers would surely want to have a sneak peak on your background.
First of all thank you for reviewing my novel.
About me, I was born in Mumbai, India. I am an Environmental Specialist by profession and have been working in the field of Environment since migrating to Australia in 1992.
I live on the beach in the Gold Coast which is an hour south of Brisbane and the holiday capital of Australia.
I am single and do not have any children.
I travel extensively on work to India, Europe and all around Australia.
I am an avid photographer and I travelled through Europe during the development of the film script for The Devil's Prayer, documenting the 13th century conspiracy between the Mongols and the Papal Inquisition on which this story is based.
You started your journey with horror thriller which is not uncommon but very rare . Why its horror and not romance?
 I rarely watch horror as I cannot sleep at night when I read or watch horror. I was approached to write a low budget film script and the cheapest good quality scripts are usually always horror. I confronted my fears and I also wanted to write chic flic horror or a story with emotional horror rather than kinetic blood and gore.
I wrote the film script for the film about a year ago and when funding for the film fell over, I decided it had generated so much interest that it warranted writing a book.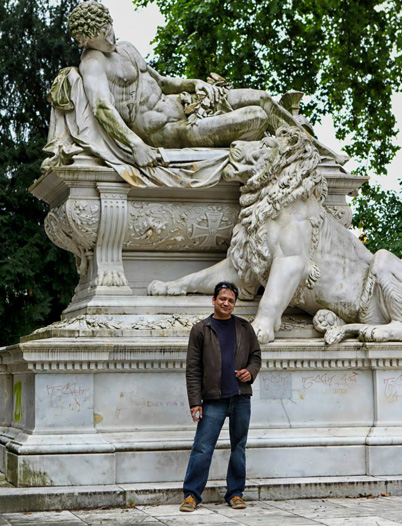 Do you have any experience of any horror incident in your personal life?
Yes and No. I have been very lucky and blessed. However, I have worked in the field of environmental science now for over 20 years and I know that environmental horrors will promote some very terrible deeds in the future in the name of survival.
I have tried to get some of the key issues out to readers who are tired of documentaries through some thought provoking ancient scripts and parables referenced in this book
What did  you think about horror Novel and its popularity in market?
I was influenced strongly as a young adult by David Setzler's Omen. We have a world which believes strongly in religion, yet the paradox is that God does not exist without the Devil.
The historical research behind the book is accurate and so this book borders on being prophetic.
Horror is a popular genre however it is not a universal market. There are many people who will not touch a horror book or see a horror film.
You are an Film maker then how come you got addicted towards writing world?
I have answered this in response to question 2. The funding for the film  'The Devils Prayer; fell over and i realised I could fund the completion of the book on my own if required.

Say something about your journey in  filmy world ?
I started in the film business in 2006 trying to bring Bollywood films to shoot in Australia. In 2007, my company Instinct India line produced "Singh Is Kinng" in Australia which went on to become the biggest Bollywood film of 2008.
It gave me a love of film and i have realised it is a very powerful media to get your message to a very time poor society today. I embarked on doing a number of infomercials for engineering companies. We have also been involved with line producing other TV shows from India.
I started the film business as i realised the time i had left with my now late father was running out. The film business ensured I needed to visit India at least three times a year during his last few years.
 Very recently your novel The Devil's Prayer  got published. So how you are feeling ? What sort of reviews you are getting?
It is an e book and it is always hard to get noticed as a first time writer. Whilst writing I decided I would spend all my efforts in writing the best book I could and worry about marketing later.
Read the Review here: Click Click Click
I am worrying about marketing it now.
The reviews have been fantastic. It has repeatedly been compared to a Dan Brown novel and hopefully i can get a fraction of his fans to read it.
Which character of your Novel is your favorite and why?
Denise Russo the mother who is chosen by the Devil. I think if there ever was an incredible female role to be played out in a film, this would be it.
How you reacted when you saw your first review?
I have been very fortunate. Someone I had not seen for over 20 years picked it up within 10 minutes of it being released and could not put it down. I got my first review within 48 hours of the book being published and it was all praise.
Why a E book and not a hard copy?
It is my very first book and I felt my first set of readers would all be people who knew me personally. If they spent $3 and it was terrible then perhaps we would still be friends. I did not want them to spend $20 or Rs 1000 on a book and think they may have wasted their money.
Now that  I know its received only rave reviews and a lot of them, I am in the process of getting it printed. I realise that especially for the India market a paperback book is a must.
Do you feel that a E book can give a true reader that comfort and feel which a hard copy book provides?
Most of us associate computers with work and books with relaxation. Reading a paper book in the comfort of your armchair is a very different experience from reading on a computer.
If you have a tablet and have grown up used to it then its actually far more portable than any book. Just think about 20 years ago none of us had mobile phones and today we cannot live without them.
It really is all in the mind set of the reader. I think in the future, paperbacks will be less and less popular.
The conflict between the publishers and authors is very common. Have you faced such problem while finding publisher for your book?
Yes. Receiving constructive criticism on your book is never easy. I took the time to consider recommendations and criticism very carefully and I asked just one question " Is this recommended change the best for the story?" . If it was, I swallowed my pride and made every effort to address it.
If it was not, I explained my stance to the publisher and fortunately we always agreed. Having said that the editor was more often right than wrong.
When you first realized that you have the spark of becoming an author?
I have always loved writing but decided to write a film script after i got involved with film making.
What are your other passions in life?
Photography, I have photographed most of the locations of the Devil's Prayer and you can see these on www.devilsprayer.com
I also love music and play the piano to relax.
Environment – I work as an environmental specialist and I am very passionate about my job.
Cricket but that has dimmed since Sachin left the game.
What are your future plans – will continue with both profiles of film maker and author – Or will go with any one – If yes then which one and why?
Neither and both.
I work as an environmental specialist and i am very passionate about my job. I think there is a much greater need for working with large multinationals towards creating a sustainable future.
I hope to use both these skills of writing and film making to allow me to bring some of the hurdles we face to the public through thought provoking novels and films.
 What next in pipeline  and of what genre?
The sequel to The Devil's Prayer. It will be more of a historical supernatural thriller.
Define Luke Gracias  the author in One line?
Regret only what you did not try due to fear of failure.