Get Motivated With Author Ameya Agrawal
Becoming a Motivational person and that too at a very young age is nothing but a miracle in this complicated world. If You want to know that miraculous person then check the session we had with motivational author Ameya Agrawal

1) Ameya my readers will like to know about you and  your background. So share something which you feel is unique in you?

– I am last year Engineering student from MIT college Pune,  I live in Nashik, we shifted here from Bhusawal few years back. Whatever i have today is by God's and parents' grace. My Dad works is a Director at Moonje Institute of Management In Nashik and My Mom is a retired professor. My Brother and sister in law are CA by profession. I have habit of thinking and observing things around me from very starting and that helped me writing the first book. I am that kind of person for whom bus window seat, showers or even wash rooms becomes class of psychology.  I am a National Record Holder for YOUNGEST ENGINEERING STUDENT TO WRITE A BOOK ON SELF-MOTIVATION and a motivational speaker.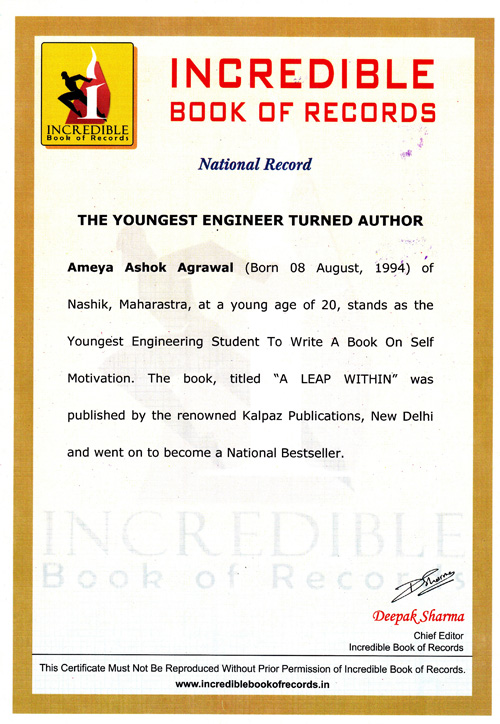 2) You are a student of engineering so how the concept of authoring a book came into your mind?
Trust me engineers needs the motivation the most. we do get a lot of sympathy thanks to the current scenario in India but motivation is something what we truly need. I never thought I could write even a page. Many feelings, experiences and thoughts use to remain intact in heart so during school I thought of noting them down in black and white. Writing that one page at a time kept me inspiring.. My mom kept the small 100 pages book which I wrote in school seven years back and always use to remind me of that ( Hope to get that published soon ) . A LEAP WITHIN is thus a result of that little spark that was lit during school and which was nurtured and encouraged so well by my parents. I must say Once you take the first step your mind keeps you passionate about it. For me Writing gets addictive. When I start it, I need it more than my next breathe. Give it a try.
3) Very recently your book : A LEAP WITHIN. got published. So how you are feeling ?
 
Am very happy and excited about. Feels good to see your own creation being loved by people It has boost my confidence and so my responsibilities. It has raised people's expectations from me and i am happy and yet little nervous about it too. Yes a long way to go.
4) Share us the experience when you saw your first copy of  A LEAP WITHIN
The feel I had when i saw my book couldn't be less than that of a mother who is holding her new born baby in her hand. I felt good, confident and certain that i have to take this far.
5) Can you brief us the concept of your motivational book?
Did you ever had an urge to take a dive through yourself and explore the seen but unfelt feelings? If yes than this book is for you. The book is divided in to 7 sections. THE BEGINNING deals with the very basic mantras of life to start with. The ABOUT LIFE section takes you on a tour to understand what life is about and its various aspects. EXPLORING YOURSELF helps you understand yourself better by putting light on various elements of human psychology like Subconscious mind, hope, anger, fear. Then comes the everyone's favorite part LOVE- A WEIRD CONCEPT, it takes you on an exploration of your deepest feelings of love for someone, the strength of a bond, the phases one goes through while in love.
The next part SOCIETY AND YOU tells the reader about his connection with the society, its importance and how one can enhance his standing among people. It also gives you basic understanding about different types of people.         DEVELOPING THE INSIDE YOU- it's a quick guide to develop your personality, your inner self and how to shine as a person. I HAVE LEARNED- This consists of one liners based on the experiences and research I had which are separated on basis of career, yourself, love etc. To excel, one can fathom these subjects as mention in the book. The book also consists of stories about incidents happened with me, some from internet and even from my reading to understand and connect with things better. And trust me there is no need to follow a particular order to read the book, you can pick up any random topic or page and you can still connect with it. That's the beauty.
6) How the concept of the book came to your mind? These days romantic stories are in craze and in such a market you penned down a motivational book- is this not a risky attempt?

Yes agreed there is a boom in romantic stories nowadays, they are also getting diluted due to same. Getting mainstreamed.
"They laugh at me because i am different, i laugh at them coz they are all the same. BE different" So what if its risky. If you love it and believe in it chase it like crazy.
Many people still ask me this question. Some say why you choose the genre which don't sell easy while some are excited to know that a youngster of my age choose this genre. Actually I never started writing as a profession and I don't even completely look at it that way even after the love people bestowed on my book. My journey of writing which was limited to my emotions and my diary and my experiences was joined by my family and friends who encouraged me to take the next big leap of writing it down in a form of book.
Our society think that the youngsters of our age aren't serious or don't look at the wider aspects of life, but this book is a proof that there is much more to the youngsters that meets the eye. Our generation is serious about their goals, life and their duties. This book is nothing but a reflection of their thoughts. I just gave them words. You can call this book as By the youngster, to the youngsters and for the youngsters. My experiences made me confident that we the young people of india have the power of introspection and we can now distinguish right from wrong much effectively. This reason of making these thoughts reach the masses so that everyone can take benefit from this made me write in this genre.
7) Who is the publisher of this  Book ?  Is there any obstacles you faced while searching for publisher of your  work?
My book is published by Kalpaz Publication, New Delhi. Yeah there are some obstacles, call it stepping stones for something big. Patience is the biggest challenge one has to face while publishing a book. Publishing process is time consuming, you get rejected, you feel down, sometimes you even feel hopeless but that's the only time you need to be high on your hopes. Manuscripts arent accepted easily, You need to find the right publisher who can do justice with your work and your genre. So all this work basically comes in.
8) What was the response or review about this book from readers?

People were happy and surprised to know about the book that how can a 20 year old write on such complex topic. that sure feels good. People appreciated my work and were eager to know how i got in to this How I think so deep. Was invited at various institutes as guest to share the same experience .Also Got a little popular among friends too ( add on benefit 😉 ) Many eminent people like Radhkrishnan Pillai, Mr. Arun Davay, C. M Bhandari has appreciated the book ( Mentioned in the book).
9) Which is the next novel/ book which is in pipeline?
Am currently working on another self-help book. It will be mostly about how can you make yourself stand apart from crowd. Will reveal more details soon.
10) Who acted as a inspiration for you pen down this book?

My Parents, friends and LIFE – After all it is all this book is about.
11) Do you have any other passion apart from authoring book?
Yeah i love entrepreneurship and like photography and digital designing.
12) How you rate yourself as writer?

I personally feel that i am not a good writer or an author. i am just a good observer. there are people who are way better than me in waving magic with words.
13) What are your plans 5 years down the line?
  5 Years is a long time. I may get eligible for marriage till then ( hope so ).  Wife influences  changes many things they say :P. I wish to be an entrepreneur and an author, so I wish the next 5 years will be a exciting journey of the same. I would have reached people who love my work. At present anything else is unplanned and that makes it exciting.
14) Share some WOW moments in your journey as author?
 Life as an author is really good. Especially when people like what you write. The best moment was to see the happiness on my parent's face which was delighted that their youngest son has grown up. When The Founder of our MIT Institution told me " Tujhya AAI la majha namaskar sang" ( Salute to your mother) and felicitated my dad for my achievements. Getting an Special Achievement Award for my contribution to literature during Annual Literary Fest of my college.  And Some fan moments off course are there.
15) How you want to continue  your career- as a author or an engineer or Both?
As i mentioned earlier i dont see writing as a profession but i will sure continue writing and hope i will get better with time. About engineer, we are all engineers. we all solve problems. we all do jugaad. my aim is to be an entrepreneur so i would love to take that as my career option.
16) Define Ameya Agrawal, Motivational Speaker, Author of book Self Help book – 'A LEAP WITHIN' in one line.
A person who don't know to settle for less.