Chit Chat Session With Budding Author Arkaprava De
It feels really nice to see that in present time Young generations are showing huge interest towards the world of literature and a very new inclusion in the list is ArkaPrava De. This time the session is with ArkaPrava De. Check out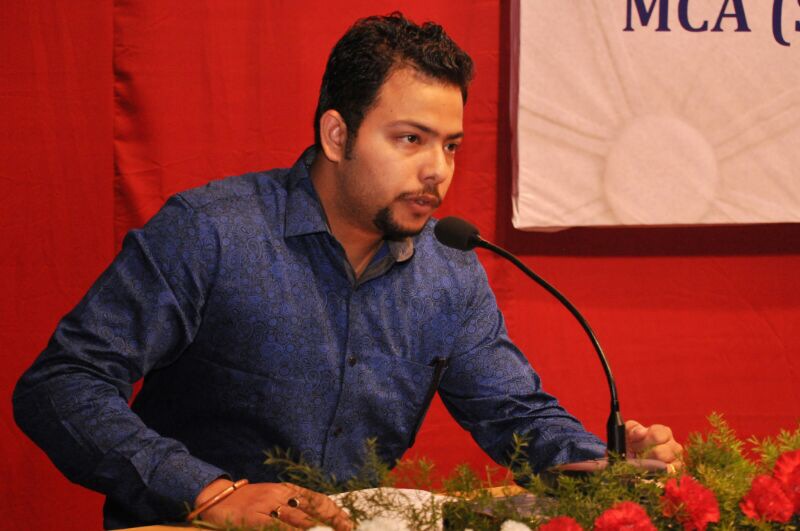 1) Welcome to this session. Before we Go ahead will request you to share with my readers you background and also who you are as a person apart from being an author.
I was born in Kolkata, India and had completed my Bachelor's Degree in Computer Applications from Kolkata itself. Presently I am pursuing my Master's Degree from MIT, Pune.
My friendliness with the pen and paper had developed from quite an early age. However I have embarked my first book in 2015. It deals with social issues and is named as 'Joys and Woes are woven Fine' which has been published by Author's ink India Publication house, Rohtak.
Apart from being a regular writer in school and college magazines, I have also written the story and cinematographic script of a Bengali movie name 'Megher Otithi' which was released in 2012. I also take active interest in film making as well. However my works have always been inclined towards portraying the major evils of our society at large.
Recently, I have contributed to two anthologies, titled, 'Turning Point of Life' and 'Love- a Sweet Poison' which are up for a release in 2015 also.
Before joining one of the most reputed MNC in July, 2015, I wish to make an impression over the masses through my writing. I am an active cross fitter as well. You can get in touch with me by calling me at +919604163369 or emailing me at arkapravade15@gmail.com . You can also find me on Facebook.
 2) How writing came to your life?
Writing has always been very closely associated with me. In-fact it has become an integral part of my life. It actually marks my existence. However the skill concerning etching down ink over a paper had been imbibed by me from my late grandfather, Mr Haraprasad Mukhopadhyay whose literary excellence and prolific guidance had always been a terrific support.
3) Who encouraged you to enter this world of authors?
One need not be encouraged in order to embark one's presence in the literary world. Thoughts always trespassed my mind. It was back in 2007 when I had decided to pen down a few thoughts in the form of short stories from various concepts that were hovering all over my mind.
4) Who is the one who for the first time noticed the spark in you to become an author?
Ha! Ha! That is a real nice question. Till date I reckon there is nobody who has recognized the 'spark' in me (I mean if there is). I am patiently waiting for a review or a feedback from my worthy readers who can actually determine whether I behold a spark or not.
5) Can you recall that day when you first penned down to start your journey in this world and what was that?
Off-course!! I can never forget that. It was 2006 and I was a student of class 9. I had come back home from school and had proudly stated that I want to become a writer. I had inaugurated a new textbook and had etched down a few lines.
6) What provoked you to enter this world of books?
As mentioned earlier, one's destiny and fate are always predetermined by the Almighty. He wanted me to write and presented my mind with a bountiful of thoughts. I have simply penned some of them on a paper.
7) How is your journey so far as an author?
I feel it's too early to call myself an author as of now. Presently I am an amateur writer. I have a lot to learn and plentiful to express. It has all been very smooth for me until today.
9) You debut Novel "JOYS AND WOES ARE WOVEN FINE'" Is already in the market. What sort of response you are getting for it from your readers?
Pre-order of my novel, 'JOYS AND WOES ARE WOVEN FINE' was currently on at Amazon India
and I am glad to inform all my readers that the paperback version has already been sold out. What more response can a commoner like me expect? I am overwhelmed. My heartfelt gratitude to all the readers who have considered my work worthy for a read.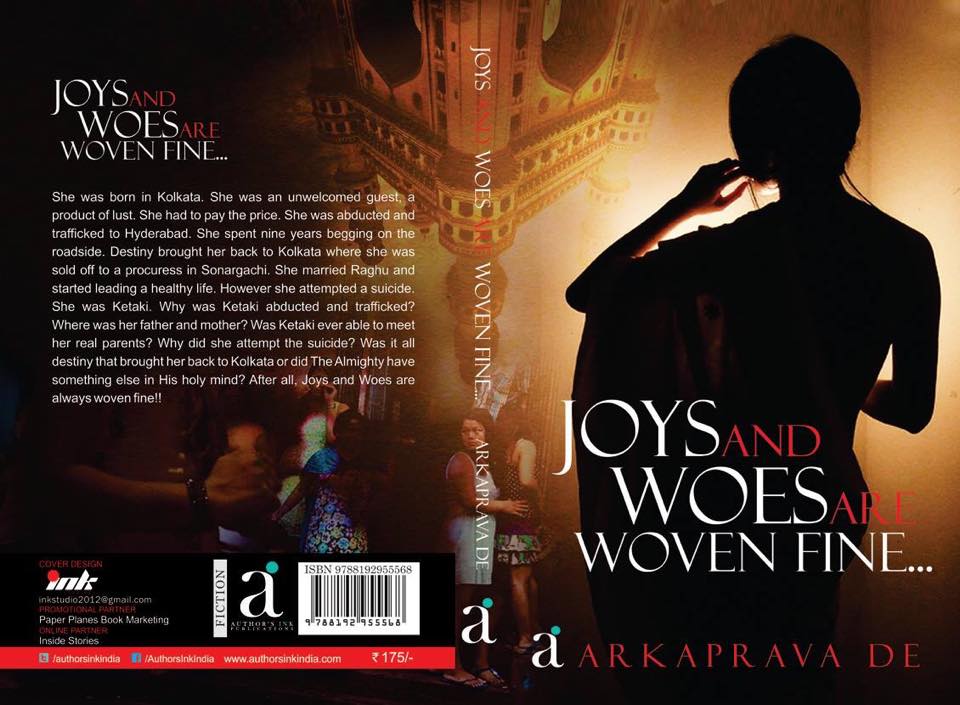 10) Will request to give a brief on the story.
My story primarily portrays the Joys and Woes of Indian women. It revolves around some of the major ills of our society and deals with topics such as child abduction and trafficking, the concept before bar-dancing, the vicious flesh trade titled 'prostitution' and also on AIDS. I shall not discuss about the book any further. Let my readers have a taste of it themselves.
11) How the plot came into your mind?
I decided to work on a sensitive subject like this because I have seen children aged nine carrying children aged one begging on the roadside. I have seen people sympathizing and also people shooing them away. I have seen prostitutes standing on the roadside to attract clients in order to earn their living and I have also seen people driving through their dark lanes just in order to access a sight of them for mere enjoyment. I have read numerous articles wherein these ill-fated prostitutes have mentioned how clients fulfill their wicked desires and how they end up getting physically tortured behind closed doors just for the sake of a few hundred rupees. Importantly, many people had told me that I am still too young and all such topics should not be of much relevance to me. Sadly I ended up disappointing them and penning down 'JOYS AND WOES ARE WOVEN FINE'.
I wrote this because I had to. I could not resist.
12) What sort of problem you faced while searching for the publisher?
While searching for a publisher, I had been rejected by some of the most prominent and reputed publication houses of the country. They had stated that a book like this would not do good business for them as readers prefer filmy love stories or light-minded topics which can provide them with some relaxation. I urge such readers to come out from their fancy world and to join hands together in shaping a better India. I also request such publication houses to try and think of something apart from gaining profit which might help in developing a better society or perhaps a better country at large.
13) What next after this Novel?
I have already started working on my new project which also deals with some of the most important social issues of our country.
14) What are your other passions in Life?
I love making films. My latest short film, 'DECEIT', shall be released on you-tube soon. I also love excavating wild forests and witnessing wild animals in their natural habitat. Hitting the gym is also a must for me. And obviously reading is an absolute lifeline for me.
15) Where you see yourself 5 years down the line?
Five years is a long time from now. I am pretty much unsure of what I am going to do tomorrow. Having understood the motive behind your question, all I can say is that I shall certainly be connected to the literary world and keep on making effective contributions to the society at large.