Author Richa Gupta – An Inspirational Language Aficionado
 There are many people whom we have met, and we like. But there are only a few of them who inspire us. I consider myself fortunate to meet a talented and inspiring author Richa Gupta Ji. If you go through her journey, you will witness her vision about Indian society is so impactful. Bringing that vision of her in her writing is something that attracted me towards her. I am glad to present author Richa Gupta and insist my readers check out the chit-chat session I had with her.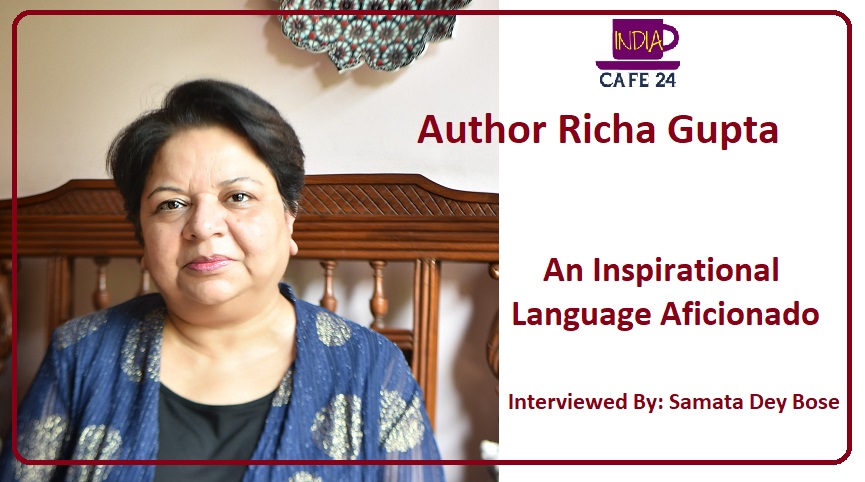 Welcome to the platform of Indiacafe24, and we are glad to have you with us, Richa ji. I insist you introduce yourself to my readers.
Thank you. I am glad to be on this platform and meet your readers. I reside in New Delhi and have worked as a professional for 28 years in fields allied to English proficiency, such as editing and teaching English, and started creative writing full-time since 2017.
As you are from the field of English Literature, will it be wrong to say that writing came naturally into your life?
I did do my post-graduation in English Literature and taught English Literature for 19 years in Senior School, but not everyone from this field becomes a writer. However, it came naturally to me as I have always had an inclination towards reading and writing.
Being a literature student and a writer are two different things. So, when did you realize the fact that yes, there is an author within you.
I have always been writing even though I did not publish a book before 2017. In my student years, my essays were read out to the class as examples of fine writing, and I used to pen poems in secret. Then, I wrote as part of my profession as a teacher of Literature and an Instructional Designer. I scripted plays for students to enact, articles for magazines and the text of e-learning courses and conducted training in technical writing for professionals. However, it is only after 2017 that I have the luxury of free time to indulge in creative writing full-time.
You have vast experience of more than 28 years. You must have observed many changes in the literary world in this period. Do you find any difference in the thought process of writers some 20 years back and now?
I started teaching Literature in 1990, so it was 31 years before. Indian writers of fiction in English then were rare except a handful such as R.K. Narayan and Salman Rushdie. Readers of English fiction mostly read British authors such as the classicists Jane Austen, Charlotte Bronte, Emile Bronte and George Eliot; romantic fiction by Daphne Du Maurier and Barbara Cartland, humorous fiction by P.G. Wodehouse and crime thrillers by Arthur Conan Doyle and Agatha Christie. In Senior School, the teaching of Literature centred on the ultimate playwright, William Shakespeare; the poets of the Victorian and Romantic period such as Tennyson, Walter Scott, Coleridge, Wordsworth, Keats and William Blake and short story writers such as Hector Hugh Munro or Saki and Katherine Mansfield.
However, now there are far more Indian writers who publish quality literary fiction. Also, the thought process of writers has veered towards depicting a cross-section of society, including the ordinary and marginalized sections, instead of focusing exclusively on the upper crust of society.
Phoenix was your first published literary work. Was there any real-life experience that gave you the idea for the story plot as it was a sensitive one? 
The story of 'Phoenix' reflects the prejudices of Indian society, especially towards a woman who wants to dissolve her marriage. We see such scenarios in several households where parents tell daughters to adapt themselves to abusive situations or abandon her to her fate. Such women are considered a burden, and their virtue is supposed to lie in tolerating injustice silently.  This is especially true of business families in India thirty years before when women did not have financial independence. The scenario is gradually changing though not speedily enough.
Your second published work was 'Skeins', which is completely different from 'Phoenix'. Well, that depicts that you are a versatile writer. Is there someone in your family from whom you got it hereditary?  
My maternal grandfather was a famous writer of fiction in Hindi, Sri Jainendra Kumar Jain. Perhaps I inherited his genes.
If I want you to name three favourite Indian authors and three global authors, what will be the names for you?
Among the earlier Indian writers, I like the fiction of R.K. Narayan and the poetry of Sarojini Naidu. Among the contemporary Indian writers, my favourite is Chitra Banerjee Divakaruni. Three global authors I like are Irving Stone, Ayn Rand and Khaled Husseini.
To be a good author, one needs to be a good reader. What type of books do you love reading the most?
I love reading family epics that span generations, the life histories of motivating achievers and crime thrillers or mysteries. My all-time favourites are 'The Agony and the Ecstasy' by Irving Stone on the life of the supreme sculptor Michelangelo, 'Gone with the Wind' by Margaret Mitchell, 'To Kill a Mockingbird' by Harper Lee, 'Rebecca' by Daphne Du Maurier, 'The Kite Runner' by Khaled Hosseini and 'A Gentleman in Moscow' by Amor Towles. I also love the detective fiction of Agatha Christie.
 Novels and short stories are two different branches of writing. Which one do you as an author consider tough to present and why?
Each genre poses its own challenges. To write a novel, you have to work extensively on the timeline of the plot and character development and maintain continuity across events. However, while writing short stories, character development and plot development has to be swift and centered on a single idea. I find the latter easier to present because you can start afresh after each story.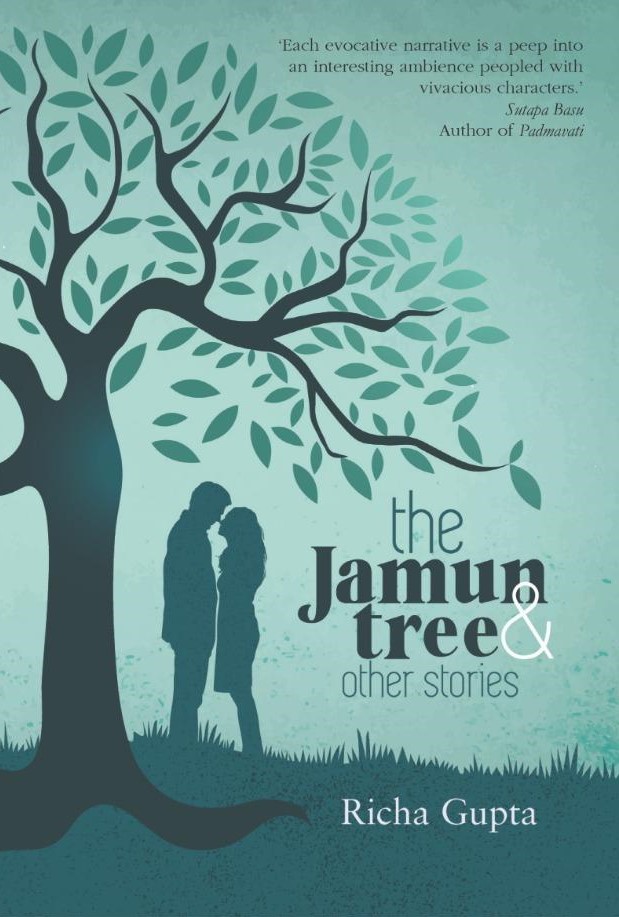 The Jamun Tree and Other Stories' is your very recent release. Please share a brief about this book. Who are your targeted readers for this book?
'The Jamun Tree and Other Stories' is an eclectic compendium of short stories in the genre of realistic fiction that consists of various sub-genres such as social satire, romance, psychological thriller, suspense, Science-Fiction and first-person narrative. Like the narrative style, the characters are also diverse such as an almost-human Jamun tree, an enticing woman on a mission, a family receiving news about their inheritance, a journalist looking for a scoop, a family on a cruise liner, a mother dealing with the tragic death of her child, youngsters affected by corruption and an investigator resolving a mysterious murder.
Due to their diversity, I think the stories will cater to readers of all age groups from eighteen to eighty-five with varied interests and literary preferences.
I believe family support is very important for our growth and progression, both for men and women. So, in your case, how did you get family support?
There is not much demand on my time by my family, so I am free to pursue my interests. Moreover, to get the reader's perspective, I give family members the earlier drafts of my stories for their frank feedback and modify the stories accordingly.
What are your other passions in life?
I love travelling, painting and letting my hair down with friends. Painting with oil and acrylic paints on canvas is as much a passion with me as reading.
What is next in the pipeline in books and of what genre?
I am exploring a few ideas, but I haven't yet clearly defined what I plan to work on.
Traditional or self-publishing: which one is better and why?
They both have their pros and cons. Traditional publishing gives you less control over your work but the advantage of distribution and promotion by a well-known publishing house. Self-publishing gives you more control of the process but you have to work on the distribution and promotion of the book yourself. Also, you need to distinguish your product from the self-published products that are of poor quality. I am a stickler for quality, by whichever route it is achieved.
 Define Richa Gupta, the author, in one line.
A language aficionado who closely observes and depicts the varied colours and complexities of life