Anita Krishan- The Educator Turned Author- A Close Chit Chat session
There is a handful of such authors who displayed versatility in writing on the various genres with equal command. One such author is Anita Krishan and we are fortunate enough to have a chit chat session with this amazing lady.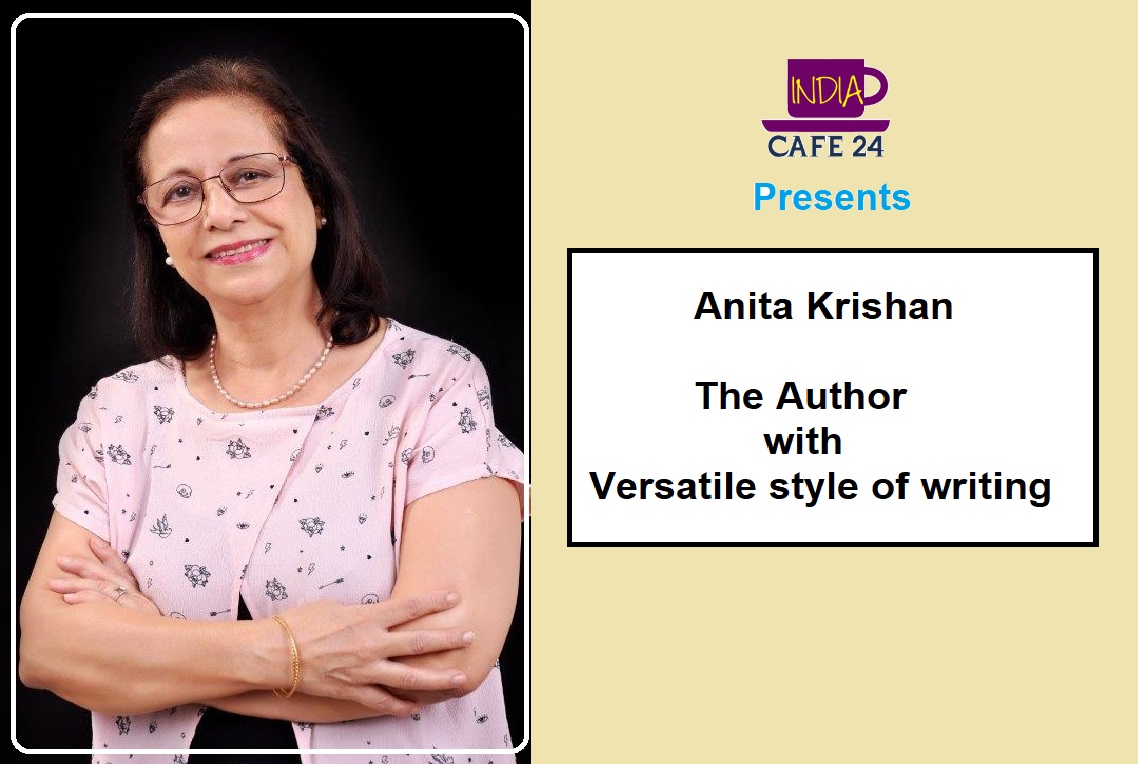 Welcome to Indiacafe24. Anita Ma'am, we are glad to have you in this session. I Will request you to share a few words about you, your family background and educational background.
Thank you! It's my pleasure. My first sight of the part of the planet where I was born one winter evening, was of a land pristine white and tranquil. Perhaps, for me, it was love at first sight with Shimla. I spent my childhood and early life on these scenic mountains, soaking up its pure air and beauty, and going through the routines of a young life … passing out through school, college, and university.
 I was the youngest of the four siblings, a quiet and shy girl who loved her solitary explorations, and books. My father, who had earned his master's degree from Cornell University as Fullbright scholar, was the head of the Agriculture Dept. of Himachal, and my mother, a kind and devout lady spent her entire life looking after the needs of her family.
You served as an educator for a long time, please share your experience about the educational pattern change that you observed between then and now. How different were your students from the students of the present generation?
 In our country, there hasn't been much change in the education system, the system that was laid down by the British and insisted on bookish knowledge and exams. The British designed more of an educational factory that churned out native people good enough only for blue-collar jobs. I  believe the trend is slowly changing now towards a more practical approach and on recognizing the potential of each individual student.
How and with what story or book you started your journey as an author?
My first book was the result of nostalgia. I was pounded by a painful longing for life on the mountains, which I had left behind, memories that were broiling inside me. But, life's commitments left me with little or no time for penning them down. It was only when my children left home on their own voyages of discovery that I finally had free time. I fervently began to pen down those cherished reminiscences. The result was the first edition of my memoir 'Fluffy and Me' which was initially published as 'Running up the Hill'.
Who discovered the hidden author in you?
No one knows of the happiness or pain inside you but you. So it is true of your talents. What is inside you can only be discovered by you. And once I discovered my passion for writing, there's been no looking back.
What's your favorite genre in which you love writing the most?
I like to write, in my literary fictional style, about life, about fortitude, endurance, conflict, resilience, courage, love and all things that make us human.

This time you penned down paranormal stories in the book " Ghosts of the Silent Hills "… How come haunted scenes developed in your mind which you scripted in the shape of stories? Any real-life experiences?
Personally, I've never had any paranormal experience. But all the stories in the book 'Ghosts of the Silent Hills' are based on what people had actually experienced. Some names, I have used in the book, are also original.
While writing these stories, each time I tried experiencing what the victims must have undergone, putting myself in their shoes, imagining their situations and fears.
How does it feel when readers appreciate your work or may sometimes criticize you? What type of emotions works within you in both cases?
Like all other fellow beings of the planet, I undergo similar emotions –– of satisfaction when appreciated and disappointment when facing negative criticism. Though, now I try not to be too affected by negative remarks, understanding that each individual has a different taste. Perhaps, that's the maturity one acquires with age and time.
You are also a poet. So as per you, what's the difference between penning a poem and writing a novel? which one do you love the most?
You need totally different moods for poetry and prose writing. But for writing my stories, it is easy for me to set the mood. Whereas, poetry comes once in a while, more at the times of introspection.
Who is your biggest critic?
Of course, myself. I would also like to give credit to my readers.
What next you have in Pipeline for your readers?
 I am presently working another piece of literature, a story based on the effects of historical events on the minds and spirits of the past and present generations, and the fast changes that are getting incorporated in our present-day lives. I may also go for part -2 of the ghost stories.
What are your other passions in life?
 Reading and garden landscaping is at the top of my list.
The conflict between the publishers and authors are common to see. Have you experienced any during your journey in the writing industry?
 I have been very fortunate to have very good relations with my publishers ever since they published my first book in 2007. I have never tried approaching any other publishing house.
Any suggestions for the budding authors of the industry?
If you have a story to share with others, go ahead with full confidence. Put your heart and mind into it. But also remember, not everyone is going to appreciate what you write or how you write. Let none of it ever deter your journey I wish all of you, the budding authors, success in your endeavors.
What difference or rather say improvement you notice in you when you wrote your first book and the last one?
My journey as a writer has definitely taught me many things. For one ––    there is beauty in simplicity. So, I write about a simple life, in simple language that can be understood by all. In the beginning, I did use fancy words, a mistake many writers make, but soon realized that the words should drift smoothly, like a gentle stream, and not become a hindrance to the flow of the story.
Who are your favorite authors/poets?
I remember reading 'The Agony and the Ecstasy' by Irving Stone when I was in college. I was overwhelmed by that book, the story based on Michelangelo's life. That was my first taste of how impressively someone could write a biography.
 I also like to read Ruskin Bond, James Harriot, Amitav Ghosh, Somerset Maugham, Hemingway … to speak of a few of my favorite writers.
Whom you love the most – Poet Anita or the author Anita? And why?
  I love myself for what I am, and for whatever ventures I undertake. Perhaps, it is prose that tilts the balance somewhat.
Define Anita Krishan in one line.
A polite, patient and strong person, in love with life and glory of nature.