Akansh Malik- Author Of "Love heals Everything " – A Chit Chat Session
Akansh Malik, a fresh new talent in writing world penned down his very first novel "Love heals Everything ". By profession he is playing the role of an entrepreneur but his creative mind made him an author too. We had a quick chit chat session with him where he shared his journey as an author.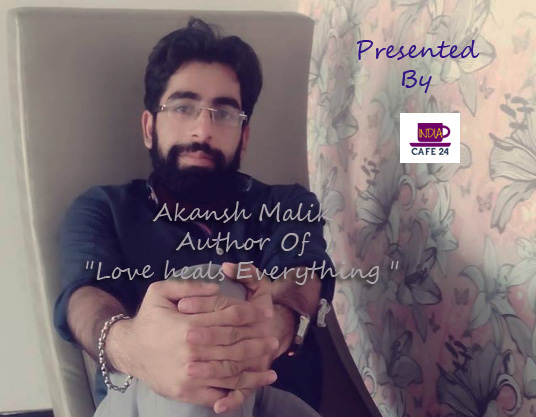 It's a pleasure to have you on this platform of Indiacafe24.com. Our readers would surely want to have a sneak peak on your background.
Samata, thank you very much for calling me on this wonderful platform. You are really doing a great job.
Well, talking about my background, I belong to a middle class family settled in Rohtak, Haryana. My upbringing was not different from that a Punjabi Family, but there was one thing that I always count on behind whatever I am today -My father never denied me for anything. He believed each and every unrealistic plan of mine about which even I was not sure ever and now his belief is my biggest strength.
 What did  you think about Romantic Novel and its popularity in the market?
 Romance is and will always be a genre that will touch the strings of all generations. Young people can relate their present, whereas an older generation can relate their past. One can easily relate to emotions depict in a romantic novel whereas in another genre, it is not every time that you can relate yourself.
You are an entrepreneur  then how come you got addicted towards writing world?
Writing is my passion, and to become a writer was my dream whereas an entrepreneur in me was destined. I am connected to the writing world since I was 16 when my first incomplete manuscript was selected with one of good publishing house.
 What elements of romantic genre stories fascinate you most?
The Romance genre is full of emotion- love,care, friendship and the thing that fascinates me a lot is that true love do exist, When all you can see is hate, hate, hate you would definitely like to read some hidden love stories.
 Very recently your novel Love heals Everything got published. So how you are feeling? What sort of reviews you are getting?
 To get your work published with an ISBN Number is definitely a dream for every writer and to get a good review of your work double your happiness. By fortune, I am receiving good reviews, but in the back of my mind, I had already decided not to count my efforts to scale so it won't hurt me even if someone says that he/she didn't like my work.
 Which character of yours Novel is your favorite and why?
I feel Aarush is one of the characters that resides in me. Somewhere I live Aarush throughout the writing course of this book and at the end when it was in the hands of my friend, they too felt what I was feeling – Aarush is an expressive side of me which was hidden, I am trying to work on it.
 How you reacted when you saw your first copy of  debut Novel Love heals Everything
It was the wonderful moment, a moment which is priceless. I saw my first copy at the publisher's warehouse at that time my shy nature was overcharged not to react, but the child inside me wanted to dance at that very moment. I did, as soon as I was back at my home with few copies.
 The conflict between the publishers and authors is very common. Have you faced such problem while finding a publisher for your book?
 It happened with me, my book was selected by many publishers and that was a really scoring situation. But then everything that looks good is not always good, there terms were like exploiting. At the end, I met Mr. Vinit Bansal through Suhail (The Book Bakers) with whom I found a perfect tuning.
 When you first realized that you have the spark of becoming an author?

Friend circle plays an important role to direct your life, my friends always encouraged me to write, and that encouragement, the curiosity to know what I am writing ignited a spark for me to become an author.

 What are your other passions in life?
I am very much passionate about everything I do in my life.
What are your future plans – will continue with both profiles of entrepreneur and author – Or will go with anyone – If yes then which one and why?
Samata, I want to carry my both profiles for now, but yes, writing will be something that will remain my first preference, If I ever touch that height to make my living from writing I will go with it.
 What next in the pipeline  and of what genre?
Next is my own story, How I became an Author, It would definitely serve a variety of genres. (Comedy, Romance, Inspiration) Jokes apart, I want to keep that a surprise for my readers, but one thing for sure next time I would try to cover all the flaws.
Define Akansh Malik  the author in One line?
Akansh Malik is an author that spoke his heart aloud, words that directly comes from his heart to touch another one.