Creativity Speaks – Jaspreet Mahajan
If you are having a creative mind then nothing is impossible for you. Your true creativity and dedication towards making the creativity can take you a long way in life. Meet Jaspreet Mahajan, a lovely bubbly young lady whose creativity attracted us a lot as we invited her for a session with us. Check out what she said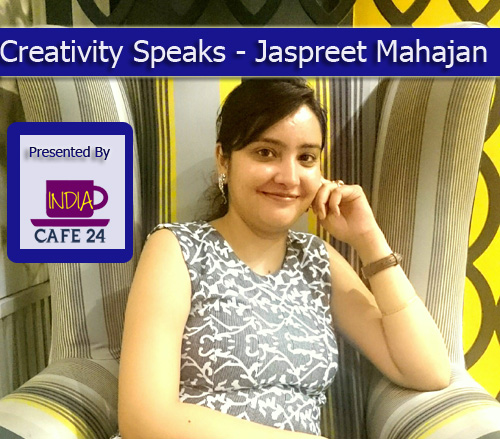 1) Hello Jaspreet, Welcome to Indiacafe24.com. its an honor to have you with us. Japreet you are multi talented creative person, so lets start the session with few words about you as a person and your family?
Thank you Indiacafe24.com , Its been a privilege to be part of this.
Here's a bit of my personal life. I am born and brought up in Punjab.I have done my M.Sc. from Punjabi University Patiala and B.Ed from Ludhiana. After studies i have got state govt job as a teacher. Taught for 3 and a half year and got married ,my husband works in an IT firm in Chennai so i have to leave Punjab . It was then only i got enough time to nurture my talent in arts.
During my childhood i was a bright student.Good in studies and in extra curricular activities as well .But most of the time i use to draw and paint or simply doodle on my notebooks..I was quite famous in my school because of that, and this art love kept me famous in college and univ too.I have won many prizes in Arts and Academics during my student life . Being a science student it was always difficult for me the spare time for arts but my noble professors always supported me and helped me to find time and participate in inter college art competitions  and Zonal Youth Festivals.This hard work didn't go wasted as i won many prizes for my college during that period .

I love to learn and try different things. Its kind of my passion that whenever i saw something interesting , my mind starts calculating things how it can be done with the resources i have. I have tried my hands on Water Color painting , Oil Painting , Pencil Sketches , Sospeso Art , Greeting card making, Ribbon Embroidery , Clay Art , Knitting , Crochet , Fabric Painting , Nib Painting ,Making  Best Out of Waste , Stitching , Embroidery , Emboss Painting  so far. Anybody can have a glimpse of all these on my facebook page-  Click here
Sometimes it seems to me that i can make anything in craft only if i have the proper supplies.
2) Who discovered your creativity first?
The one who discovered my creative side first was my Father. During my childhood days my father always encouraged me to do some creative work in my spare time.He has always bought me different types of art supplies and help books.But my talent was almost lost with the course of time in my studies.Though he was the one to discover my talents in arts and encouraged me but after a gap of so many years my husband encouraged me to start it again in my free time apart from household work.
3) What are your parameters of defining a painter who is expressive, and sensitive ?
Art is never bound and neither is the Artist…Beautiful Artwork can come from anywhere .No parameters can bound a good piece of art but thus there are a few things  we may  consider which can help understand the work of art a bit more easily –
1st one is the Beauty ,the most important of all the parameters. It should please the eyes of its viewer but still we can't consider it as a parameter at all. Our eyes will naturally be drawn to the art that we prefer but this will act differently for different people having different point of view and interest.
2nd is the art should me meaningful.It should have some inherent meaning to it. But on the other hand every work of art need not to possess this parameter.Its ok if it has only beauty and not much meaning like a still life art of a fruit basket.It can be beautiful without anything else to its viewer.

3rd is how skillfully the art is made as compared to other similar pieces of artwork made from the same medium. And as i said above it again take the deviation as this aspect may be different for different people. People with some knowledge of the technique and skill used in artwork may have a different perspective than people who don't know much about these .
4th one is how different and unique the artwork is or if its not unique then how beautifully different it is from its previous version.
To sum up all i can only say that a good art stands out in a crowd. I remember one of my favourite quotes by — Wilson Mizner
"If you steal from one author, it's plagiarism; if you steal from many, it's research."
4) Being a painter do you think that there are true admirers of painting in this world or its just a fashion and style statement for them to buy expensive painting for interior decorations?
Yes , Definitely i think that there are true admirers of painting in this world though i can't deny the fact that their percentage is much less than the people who buy and see arts as a style statement  and buy artwork only for decoration purposes.
5) When people show interest towards buying your art, do you ever analyze what will be the future of your art in their hands or you try to understand conversing with them what actually provoked them to buy the art?
I do analyze the future of my artwork in the hands of its owner buy only in those cases where i am gifting someone my artwork.My every artwork for me is like a piece of my heart and i gift it only to those who deserves it and take it as something precious and not as a free waste gift, though i regretted in few of the cases after gifting.
And when people buy my art i do converse with them to know what they liked about my work .In this way i will have some idea about what people like to buy and what are those factors which made them interested to buy my artwork.
6) what as per you are the social responsibilities of an artist?
 "To send light into the darkness of men's hearts-such is the duty of an artist" …… by Schumann
According to my perspective every human being uphold a social responsibility towards promoting a social advancement. And Artists are no different in this ,the thing is they can do it much more easily in their own ways by creating meaningful artworks which can advance the public's notions on relevant societal issues.You can contribute in a way that feels right to you.That may mean volunteering  cost free  teaching to the destitute .

Art is Activism and definitely a positive social change can come about through arts.And as an artist i have a social responsibility to be a part of this change.
7) Who is your guru?
I am a self taught artist .My school teachers were my only initial gurus.But now a days so much information is available online the only thing needed is the zest to learn .So after a break of so many years when i started it again in 2011 , You tube, social networking sites and blogs became my new gurus . Theoretically the painting looks quite easy but practically it is quite difficult to make a artwork. It took me years to learn and practice and reach at this point where i am at present , which i still considered as a long way chase to the top without a real guru .

8)  You are lover of the concept Best out of Waste. So let us know something as how you applied the concept and what you made from waste?
This is my most beloved thing to do . I just love transforming things into something new ,  more astonishing  and pleasing to the eyes in just first look. Whenever i see something which is of no use ,ideas start pouring into my mind spontaneously and i feel myself in a different world where there are so many things i can do to it .Though i could not find enough time to try everything. I know its kind of funny but this is what i am and i love this view of mine to see things differently, having the ability to change things in a drastic way and i love being an artist.
Once i found two empty cello tape rolls . Instead of throwing them out i made a small but elegant jewellery box out of it !.
I have turned so many Vaseline Body Lotion bottles and Dettol Hand Wash bottles into beautiful clay vases and waste packaging material into jewellery box, waste leather scraps into coin pouch , credit card holder and mobile holder and many more.
9) What else you love to do apart from your creative work?
Apart from painting and creative work i love to cook, I love to read books coz i didn't get a chance to read any other book during my student life apart from my course books. If i am not painting that means i am enjoying with my family,watching movies or cooking something out of the course or indulged into some Fictional novel .I love to read  Cassandra Clare , Nicolas Spark and Durjoy Datta..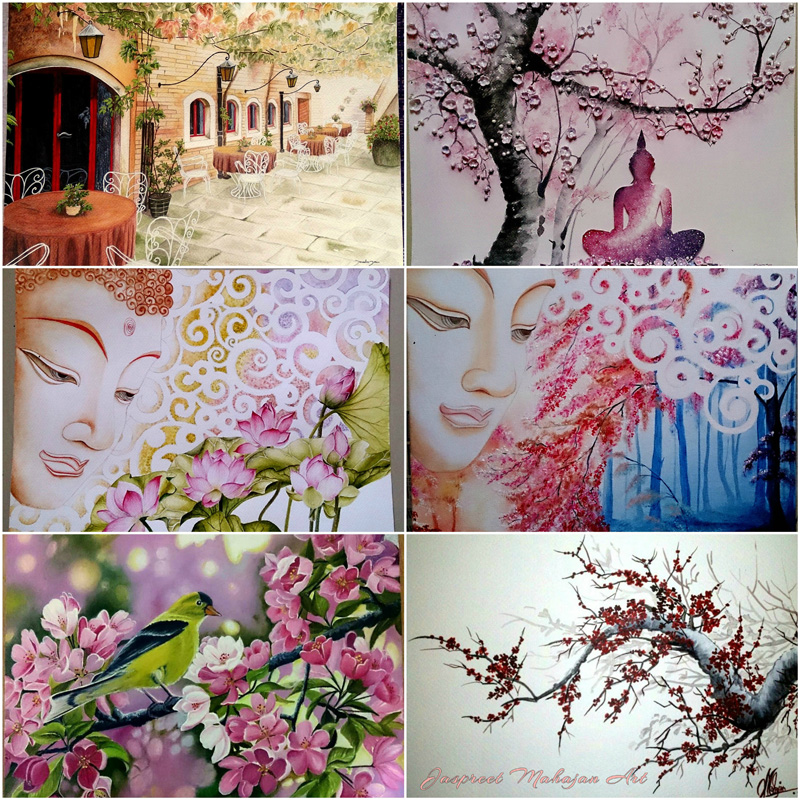 10) If you get chance then will you take up classes to help others learn painting?
Sure , i would love to teach others whatever i  know and to mentor them as anyone can learn painting and artwork . Now a days i am taking online classes on Ribbon Embroidery on canvas and dress material  . Its one of my favorite art forms but its not that much popular in India than it is in African and Arab countries. The ones interested in learning can approach me through my email – jaspreetmahajan@gmail.com.
11)  Who is your biggest art critic?
My biggest art critique is my own self.When i feel something is not going right or something is missing in my artwork and i am not able to see that i ask people for it.I have more than 19000 fans on my facebook  page.Whenever i make something i ask them to share their genuine views and give suggestions about it.Both positive as well as negative view points are welcome on my page.After going through there feedback if i also feels the same way than i do the proper modifications .Final decision will always be mine but i always respect what people say about my work and always have taken that in a positive manner.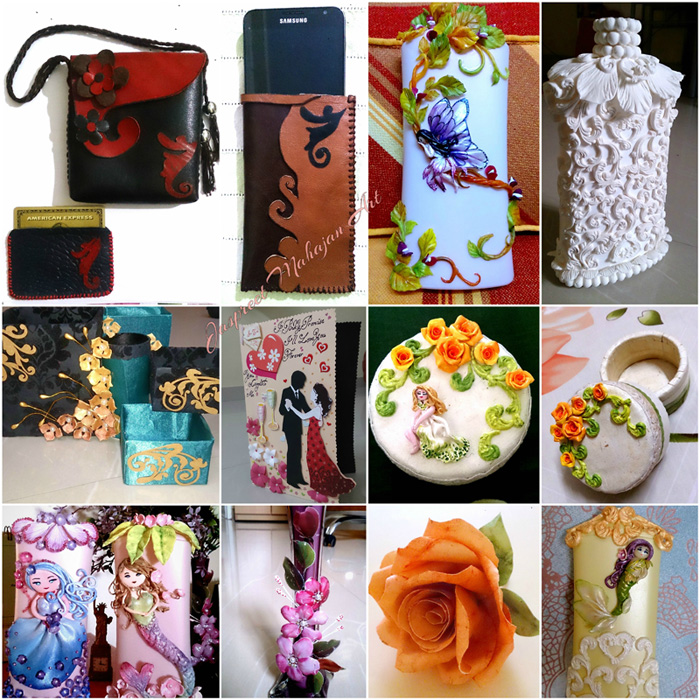 12) We will not say that life of an artist in any form is complicated but yes, it is not easy. How is your life and who support you to take your passion for art to a new level?
Absolutely Right that life of an Artist is never easy…They face more hurdles than any normal office goers.The climb to what an artist considers success is not just steep but seemingly impossible.Most people around us have regular jobs , families and financial securities and it always feels that you are the only one going through it all until you get your desired success and be able to earn a good sum of money.
My life is no different than any other struggling artist who wants to earn a nice place in the society , to establish a bit more to support their families. I am fortunate enough that In this journey towards my passion my family supports me a lot. Due to their continuous support only i am what  i am today .
13) What are you plans in this year?
I am planning to work more harder than what i was doing earlier.Learn more and try plenty of different  things. Planning to reach more people who are interested in learning and teach them whatever i know . I am also planning to fulfill my long awaited dream this year, to exhibit my artwork through art galleries and solo exhibitions. And i know i'll get all my dreams come true one day because i have the power of art ,the power to transcend my own self interest ,relate to the world and each other with more integrity and more curiosity and more wholeheartedness.
14) Describe Jaspreet the artist in one line?
Jaspreet Mahajan is an Artist who wants to arrest motion , which is life, by her art and want to hold it fixed so that a hundred years later , when a stranger looks at it, it moves again since it is Life .
inspired from a famous quote by William Faulkner