Special Edition On Kathak Dancer Sangeeta Majumder Trip to Argentina
Paving dreams through my dance steps in Argentina…
                                                                                                                          

BY Sangeeta Majumder
I can't recall the precise date; probably it was in mid November 2014 when I received an email from the Indian Embassy to visit Argentina as a Cultural Diplomat to promote Indian Classical dance. What accompanied was a quick feeling of excitement as well as eagerness. The thought that it was just the opposite side of the globe occupied me for quite a while. Since childhood, Argentina for me meant just football much due to the legendary football player Maradona and this country's natural beauty was also something that interested me a lot.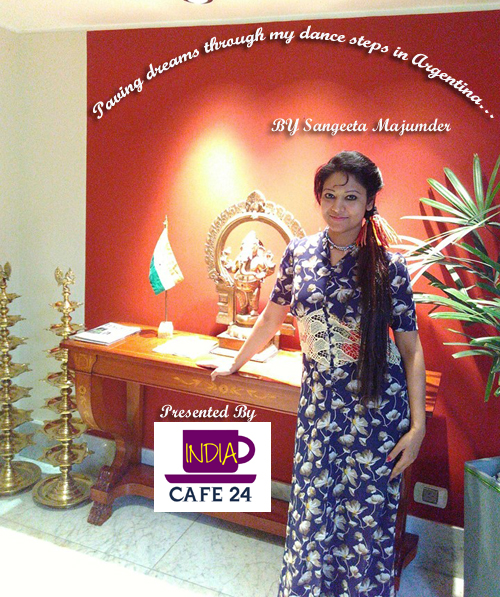 My house in Kolkata is very near to the Saltlake Stadium which is famous for football matches. When in '07 Maradona visited this stadium my whole extended family members went to see him except me. As young teenager I felt neglected. My mother gave me solace and said not to worry as a day may come when I will visit his country to meet him. Even that time it was a dream to visit South America and I could not believe that my passion which would turn into profession would take me to Argentina.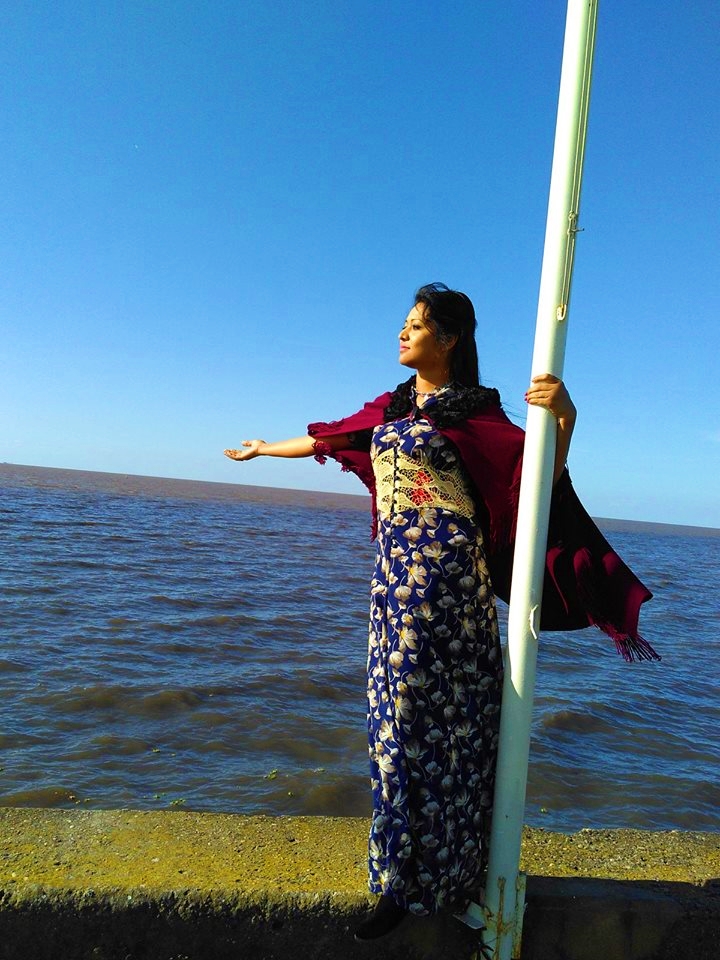 On the bank of River plate
On 29th June I reach Ezeiza Airport, Buenos Aires at 10.30pm local time. The officers already told me to carry warm clothing and it was really cold outside airport. Vivekananda, an official from Indian Embassy came with Emilio, the driver. Emilio seemed to be very jolly and started acting like my local guide telling and talking about Argentina, especially Buenos Aires. They took me to the ambassador's house which was on the 40th floor-full of grandeur and beauty. I was warmly welcomed by the Ambassador of India Sri Amarendra Khatua.Through the wide open glass window whole Buenos Aires was visible just like well decorated stars in a night of Christmas.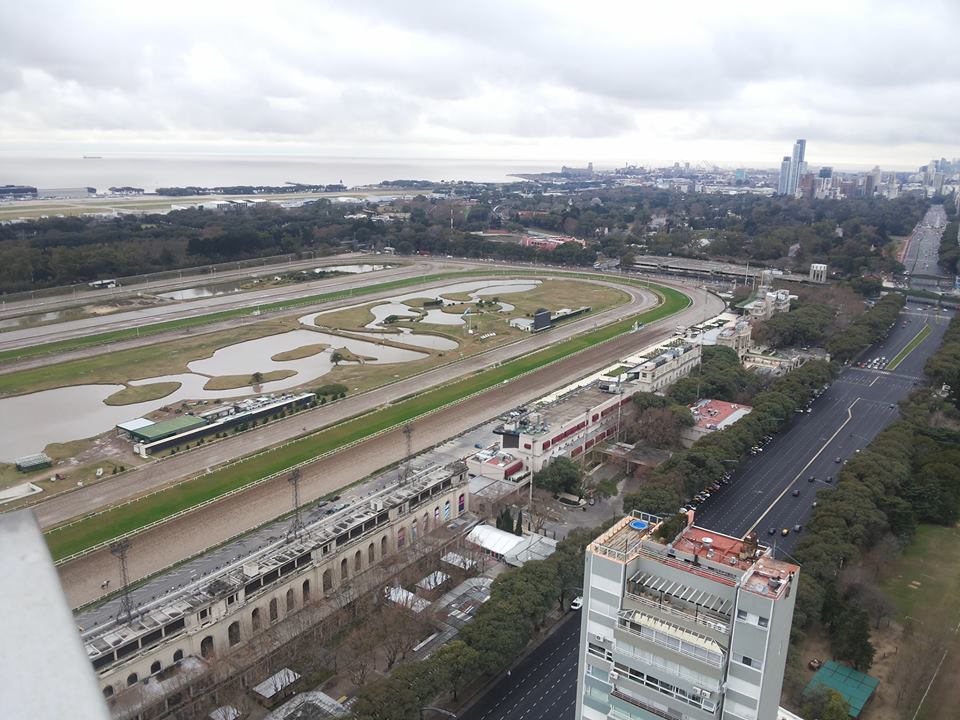 From the wide glass window of Ambassador's house (40th flr.)
After one day Emilio came to pick me to Embassy where I had Interview with Mónica López Ocón
Cultural Editor, Tiempo Argentino, one of the very important newspapers of Buenos Aires and another Interview was with Radio Niketan, Argentina's one and only radio channel about India.
Not only did I fall in love while talking with them, I was also mesmerised to see their love for India and its culture. They were more Indian than us.
The very next day I took my flight to Mendoza. Here I faced language problem as no one in the domestic airport was speaking in English. And I didn't know Spanish language. The gate number was changed and I was not aware until I saw it in the display. Well, finally I board the flight. Andrea came to receive me in this most beautiful city of mountains. She belongs to an Italian family. It was no surprising as Argentina comprises mostly Italian and Spanish people. Natives are very less.
My first performance: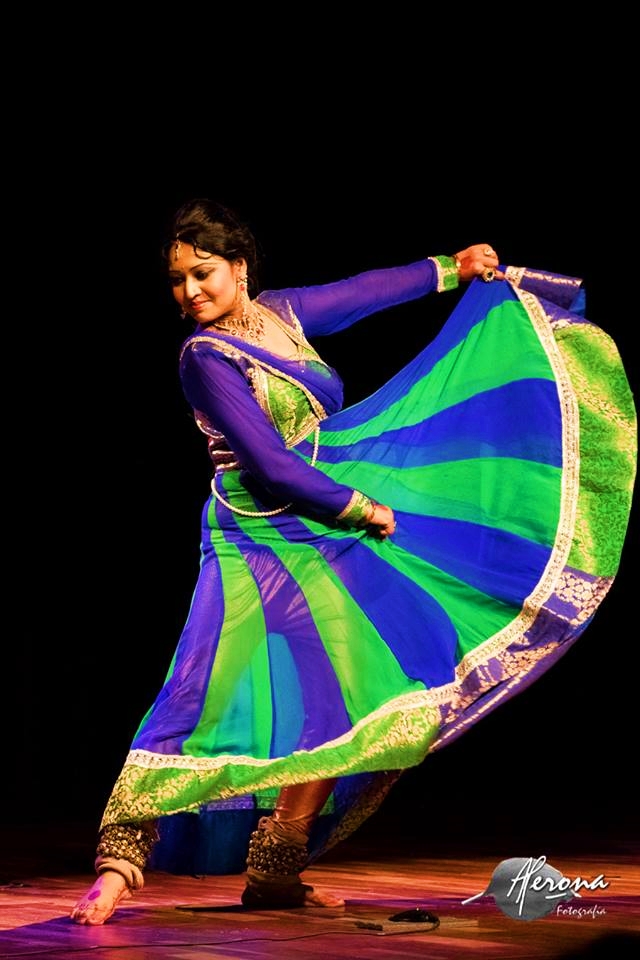 I appeared at 'Club Serio'. It was my first performance in Argentina. All the young crowd came after my performance for taking snaps with me. It was really a celebrated feeling. Their appreciation meant a lot. Next two days I conducted workshops at 'Teatro Independencia', the cultural hub in Mendoza. I thought it will be challenging to communicate to the foreign culture, but since music and dance have a universal language, so communication didn't turn out to be a problem at all. Many of them wanted to continue Kathak dance with me. Ultimately my Kathak choreographies won hearts of many as I could feel through their reactions.
After coming back to Buenos Aires it was a quite hectic schedule for me because I went to 'CARI',Uruguyay to conduct a seminar and was interviewed by 'Revista de arte'. I performed in very prestigious 'Manuel Belgrano Auditorium' of The Ministry of Foreign Affairs (Cancilleria) organized by 'Indian Embassy, Argentina' in front of many distinguished guests like Ambassador of India, Ambassador Japan , Ambassador of France, Consular of Columbia and other countries. I was felicitated by the Ambassador of France to Argentina.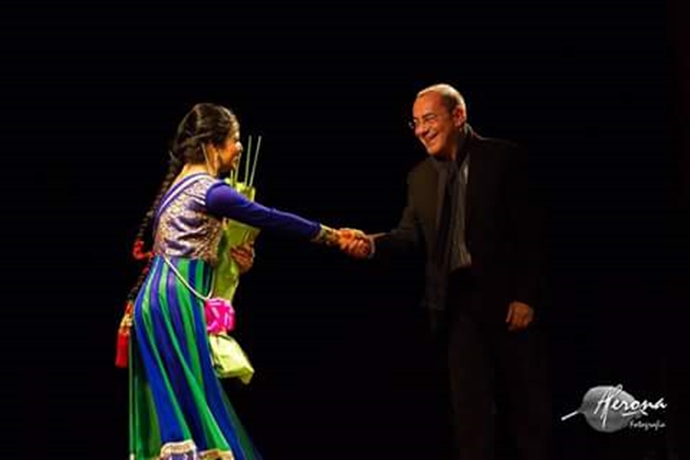 Ambassador of France
I was really enthralled by the speech about me by the Indian Ambassador Mr. Amarendra Khatua. He himself is a respected poet, classical dance enthusiast and music lover. The audience was really admirable for showing their interest towards Indian culture be it Shiva Stuti or a thumri of Lord Krishna. At least 150 people came to me after my performance there. Among them few were Young artists and Indian classical dance learners. Most impotantly I met Myrta Barvie , the legendary Indian Classical dancer from Argentina who called me as 'Meera Bai' for grace and my flowing moves. This kind of compliment from a star dancer made my day.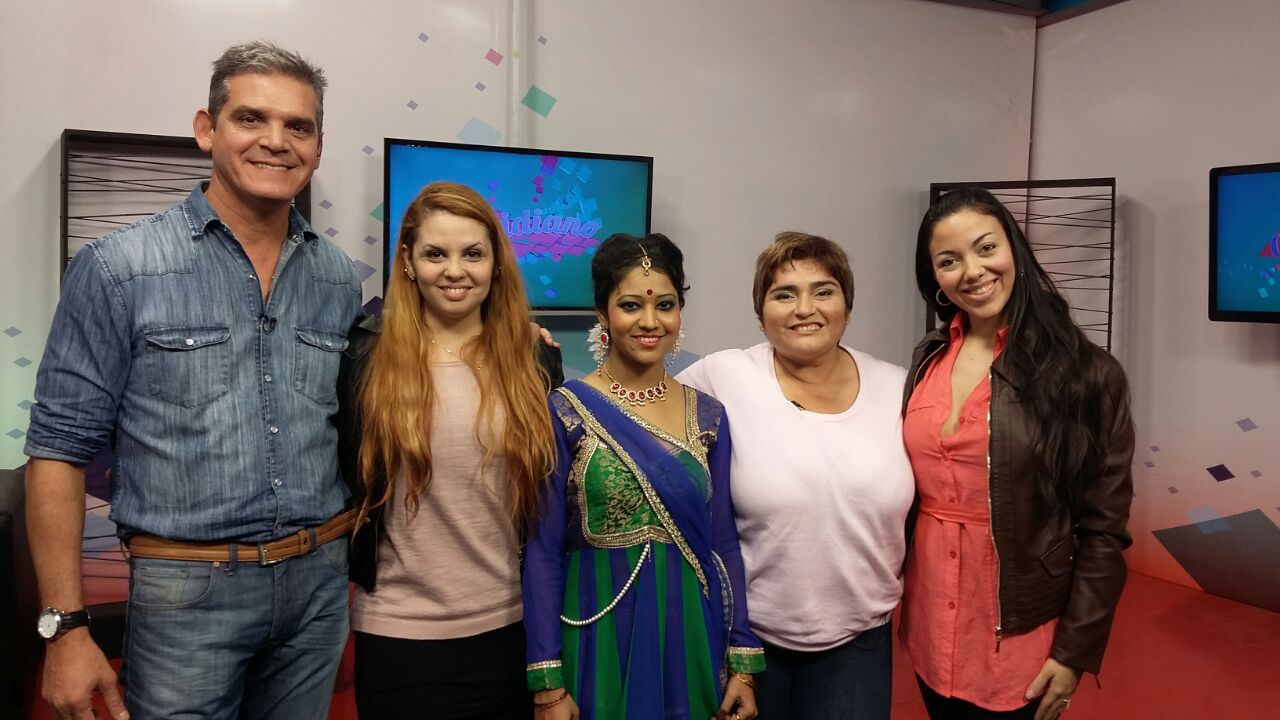 At tv Channel in Resistancia
The next performance was at 'Tres de Febrero' in Buenos Aires for the Ministry of Culture, Sport and Education, Argentina. It was another important concert for me. Here I conducted another workshop too with some lovely students. Paola , who herself was a Bharatnatyam learner translated everything into Spanish for their understanding.
I had the opportunity to visit another part of this country – the province of Chaco, Resistencia City. Here I performed for 'Council of International Dance – UNESCO' in association with 'Indian Embassy'. Here after a full day workshop I became Little emotional because I got the best students from all over Argentina, Paraguay and Uruguay and their understanding level of Indian classical dance and philosophy were just like any other Indians. In the evening there was my concert and along with other Argentine dance performnces.
Later other dancers also joined me for lunch in the hotel Amerian where I was staying. Our topic of discussion started with dance but ended with love and relationship ultimately. In Argentina 58% of births is to unmarried women. I met few ladies over there who are living happily with their boyfriend and kids. They told that they will think about their marriages after few years and then they may or may not get married. They were looking really happy with their "cohabitant" status.
Most beautiful moment was for me a special visit to Villa O'Campo, the house of Victoria Ocampo , which is famous for its list of distinguished visitors who came to Argentina invited by Victoria like Rabindranath Tagore. I was feeling really proud to say that I am from the same city of the most popular world poet Rabinranath Tagore. My visit was organised by Embassy of India. It is said that Rabindranath Tagore wrote 'Vijaya' based on Victoria.
On the same day, another opportunity came to mesmerise the people at 'Teatro del Viejo Consejo', organised by 'San Isidro Municipality' in Buenos Aires. The translator , an Argentine girl Augustina was always with me in my journey in Buenos Aires and helped me to understand everything .
Apart from my performances I had enough chance to meet local dancers , local people, Tango dancers, food in best restaurant with friends over there and of course Ambassador and other special guests were really awesome.
How could I come back without having a city tour in Buenos Aires! So, with Belen I toured by a roof top bus visiting many eye catching places. It was a sunny and windy day; so I had to wear woolen cardigan, blazer, full stockings , scarves everything to cover myself. Sunglass was another indipensible thing that I carried all along.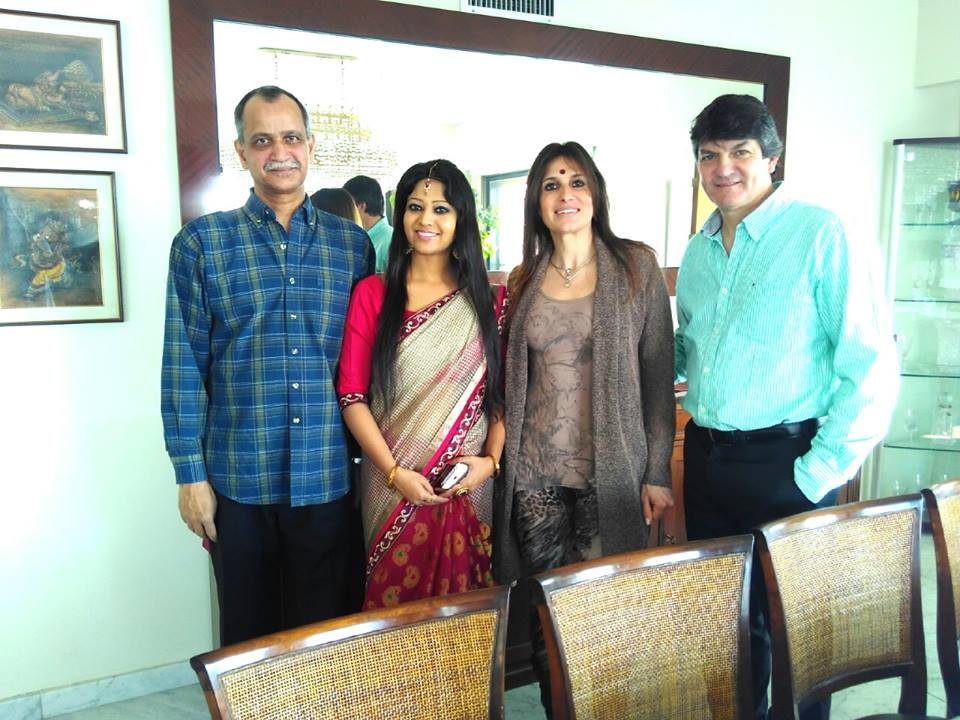 With Ambassador of India Sri Amarendra Khatua and Cosular of Columbia Mrs. Cecilia Ines Baras
La Recoleta, the entire cemetery is laid out in sections like city blocks, with wide tree-lined main walkways splitting into pavements filled with vaults and tombs. This is the first time I spent a really long time in a cementry. The beauty really captured me. From here again we boarded a bus and went to see the Opera house. It was really huge. The first sentence I uttered looking at this was ''Oh! Today onwards, this is another of my dreams added in my list where I want to perform one day in my life."
La Boca, the neighbourhood is such a place that it can make your heart colourful and so the market San Telmo was. Another important place La Bombonera. The name is due to its shape, with a "flat" stand on one side of the pitch and three steep stands round the rest of the stadium.
I was really awestruck to see a sculptured flower made of steel. It was a gift to the city by the Argentine architect named Eduardo Catalano. But what I enjoyed most was the Palermo Lake. Here everyday children come to enjoy boating and roller skating by the lake.
Well, whole day we spent screaming out of joy like small girls hopping on and off the bus. Belen, the embassy staff must have been thinking that the traditional and classical dancer from India is actually a little girl inside.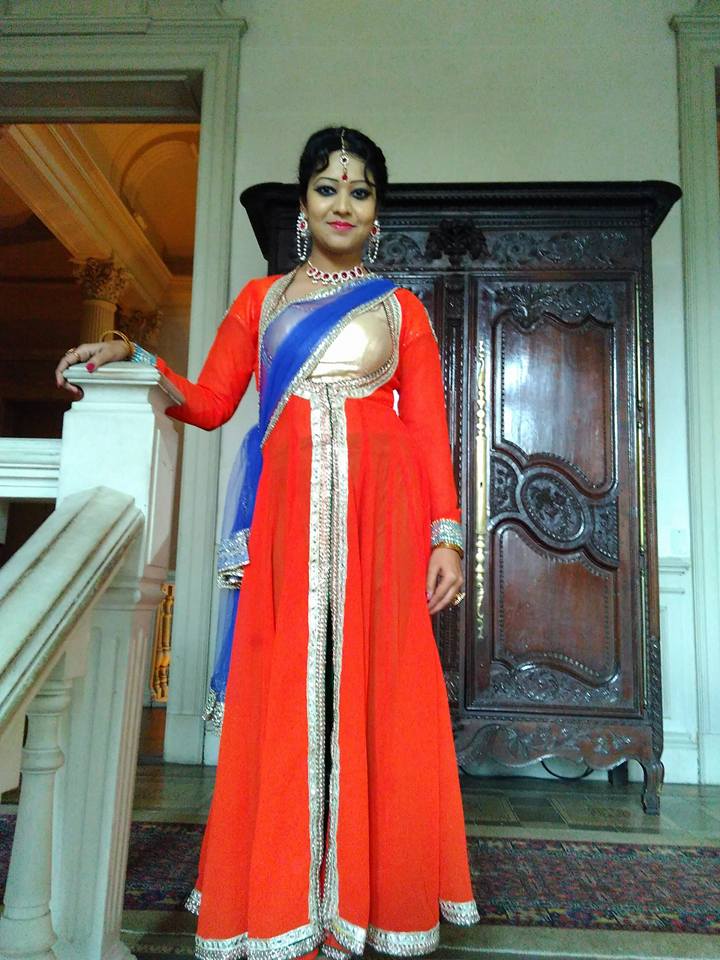 At -Villa Ocampo
In this whole trip I went to taste Argentine, Peruvian in almost all best and big restaurants with the Ambassador. I ate chicken dishes, salad and ice cream desert. Ice cream volcano cake taste excited my taste buds the most.
Shopping and girls are synonymous. I was staying at the most fashionable and trendy locality. I had the chance to see many designer showrooms. They were too costly though very beautiful. I bought few leather items and wall hangings.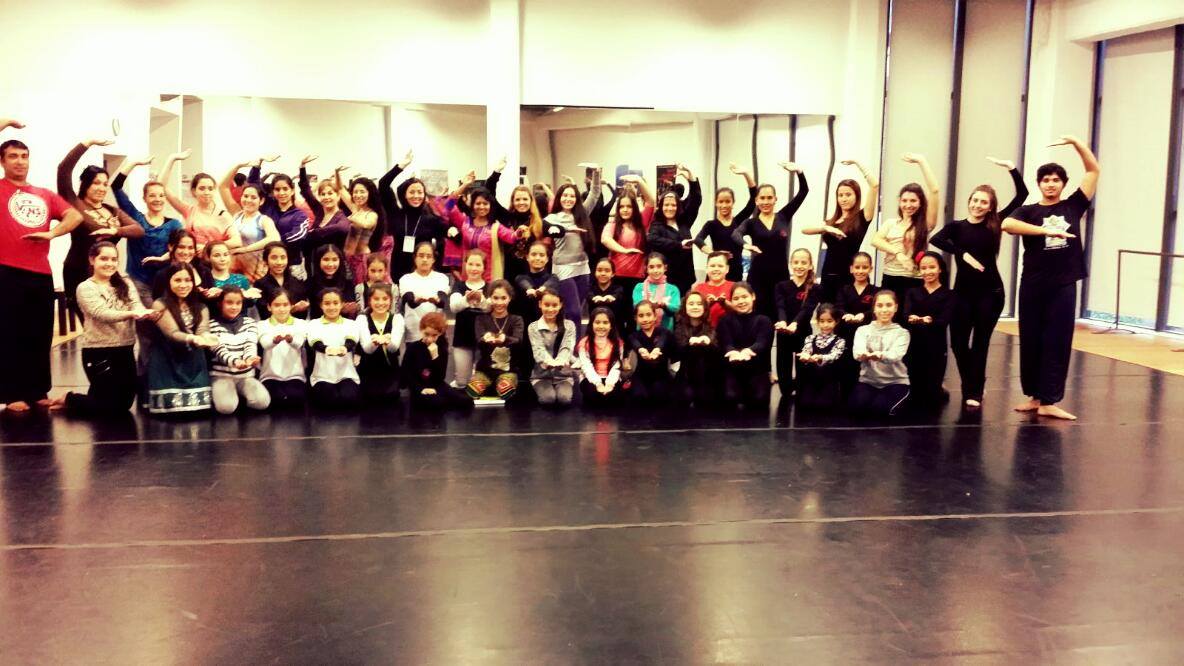 Workshop in Argentina
On the final day, I went to meet all the staff in the embassy and was feeling attached to them. While coming back, Emilio surprisingly told me that he will take me to few places which I would definitely like. He took me to Cancilleria, the auditorium of Foreign Ministry, where I performed few days back. I took many pics (and of course selfies ) and truly thanked him. Then he took me to Rio De La Plata, the Silver Plate River. The solidarity can be so beautiful- the River reminded me the philosophy of a boatman – no one knows the entire ocean. In that regard, nobody has seen or will ever understand every little detail in our soul –probably not even ourselves. "My dance has established my identity , made me stand and represent India and Indian culture many times, but I am still sailing with my small boat to explore the ocean…"
Recent Newspaper feature of Sangeeta Majumder​ from 'New Indian Express'
From Newspaper Tiempo Info-news, Argentina