Smart Greens Plant Based Vitamin B-Complex – The Best Supplement To Boost Immunity
Smart Greens Plant Based Vitamin B-Complex – The best supplement to boost immunity
Before defining a product good or bad, I want to be very sure about how it affects my life. During this Covid time, we must take good vitamin supplements. Keeping this in mind, when I was looking for the same, I came across Smart Greens Plant-Based Vitamin B-Complex and decided to give it a try. I ordered a pack from Amazon. After almost 20 days of taking the supplements, both by me, and my husband and I can happily say that it helped us in boosting our Immunity.



 About the Product:
The Smart greens plant-based vitamin b-complex is made out of plant-based whole-food ingredients. You will get all essential B-vitamins in it. In addition to vitamins, it also contains herbs, fruits, as well as vegetable extracts. It supports in improving blood flow, energy level, and also balances mood.  It also supports in increased production of RBC in our body. Overall, it improves the immune system. Helps in reducing stress, and improves the functioning of the nervous system.
Ingredients the product contains:
Essential B-Vitamins- B1, B2, B6, B12

Turmeric

Berries

Ashwagandha

Tribulus

Fenugreek
How to use:
One capsule daily is recommended. If you have confusion then you must consult your general physician and take as directed.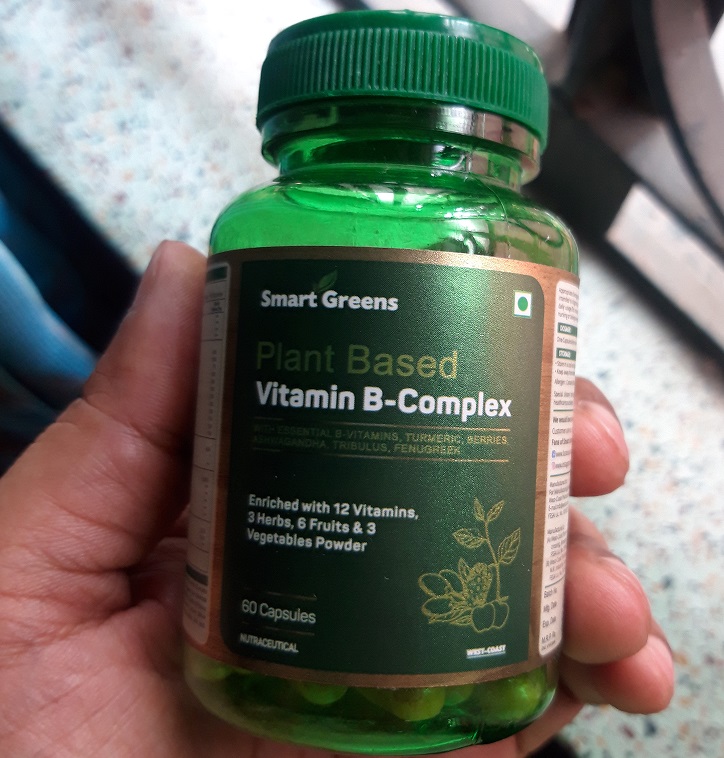 Package:
 I bottle of the vitamin consists of 60 capsules and serves you for 2 months. The bottle is handy and comes in light green color. The overall weight is 150 Grams.
Price:
You need to pay INR: 399 plus delivery charges if you dot have Amazon Prime. For Amazon Prime buyers it will be just INR: 399.
Verdict:
 A product I strongly recommend to all for building strong immune.