Sankatamochan Mahabali Hanuman from 4th May on Sony ENT TV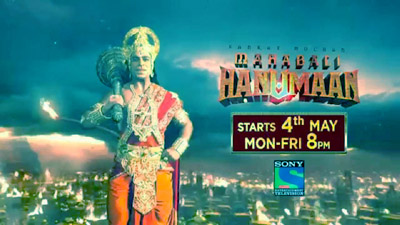 Mythological stories these days are the common trend which we get to see in the Television serials. The best part of mythological serials is that it gives a whole new way of knowing the stories of History. The scenes of the serials are directed in such a manner so that it can create the curiosity among the viewers to know history better. Keeping this ongoing saga of Mythological stories a new serial named Sankatamochan Mahabali Hanuman is all set to go on Air from 4th May, 2015. This serial will be aired from Monday to Friday sharp at 8 pm on Sony entertainment Television. The Entertainment News section of indicafe24.com will share some latest info on this serial.
As per latest news huge effort invested by the complete crew members of this serial in shaping the characters, making selection of the actors as well as going in depth of the mythology story to give a real look and feel to audience.
A sneak peak on the actors playing the important roles in this serial:
Mahabli Hanuman to be played by Nirbhay Wadhwa: Nirbhay Wadhwa is a well-known name in the television industry popular for playing some significant roles in historical and Mythological serials. He played the role of Dushasan in Serial Mahabharata and was again seen in serial "Bharat ka Veer Putra-Maharana Pratap" as the character Hakim Khan Sur
Anjani ( Mother of Hanuman) to be played by Barkha Bisht: Barkha so far played roles of different shades and one of the significant role played by her was of Pinky in Parvarrish – Kuchh Khattee Kuchh Meethi and last she was seen in Hindi film Samrat & Co.
Lakshmi, Sita and Rukmini to be played by Deblina Chatterji: Deblina is one of the youngest crew members for this serial and she was last seen in serial Balika Badhu as Dr. Gauri Jagdish Singh
Vishnu, Ram and Krishna to be played by Gagan Malik: Gagan Malik is a seasoned actor and he started his journey in the industry as Sharman Wadhwa in serial KumKum and was last seen in the serial Ramayan, playing the role of Ram.
Raavana to be played by Aarya Babbar: Aarya Babbar is popular in Bollywood and played several roles in many films. He was last seen in reality show Bigg Boss 8 as contestant and now will enter the television industry for the first time as Raavan in Sankatamochan Mahabali Hanuman.