Tomorrowland – Movie Review
Tomorrowland Aims To Inspire And Shape The Minds Of Your Little Children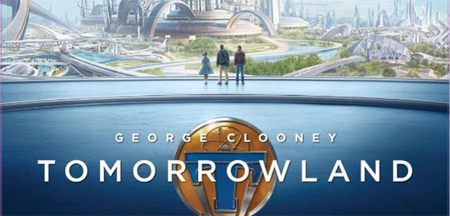 Movie: Tomorrowland
Cast: Hugh Laurie, George Clonney, Raffey Cassidy, Britt Robertson, Judy Greer
Director: Brad Bird
Genre: Sci-fic
Rank:

In Entertainment café today we review Hollywood latest release "Tomrrowland".
There are good many factors compelling enough to appreciate the movie. The movie has George Clooney and Hugh Laurie as the primary factor in spending money over the movie. Secondly, explosions, presence of robots, conveying a strong message and putting the future of the time to be decided by two young and genius girls.
The plot of the movie starts in New York's World Fair in 1964. In this fair eleven years old Frank has come to display his jet pack that he has built on his own. In this fair young Frank meets Athena, (Raffey Cassidy) who is a mysterious girl. Athena takes Frank to "Tomorrowland" (a land that is present in another facet of the world). On this land all the pioneers have assembled with a view to make the world a better place to live in.
Coming back to the present day, Casey (Britt Robertson) who is fascinated by space and its exploration meets Athena. Athena introduces Casey to the grown-up Frank (Clooney) who is all bitter and grumpy now. Casey comes to learn about the place (Tomorrowland) via a pin which she had mysterious received and that pin has shown her a glimpse of that land. She pleads Frank to accompany her to that land.
The story starts taking pace when an incident happens with Casey that makes Frank change his mind. Actions and incidents keep on happening one after the other on their entire journey to the land. The movie is all about their journey of making the world a peaceful and harmonious place to live in. The movie delivers the message that there is always a constant possibility of improving the World's future.
Children shall thoroughly enjoy all the action and fictitious scenes and situations projected by the movie. This film is targeted to reach the children's heart and thus, is a reason strong enough to watch.
Indiacafe24 ranks Tomorrowland 4 stars out of 5.