The Gallows- Movie Review
A Horror Movie That Chokes On Its Found Footage Clichés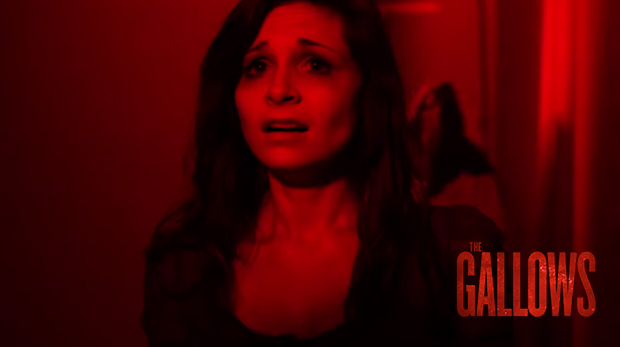 Movie: The Gallows
Cast: Reese Mishler, Ryan Shoos, Pfeifer Brown, Cassidy Gifford
Director: Travis Cluff, Chris Lofing
 Genre: Mystery & Suspense, Horror
Rank:

The Gallows is yet another attempt to scare the audiences with a concept that revolves around found-footage high-school horror. Sadly directors, Travis Cluff, Chris Lofing have totally failed in their attempts and have come up with this cheap mock-doc fright flight. The cast of the film consisting of Reese Mishler, Ryan Shoos, Pfeifer Brown, Cassidy Gifford, is no better and disappoint the audiences with their performance. Even cinematographer Edd Lukas fails to impress in this movie which was released in theaters on 10th Jul 2015.
In 1993 a freak accident during an ongoing stage school play at a Nebraska high-school, kills Charlie Grimille. Twenty years later, the school decides to pay homage to the thespian by restaging the play. The lead actor and football star Reese (Reese Mishler) has a crush on the leading lady Pfeifer (Pfeifer Brown, which amuses Reese's friend Ryan (Ryan Shoos). Ryan has the habit of filming everything he sees. On the eve of the opening night of the revival, Reese, Ryan and his girlfriend Cassidy (Cassidy Gifford), the peppy cheerleader break into the school where they unexpectedly come across Pfeifer. The next thing they know, the group is locked up in the school as they try to fight off the ghosts of the past and save their lives.
The film completely lacks any original thought or even a single inspirational sequence. Even the horror scenes are appalling with each one being more tedious than the other. The incompetence of the script is further enhanced by the paper-thin performances of the four main characters. The cinematography looks like the task has been handled by yet another teenager, adding just one more nail in the coffin of this flick.
Overall, the movie is complete disaster and IndiaCafe24 gives The Gallows a rating of 1.5 stars.
Reviewed By Meetu