Tanu Weds Manu: Returns – Movie Review
Once Again Kangana Nails It!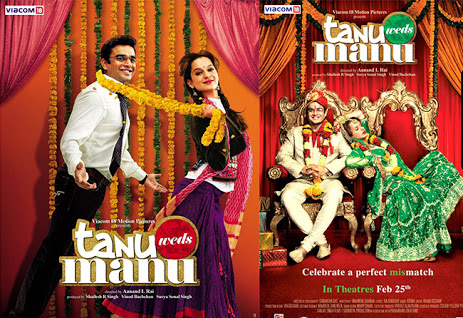 Movie: Tanu Weds Manu: Returns
Cast: Kangana Ranaut, R.Madhavan, Deepak Dobrial, Jimmy Shergill
Director: Aanand L. Rai
Genre: Romance/Drama
Rank:

In latest Bollywood movie reviews we have the review of the 22nd May's Bollywood hit "Tanu Weds Manu: Returns".
Tanu Weds Manu: Returns is the sequel of 2011 slower-hit Tanu Weds Manu. Four years ago, Kangana was still a struggler in the B-town. Gangster was Kangana's debut film which did pretty well in the box office and she bagged a national award for her exceptional acting in Fashion. But four years hence, when in 2015, Kangana stepped in the main stream acting with Tanu Weds Manu: Returns, she is no longer chasing a dream rather she is the only dream for many after having won 2 national awards at the age of 28.
Kangana's acting has matured with time and this movie seconds the statement. The film is one of the best sequels featuring a look-alike concept of Bollywood. She has pulled off her two characters disbelievingly well. She was able to convince her viewers that Tanu and Kusum are different persons who talk and behave as two distinct individuals irrespective of the fact that they (Tanu and Kusum) share the same face.
The movie starts from the very point the prequel had ended. Tanu and Manu are now wedded for four years settled in London. But unfortunately their happiness did not last for long and they soon got bored growing out of the relation. Tanu returns to her native town, Kanpur, and lights up the town with her Bohemian charm. Manu too returns in India and keep wandering in Delhi until he encounters the Haryanvi athlete Kusum alia Datto. The story from here takes twists and turns with Tanu having second thoughts and the love triangle clearly taking shape between the trios. All the running around, run and rush, and the chaos give the story of the movie a comedy touch where romance only blooms in the end when Manu finds his true love and partner.
Kangana is the genius X factor of the movie which compels the viewers to watch the movie this weekend. Without too much revealing the spice of the movie, Indiacafe24 awards the movie 4 out of 5 stars.