Jazbaa – Movie Review
Sanjay Gupta's Latest Is A Thought Provoking Edge-of-the-Seat Thriller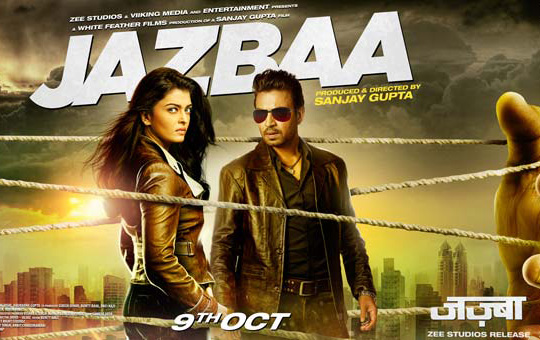 Movie: Jazbaa
Cast:  Aishwarya Rai Bachchan , Shabana Azmi, Irrfan Khan, Jackie Shroff, Chandan Roy Sanyal, Sara Arjun
Director: Sanjay Gupta
Genre: Thriller
Rank: 

Deemed as the comeback film of the extremely talented and stunning Aishwarya Rai Bachchan, Jazbaa has been one of the most awaited movies of the year. Apart from Aishwarya, the move also stars Shabana Azmi, Irrfan Khan, Jackie Shroff, Chandan Roy Sanyal, Sara Arjun. The thriller directed by Sanjay Gandhi, has been released in theaters on 9th Oct 2015.
Anuradha Verma played by Aishwarya Rai Bachchan, is a successful criminal lawyer besides being a single parent for her daughter Sanaaya played by Sara Arjun. There seemingly happy life turns into a nightmare when Sanaaya is kidnapped in order to force Anuradha to defend a rapist and a murder, Miyaz Sheikh, played by Chandan Roy Sanyal. As Anuradha fights amoral battle she has no one to rely upon except her best friend and suspended cop Yohan(Irrfan Khan). As the case progresses, she meets the victim's mother played by Shabana Aazmi and a politician played by Jakie Shroff who are an integral part of this jigsaw puzzle. Whether the mother and daughter are reunited and how Yohan helps in ensuring the same is what forms the rest of the story.
Aishwarya Rai Bachchan has ensured that her comeback onto the silver screen after 8 long years is through a spectacular role. However, she alone cannot be credited for making the movie truly spectacular as co-stars Irrfan Khan and Shabana Aazmi too have their moments in the films. Director Sanjay Gupta deserves to be praised for maintain the trill and suspense of the movie till the end. The movie maintains its pace and power till the very last dialogue is delivered and this is what makes it click despite its minor flaws
The movie is must watch for people who love thrillers and all the fans of the lead cast. IndiaCafe24 gives Jazbaa a rating of 3.5 stars.
Reviewed By M . Nadir