Jai Hind- Short Film Review
Vijay Jaiswal's Short Film Revives the Sense of Patriotism and Love for Country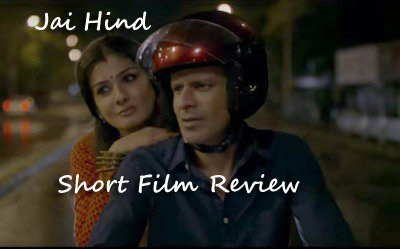 Movie: Jai Hind
Cast: Manoj Bajpai, Raveena Tandon
Director: Vinay Jaiswal
Genre: Drama
Rank:

Just days before India celebrates its 68th Independence Day, Vinay Jaiswal's short film pays a befitting tribute to the countless freedom fighters, who, scarified their everything to make the country free. Starring Raveena Tandon and Manoj Bajpai, who have worked together as a couple on screen, after nearly 14 years. The film is based on the concept of what if the country was still being ruled by the British and delivers the significant message of what Indian must have felt and experienced under the British rule.

Watch Jai Hind
The film starts with Manoj Bajpai and Raveena Tandon riding a bike and discussing the menu for celebrating her birthday at a restaurant. However, Just outside the restaurant the couple meets an accident when a car rashly driven by a young foreigner (presumably a British guy), hits the bike and causing both Manoj and Raveena to fall off. The car driver opens his door and shouts the phrase, "Bloody Indians" before driving off. A limping Manoj picks Raveena up in his arms, enters the restaurant and places an injured Raveena on the nearest table. However, as he tries to revive her, he is manhandled by the guests and the staff of the restaurant before they eventually dump the couple back on the street and the camera pans in to capture the sign 'Indians and dogs not allowed' at the entrance. The film however goes on to portray a beautiful climax that makes the viewers realize the significance of having been born in a free India.
Vinay Jaiswal has beautifully depicted the inequality and the racism that our ancestors were subjected to in an enslaved India. Raveena Tandon and Manoj Bajpai have performed their roles in the most convincing manner. The film, which lasts for a little over 6 minutes, sends across a very strong message especially to the youth of this country, who seem to take independence for granted. It also reminds us of the fact that had it not been for the zeal and patriotism of our freedom fighters, we might still be living under British rule.
Overall, the movie is a really good watch and IndiaCafe24 gives Brothers a rating of 4 stars.
Reviewed By Meetu