Housefull 3 – Movie Review
Real comedy lacks in Housefull 3 – Makes it nothing better than one time watch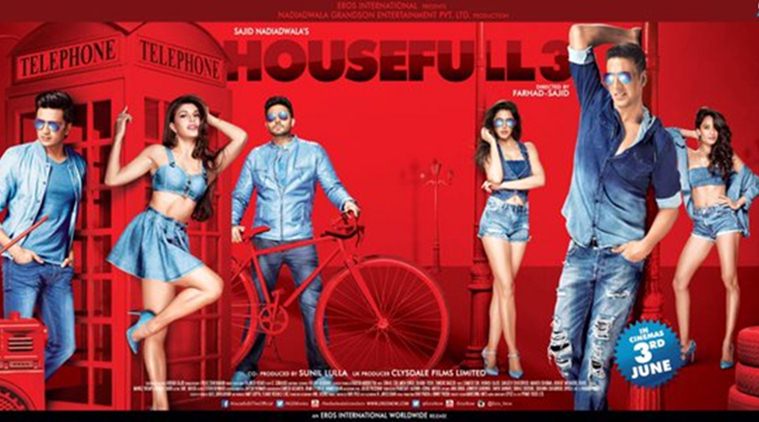 Movie:  Housefull 3

Cast:  Akshay Kumar, Riteish Deshmukh, Abhishek Bachchan, Jacqueline Fernandez, Nargis Fakhri, Boman Irani, Lisa Haydon

Director: Sajid-Farhad

Genre: Comedy

Rank: 2.5
The sequel of Housefull, Housefull 3 hit the theaters on 3rd of June, 2016. Audience was curious to know what will exactly happen in this film, will it offer same entertainment like before or will turn up to a disaster comedy.  Directed by Sajid-Farhad, the movie opened in theaters today.
Well its very true that Akshay Kumar is one such actor of the industry who presents himself equally well in comedy characters and serious and action thriller roles too.  How Akshay will perform in this film was a matter of discussion among fans. Housefull 3 is a romantic comedy of a father with 3 daughters, who is not ready to see his daughters married. The story center rounds the effort made by 3 guys to please the father to marry his daughters.  Hardly there is any difference in the level of comedy from the past 2 sequels. What extra added this time is the silly WhatsApp jokes apart from regular comedy.
Audience will get to see some comedy in the first part of the movie, but that started fading away in the second half making it bit boring for comedy lovers. The concluding part of the film was good enough to close the film on a happy note. Akshay Kumar, Abhishek Bachchan and Riteish Deshmukh gave their best to create the right comedy timing while Jacqueline Fernandez, Lisa Haydon and Nargis Fakhri accompanied them well.  Akshay kept the promise made to his fans for this film.
If you are looking for the true entertainers in the film then that credit goes to Boman Irani and Johnny Lever. Movie picturisation was good, so are the costumes and music, but what failed to create the real impact on the audience was lack of real comedy. Overall if you just want to refresh your mind with comedy of any type go for the film. Intellectual movie lovers – Stay away. Indiacafe24 gives Housefull 3 a rating of 2.5 stars.