Ghayal Once Again – Movie Review
Sunny Deol's Ghayal Once Again is Too Outdated And Fails To Impress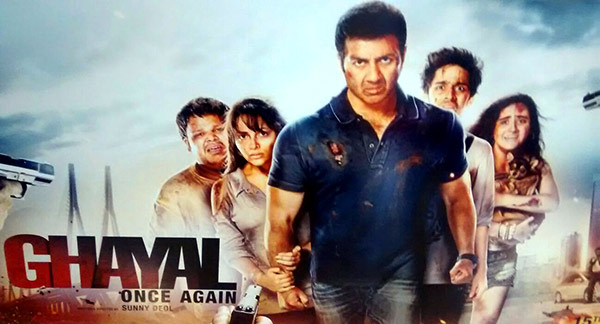 Movie: Ghayal Once Again

Cast:  Sunny Deol, Om Puri, Soha Ali Khan, Prachi Desai, Murli Sharma, Narendra Jha, Tisca Chopra

Director: Rahul Rawail

Genre: Action, Revenge Drama

Rank: 2
The much awaited sequel to the classic revenge drama Ghayal, Ghayal Once Again has finally hit the screens. Starring Sunny Deol, Om Puri, Soha Ali Khan, Prachi Desai, Murli Sharma, Narendra Jha, Tisca Chopra, the movie is tells the tale of Ajay Mehra, after he completes his jail sentence. Produced by Dharmendra and directed by Rahul Rawail, the movie was released in theatres on 5th Feb 2016.
After his release from prison, Ajay Mehra (Sunny Deol) takes up investigative journalism and publishes his stores in his own newspaper called Stayakam. He becomes quite popular and even manages to earn a decent fan following. His greatest fans are four college students who feel inspired by his fearless attitude and unforgiving approach towards crime. Things turn ugly, when the four friends, out on a photography expedition, accidently video record a footage, which clearly shows the involvement of the city's two most powerful men in the murder of an upright police official. This brings them up against the powerful business tycoon Raj Bansal (Narendra Jha). With Ajay as their only hope and support, will the student be able to stand by the truth is what remains to be seen.
Even though Sunny Deol has taken the courage to recreate the drama and action of Ghayal, it does not get even fleetingly close to the original. The outdated threats and heroics that used to work wonders for a movie in h 90's do not hit the mark with today's audiences. Although Deol's performance along with the other leading stars is worth quite good, it does not do much t help the film that lacks a strong script and has just average special effects.
Ghayal Once Again is a treat for action lovers and IndiaCafe24 gives it a rating of 2 stars.
Reviewed By Meetu