Fan – Movie Review
Fan Sees Shahrukh Khan essaying Multiple Roles At Once In A Brilliant Manner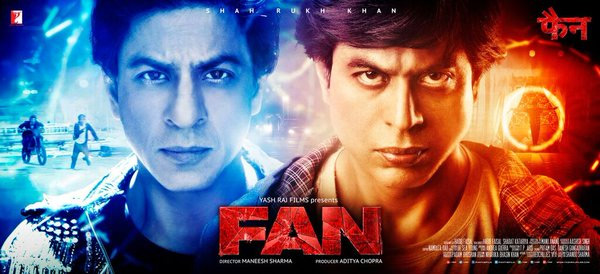 Movie: Fan

Cast:  Shahrukh Khan, Ileana D'Cruz, Vani Kapoor, Waluscha D'Souza, Shriya

Director: Maneesh Sharma

Genre: Drama, Action, Thriller

Rank: 4.0

Fan is quite unlike the usual run of the mill romantic tales that Yashraj film is so well known for producing. The movie, which sees Shahrukh Khan in a double role as well as a negative role, also stars Ileana D'Cruz, Vani Kapoor, Waluscha D'Souza and Shriya. The movie, produced by Yashraj Films and directed by Maneesh Sharma was released in theatres across the globe on 15th April 2016.
Gaurav (Shahrukh Khan) is an unusual young man and a big fan of superstar Aaryan Khanna (Shahrukh Khan). Gaurav worships Aaryan as his God and hence is elated when he wins a tribute for the film star. He then decides to go to Mumbai to meet and greet the star on his birthday. However, things do not go as planned and Gaurav's love and obsession for Aaryan turns into creepy obsession. He follows Aaryan around the world committing crimes and pinning the blame on the actor. His street smart and cynical attitude plus the fact that he bears a close resemblance to his favorite film star help him to get away with his deeds. Where this dangerous obsession leads Gaurav as well as his cinematic God Aaryan Khanna, is what forms the rest of the story.
Fan is a tense and emotionally gripping movie that also offers great fun. It takes the audiences back in time to an era when Shahrukh Khan played the role of an obsessed lover, only this time he is stalking his favorite movie star. Maneesh Sharma has done a great task in keeping the movie right on track while also providing some lighter moments for the audiences to ease away the tension.
Fan is definitely a must watch movie and keeps the audiences engaged right from the word go. IndiCafe24 gives it a rating of 4.0 stars.
Reviewed By Meetu