Azhar – Movie Review
Azhar Is A Disappointing Potboiler That Does Not Deliver Anything Of Value To The Audience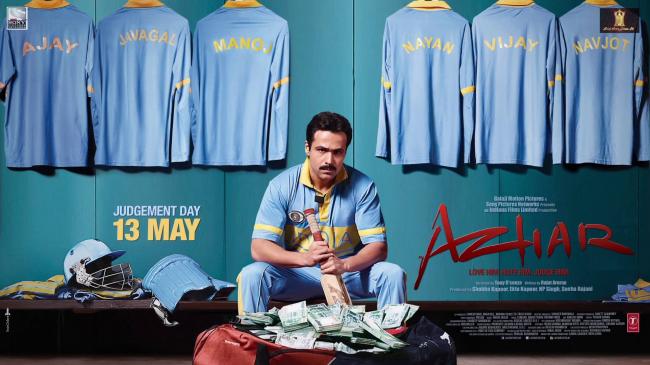 Movie: Azhar

Cast:  Emran Hashmi, Nargis Fakri, Prachi Desai, Kunal Roy Kapoor, Lara Dutta, Gautam Gulati, Manjot Singh and Karanvir Sharma

Director: Tony D'Souza

Genre: Sports Drama

Rank: 2.5
Azhar is one of the most awaited movies of 2016 primarily because it is based on the life of former Indian cricketer Captain – Mohammad Azharuddin. The movie stars Emran Hashmi, Nargis Fakri, Prachi Desai, Kunal Roy Kapoor, Lara Dutta, Gautam Gulati, Manjot Singh and Karanvir Sharma. Directed by Tony D'Souza, the movie was released in theatres on 13th May 2016.
The film traces the life journey of controversial cricketer Mohammad Azharuddin played by Emran Hasmi from his early childhood to the time he faces the charge of match fixing in a courtroom. It narrates how a boy born in a modest Muslim household goes on to become one of the best batsman and fielder of the Indian cricket team. It also tells how his constant success is resented by accomplished cricketers like Manoj (Karanvir Sharma), Ravi (Gautam Gulati), and Navjot (Manjot Singh), who initially patronized him. The movie also tells the tale of Azhar's estrangement from his wife Naureen (Prachi Desai), after he falls in love with Sangeeta (Nargis Fakri), a Bollywood actress. It also tries to highlight the aftermath faced by the cricketer after he is charged with the allegation of match-fixing.
Sadly Azhar fails to realize the potential of the full masal real –life script and is a complete failure in terms of projecting a real-life character on screen. The fault however, lies both with the director and the lead actor Emraan Hashmi, who despite having spent a lot of time with the cricketer did not manage to emulate him on screen. The corny dialogues do not make things any better for the movie and nor does the dismal performance of Nargis Fakri. All these lapses have reduced the film to a salacious potboiler and IndiCafe24 gives it a rating of 2.5 stars.
Reviewed by Meetu