Soumitra Chatterjee: "Feluda" bid adieu to Bengali Cinema @85 Years
Soumitra Chatterjee: "Feluda" bid adieu to Bengali Cinema @85 Years
Soumitra Chatterjee, one of the legendry actors of the Bengali Film industry, breathed his last at Belle Vue Clinic, Kolkata, on Sunday 15th November 2020. He was 85. Soumitra was admitted to the hospital on October 6 as he was positive with Covid-19. He left the world after a prolonged battle for 40 long days with other health issues along with covid-19. His fanbase was massive, and his fans preferred to call him Feluda. Feluda is one of the notable roles played by him on the silver screen.

His major film collaborations remained with Late Satyajit Ray, one of the eminent and Oscar-winning filmmaker. The veteran Bengali actor started his film career in the year 1958 and played the role of " Apu" in the movie " Apur Sansar" directed by Satyajit Ray. He played the character of Pradosh Chandra Mitter alias Feluda in Sonar Kella, and Joy Baba Felunath, which were both directed and written by the legend Satyajit Ray. He set the benchmark for the Bengali film industry with his exceptional and heart-touchy performances in the movies like Hirak Rajar Deshe, Cahrulata, Abhijan, Asani Sanket, Basanta Bilap, Ghare Baire, Jhinder Bondi, Tim Bhooboner Pare, and many other films are there. Before the Covid-19 positive report, he continued his shooting for a documentary named " Abhijan" directed by Parambrata Chattopadhyay.

In addition to Satyajit Ray, he worked with many other legendary directors like Tapan Sinha and Mrinal Sn. He worked with Satyajit Ray from 1959 to 1990 in 14 films. He also worked with contemporary directors like Rituparno Ghosh, Aparna Sen, Goutam Ghose, and Anjan Das. Besides films, he was also one of the finest theater artists, painter, poet, and yes, an activist too.

He was honored with National Award for Best Actor for the movie "Podokkhep" in 2006 and in the year 2012 he won the Dada Saheb Phalke Award. In 1999, he was honored with "Officer Des Arts et Metiers", the heights award for Arts given by the French Government, and received the "Lifetime Achievement Award" from Italy. In the year 2004, he got honored with Padma Bhushan. He worked in more than 300 films before he got admitted to the hospital. He left behind his wife Deepa Chatterjee, daughter Poulami Bose, and son Sougata Chatterjee.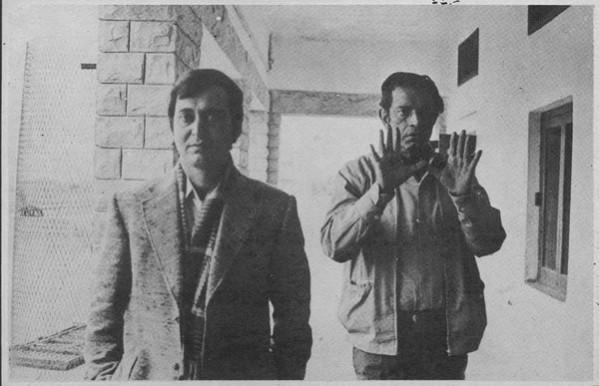 Indiacafe24 offers a heartfelt tribute to Feluda. He will be an unforgettable part of Indian Cinema.