Soha and Kunal Offers a Reserved and Dazzling Wedding Day Together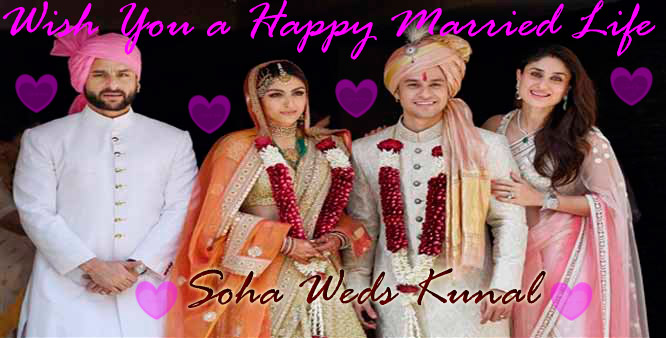 The wedding of Kunal Khemu and Soha Ali Khan finally took place yesterday with lots of razzle and dazzle. After a long-term relationship, the two got in the marriage knot. With Sharmila Tegore by her side, Soha was just like a princess. The media buzz was everywhere but the reserved and gentle appearance of the couple made the beholders stunned.
The preparation for the marriage was going on from last year only. The media was interested with their wedding shopping plans to honeymoon plans to grooming arrangements. Even they were interested enough to get the sneak peak of the advices given by Soha's mother  for the marriage. However, the notion that the 'princess' will marry with huge grandeur was proven wrong as the Nawab family announced that the wedding Sarmila Tegore will not be 'King Size'.
The wedding day went with a series of interesting events and songs. On one hand Soha took a 7-hour mehendi, on the other hand Kunal was as charismatic as he is in the film.
As the marriage of this duo was important the media took the photo-shoots. Soha and Kunal both are soft-spoken and thus they had very little to offer to say about the wedding. It was Soha's mother, who gave a well polished speech that was really stunning. Not many of the Bollywood stars were present, but those, who were, were enough to make the wedding room brighter. The most interesting guest and part of the family was Saif Ali Khan's son who has grown up quite a bit.
Finally the 'Nawab' family marriages are over for now. The marriage was really an interesting ending to the series of marriages in the family.