Rohit Sardana: – Senior Journalist of Aaj Tak Bid Adieu to the world after Covid Test came positive
Rohit Sardana: – Senior Journalist of Aaj Tak Bid Adieu to the world after Covid Test came positive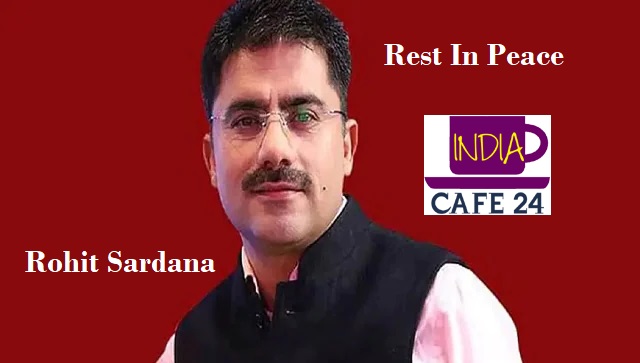 Rohit Sardana remained one of the most appreciated and talented news Anchors and Journalists in India. But destiny wrote something else for him, and he breathed his last on Friday, 30th April 2021. He was tested positive for Covid and died of cardiac arrest at the age of 41. 
The sudden death of Rohit Sardana came as a harsh truth for the nation, and the journalism world found it difficult to accept this heartbreaking news of their colleague. He was very popular among his colleagues for his excellence in his profession and also for being a kindhearted soul. His sudden demise is no doubt a massive loss to the industry of quality journalism. 
He hosted the most popular show "Dangal" in Aaj Tak and "Taal Thok K" based on contemporary issues in Zee News. In the year 2017, he left Zee New and joined Aaj Tak as the news anchor. 
He started his career as a copy-editor, and later his excellent quality in anchoring, editing, and production came into the limelight. He was popular for his excellence in conducting a 24×7 channel successfully. Before working with Zee News and Aaj Tak, he was associated with ETV Network and Akashvani and displayed his stint there successfully.
The news director of Aaj Tak, Rahul Kanwal, talked about his deep mourning for the unexpected demise of Rohit Sardana, and he added that their newsroom is in deep shock. Mr. Kanwal also remembered Sardana saying that Rohit Sardana was a sharp young anchor. He never used to get flinched from asking questions.
Rohit Sardana was honored with Ganesh Vidyarthi Puraskar Award in the year 2018. A serious void developed in the industry because of the sudden and heartbreaking demise of Rohit Sardana. His immediate colleagues and co-anchors, Shweta Singh and Anjana Om Kashyap were in serious shock and unable to cope-up with the news of this loss. Rohit Sardana left behind his wife and two daughters.
Indiacafe24 offers heartfelt condolences to his family, colleagues, and fans. Rest in peace Rohit Ji, and we miss you and your Dangalbazi.