Ghajini Girl "Asin Thottumkal" Tied Knot with Micromax co-founder, Rahul Sharma
It seems like January, 2016 will be the month for maximum celebrity weddings and engagements. Yes, there is one more in the list. Ghajini Girl "Asin Thottumkal" is now Mrs. Rahul Sharma. Asin tied knot today ( 19th January,2016)  with Micromax co-founder, Mr. Rahul Sharma in a private wedding ceremony in church In Delhi. There will be another ceremony in the evening where the wedding will again take place following Hindu wedding rituals. The venue for both the ceremonies is same, Dusit Devrana.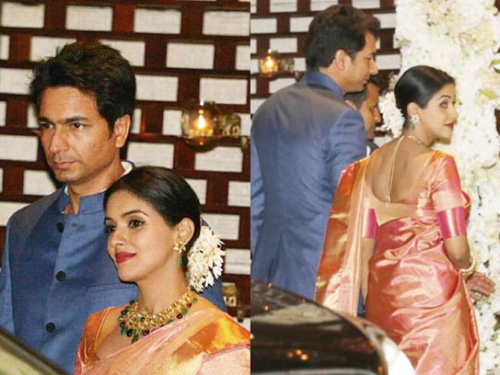 Image source:Instagram by officialasinfc.
There were only 50 odd guests present in the church wedding. Vegetarian lunch was served to the guests in the Chinese restaurant of the Hotel. As per news Akshay Kumar is expected to attend the evening ceremony as he is right now in Delhi for his upcoming film Airlift promotion. The Delhi ceremony is especially for close friends and family members. A reception party will be thrown by the couple on 23rd January in Mumbai for the people from Bollywood Industry.
For the Hindu ceremony a special mandap on the water base created. The evening ceremony is expected to see a gathering of about 200 guests. Next day there will be another private party which will take place at Sonali Farms, West End Greens, Rahul's farmhouse.
We Wish Asin and Rahul A Happy Married Life