Dilwale OR Bajirao Mastani – A Clash Of Bollywood Titans
Dilwale OR Bajirao Mastani – A Clash Of Bollywood Titans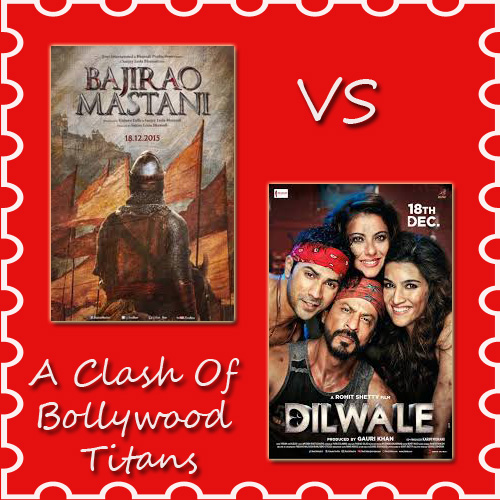 It is not often that two mega movies having a colossal star cast and directed by the best directors in Bollywood are released in theatres on the same day. But 18th Dec 2015, proved to be exceptional, since the day witnessed the clash of two of the most awaited Bollywood extravaganzas namely Rohit Shetty's Dilwale and Sanjay Leela Bhansali's Bajirao Mastani. Both movies received much hype prior to their release and even confused the audiences about which movie to watch.
Both Dilwale and Bajirao Mastani are big budget films that boast of having some of the biggest names as a part of the main starcast. While Dilwale features Bollywood's favorite on-screen pair of SRK and Kajol along with the young and bubbly Varun Dhawan and Kirti Shannon, Bajirao Mastani has Ranveer Singh, Priyanka Chopra and Deepika Padukone essaying the main roles. Dilwale is a typical masala movie with a perfect blend of action, romance, comedy and drama and Bajirao Mastani is a quintessential Bhansali movie with grand sets, period costumes and vast battle fields.
As some of the best talent of Bollywood fights it out at the box office, industry experts rightly believe that the tussle will deeply affect the yearly box office collections without actually breaking any records. Prior to the release of the movies, the tide seemed to be flowing in favor of Dilwale but as the first day of the release comes to an end, Bajirao Mastani seems to be gaining and upper hand.
Dilwale, which had more screen bookings than Bajirao Mastani opened to packed houses in the morning, but the numbers gradually started to decrease with the later shows. Even though Bajirao Mastani, which had fewer multiplex screen bookings but greater single screen bookings, got off to a slow start, but picked up pace towards the end of the day. However, the trends might change over the weekend. But for now, Bajirao surely seems to be winning the box office tussle with Dilwale.
Author: Meetu