Yummy Life On Plate Season 2 Anthology
Yummy Life On Plate Season 2 Anthology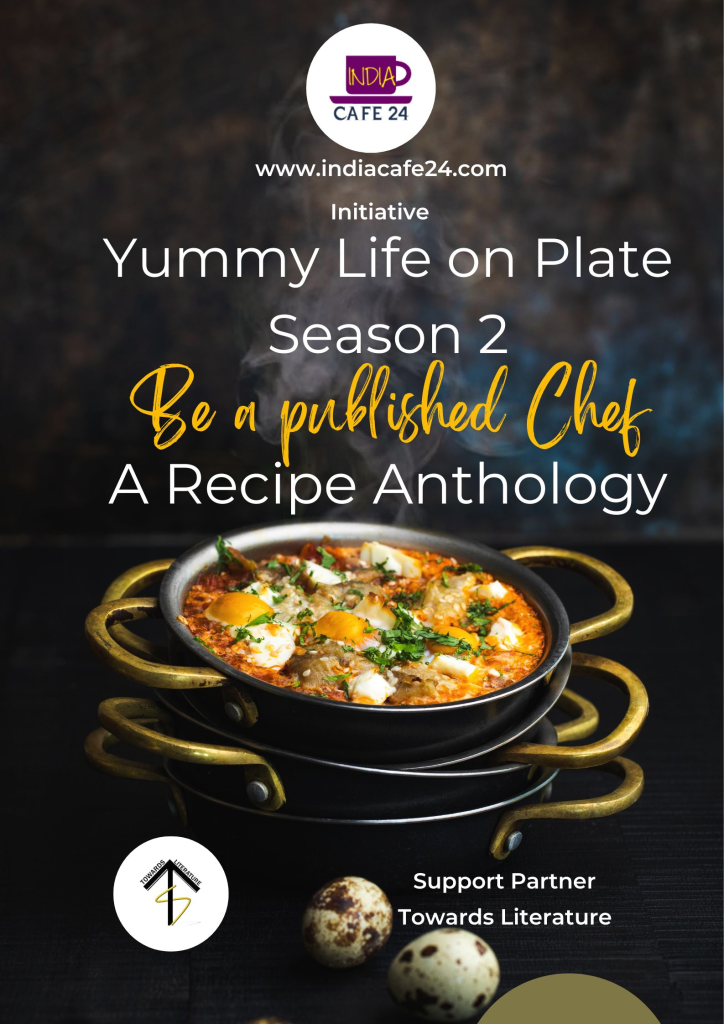 Yummy on Plate Season 2 is coming
Send us your recipe and be a published cafe
What is Yummy Life on Plate?

Season 1 Book Links
Yummy Life on Plate is an anthology of recipes and Indian dishes which was compiled by Samata Dey Bose (Founder of indiacafe24.com) and released as a recipe book.
Yummy Life on Plate  is now back again with season two of the recipe book by Indiacafe24.com after its success and popularity. We again invite you all to be a part of season two.  There is at least one chef in every home and our mission is to bring those chefs in limelight to share with us their special recipes.
We want to offer you a golden opportunity to share your unique or traditional recipes and get them published with your credentials in Yummy Life on Plate Season 2 Anthology.
Check out the details in post and for more info mail to yummylifeonplateseason2@gmail.com
You need to share your recipes typed in .doc or PDF files –  Do add a few lines on how you learned the dish ( Snacks, Main Course, Side dish, Dessert, Fast food, Baking items and even some unique drinks too).
Don't forget to add one high resolution pic of the final dish, your profile pic and a small bio of yours.  You can share a maximum of 2 recipes for selection. There is no entry fee this time for the participants.
Once we release the book, certificates will be given to all contributors along with a shout-out on Indiacafe24.com portal, Instagram, Facebook and Twitter. Buying the book or not is your call and we will not force it.
But it is always good to have a copy of your published work.
The recipes need to be in detail
A) Ingredients List
B) Proportion or quality of every ingredients
C) Number of people to serve
D) Cooking procedure
E) Preparation and cooking time
F) Presentation

So gear up and give your cooking skill a big shoutout. Start sharing your recipes
Guidelines for Submission of Recipe

1) Only Indian Citizens/ Indians residing abroad are eligible

2) Recipe/Content must be in English

3) Recipe should be your own (Copy-Paste content is not allowed)

4) Entries will be accepted in Google Form : CLICK
Please Note
No Entry or Registration Fee
You will be notified on selection of your recipe
The compilation will be released as both Kindle and Paperback
No Age Bar and Gender Bar