The Recession Groom By Vani- Book Review
Indian Wedding, Canada Calling, Recession Striking and there's Parshuram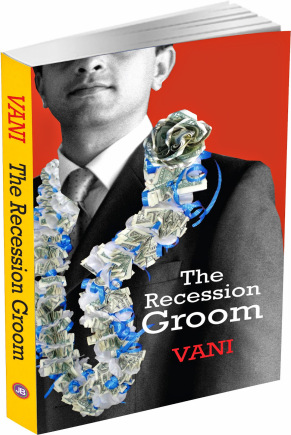 Publisher: Leadstart Publishing
Publication Year: 2015
ASIN: 978-9384226589
Pages: 295
Rating: 4 on 5
I got attracted with the story of The Recession Groom and for that thanks to its unique title and its indicative cover. The book by Vani Kaushal, as I started to read it, very soon found myself amidst a very gripping and enjoyable plot. As a Debutant writer, Vani used all her strong aspects to bring this book close to the heart. Most importantly, through the topic of an Indian marriage, the whole of the Indian culture and the traditions are widely depicted.
The book revolves around the IT professional Parshuram Joshi, aged 27. Parshuram, a Hindu Brahmin and residing at Canada, enjoying a handsome salary there, is far from his Hindu family, a family that has tried several times to make him settled with a traditional wife. But alas! Parshuram has other matter to look into, Jennifer and saving their Project Infinite. At the same time, recession strikes the world and that creates some questions for the protagonist of the story, the first and the foremost being, will Parshuram be able to keep his world intact? Alternatively, will he have to make some compromises?
The Recession Groom carries this undulating confusion and tension as it proceeds. At the same time the flawless and well polished language with which she wrote this wonderful book keeps the reader glued to the pages. The strongest part of the book is the characterization part. As a debutant writer, Vani did a wonderful work in bringing the characters to life. For me, the character of the grandmother, Nani seemed to the most interesting one. The granny with all her interest about the present generation and the cool things of the age really wins the heart of the readers. It is a very interesting thing that underneath the simple and interesting story that Vani wrote, lays a very strong satire that makes her book stand out from the others. There goes the success of the story.
All being a reviewer I can say that Vani proved the fact that even a debutant author can prove excellence with the very first Novel from his or her pen. Hats Off Vani. Waiting for more from your end
"This book review is a part of The Readers Cosmos Book Review Program and BlogTours.  To get free books log on to thereaderscosmos.blogspot.com."