The Princess Of A Whorehouse: The Story Of A Swamp Lotus – Book Review
Book Review Of The Princess Of A Whorehouse: The Story Of A Swamp Lotus By Mayank Sharma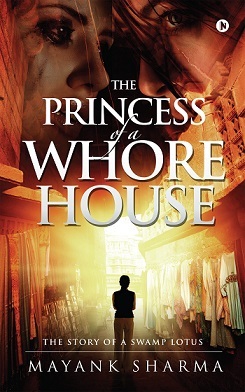 Publisher: Notion Press, Inc.

Publication Year: 2016

ISBN-10: 194612978X

ISBN-13: 978-1946129789

Pages: 112

Rating: 3.5 on 5
 Every now and then we come across a book that reflects the harsh realities of society and leaves us wondering about what we can do to make things different. The Princess Of A Whorehouse is just that kind of a book. Apart from its title, the other thing that intrigued me about the storyline of this novel by Mayank Sharma is the book's cover page, which somehow seemed to reflect the pain and the desperation of sex workers.
The highly ambitious Aparajita is never too ashamed to admit the fact that her mother Ramya, was a sex worker at one point of time. Ramya, after losing her husband in an accident had moved to Delhi on the assurances of her husband's friend Anjum, to start a new life. But once there, this simpleton of a lady was forced into flesh trade to make a living for herself and her daughter. Then an opportunity to get away from life as a sex worker came in the form of Raj, an artist working with an NGO. Ramya marries Raj with the sole intention of keeping her daughter safe from the clutches of the vultures who would like to make her a new entrant in their trade. But will the melancholy shadow of Aprajita's past allow her to fulfill her dreams of the future?
Mayank Sharma has managed to depict the realistic tale of the difficulties faced by sex workers in leading a normal life even after they have quitted the job. It also restores the feeling of love and finding love, when one least expects it. The twists and turns make the story interesting while the simple language and flow add to its readability value. The Princess Of A Whorehouse was like a journey into the dark life of the sex workers, which was quite enlightening.
I won a review copy from The Tales Pensieve as part of Reviewers Programme. Register on #TTP for lots of #

book

 fun and activities.