The Ghosts Of Gurugram By Debeshi Goopti – A Book Review
The Ghosts Of Gurugram By Debeshi Goopti – A Book Review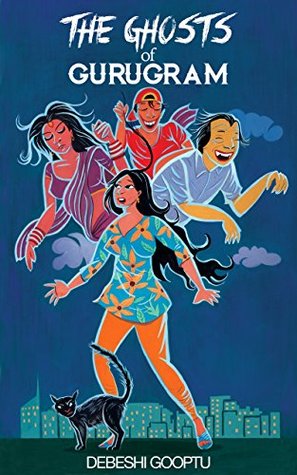 Publication Year: 2017

ASIN: B0778R9VVZ

No Of Pages: 150

Format: Kindle Edition

Rating: 4.5 on 5
Combining two genres in a successful manner is not a task that is easily accomplished by most writers. However, Debeshi Goopti has accomplished this feat with The Ghosts of Gurgugram perfectly well. The cover page of the book has been designed in an interesting manner, focusing more on the humor content than horror. I was really excited to read and review the book which promised a great mix of my two favorite genres.
Tara Chatterjee, re-located to Gurugran from Kolkata, after going through a painful breakup. However, the apartment she takes up residence in is already inhabited by the ghost of a woman, who frequently invites her motley crew of friends there. The 26-year old Tara finds herself facing a peculiar situation, where only she is able to see the ghosts of her apartment. As the chaos in her life is enhanced further, Tara tries to unravel the truth of her haunted apartment. Her interactions with the ghost soon make Tara realize that beneath the glittery façade of the designer millennium city, lies a dark and murky inside which is completely bereft of soul and warmth.
Debeshi Goopti has through this book tried to highlight the deep-rooted social issues and the hefty price of globalization that humanity has to pay. The story forced me to reflect on the total lack of values and morality in modern-day lifestyle, the stress of balancing personal and professional aspects of life and the impact of fast-paced urbanization on life in general. The crisp language and the fast-paced story keep the readers engaged from the very first line to the very last word. The language is easy and characterization is done in a beautiful manner. Personally,  I found The Ghosts of Gurugram to be an extremely well-conceptualized and well-written book and wish Debeshi great success with it.