Raid of the Evil Dragon Nest by The MadHatter- A Ride To The Pictorial Fantasy World
Raid of the Evil Dragon Nest by The MadHatter- A Ride To The Pictorial Fantasy World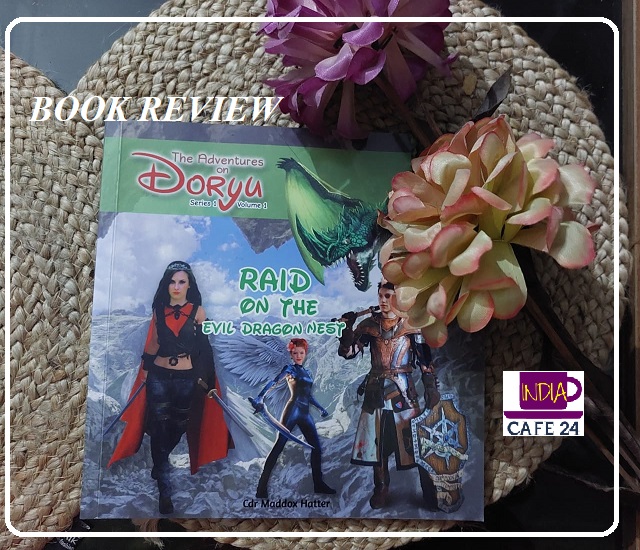 Publisher: ‎

Notion Press

Pages: ‎

56 पेज

ISBN-10 ‏ : ‎

1685232337

ISBN-13 ‏ : ‎

978-1685232337

Rating: 5/5
Kid's books hold a special place in my heart. Well, when it's a pictorial book, I just love reading them even today. The moment I got a glimpse of this book, naturally fell in love with it without even knowing what the content would be inside the book. Yes, I am presenting the review of the book THE ADVENTURES ON DORYU series 1 Raid of the Evil Dragon Nest by The MadHatter. I am not so keen on fantasy, but this book was something different.
Plot:
Author through his book, welcomed readers to the world of Doryu, the Green planet which once upon a time remained the sister planet of our Earth. Now Doryu is completely devastated by the attack of the Evil Dragons. Because of no support from outside, the kingdom of Doryu is now left with no choice. Now the resident of the planet needs to defeat the dragons on their own. What will Doryu do now? Will the Doryuians manage to defeat the Evil Dragons and save their planet, or will they become slaves of the dragons on their planet? How will the army be ready to fight the dragons? To get answers to all the queries, why not pick this book to read?
Writing style and Character Development:
I loved the way the story is presented. I went back to my childhood days and recalled how I used to read such pictorial books with so much happiness. It's an Apt book for the kids in the primary level. The characters in the books are described beautifully with pictures that one will start experiencing the story and that I feel, very important for a young reader. Coming to the character development skill of the author, here the author established his perfection in Kids centric character development, and I just loved that.
Graphics Use:
After a long time, I got a book with such a graphical extravaganza. Bright colours, creative character images and yes, the fine quality paper turned this book into a perfect eye-catching one for the kids and people who are young at heart.
Final Verdict:
A perfect book for the kids, which I will also, recommend to readers across various age brackets to experience the charm of reading pictorial books. It's a book that deserves much more than a 5/5 rating.