Kaise Chand Lafzon Mai Sara Pyar Likhu By Dinesh Gupta "Din" – A Review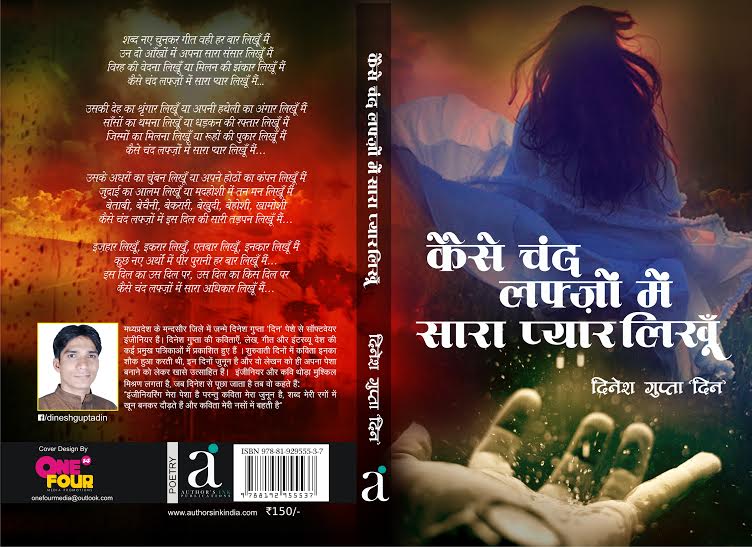 Publisher : Author's Ink
ISBN-10: 8192955532
Edition : 1st Edition
Number of Pages: 120 Pages
Publication Year : 2014
Language : Hindi
ISBN-13: 9788192955537
When I picked up Kaise Chand Lafzon Mai Sara Pyar Likhu, I never imagined that it would take me so deeply into the enchanting world of love. Dinesh Gupta has given voice to the sensitive emotions of a love struck individual in an extremely mesmerizing way. The book does not seem to have come from a person who is in a completely technical profession of software engineering. But as Dinesh Gupta has put it, poetry is his passion and runs in his veins like blood. This renowned writer uses his words to express the feelings of common man in a heart-touching manner.
The front cover of Kaise Chand Lafzon Mai Sara Pyar Likhu has been designed beautifully to raise the curiosity of the readers. As I turned the first few pages, I was greeted by a beautifully written couplet and one liner that instantly touched my heart. The poet within me was stirred to the core the simple words that expressed the feelings of love and longing in such a strong manner. And then I came across the first sketch of the book and I knew that it was going to be an interesting read.

I was definitely not disappointed as the every page of the book revealed a new aspect of love for me. The book is broadly divided into five sections. The first two sections of the book feature several couplets that bring out the various sentiments of love including joy, elation, despair, longing and even its pain. The other sections feature several poems which describe the various emotions associated with love in detail. Poems like "Tu Sach Much Aayi Hai Ya Tere Aane Ka Ehsas Hai" express the feeling of excitement as a lover awaits his beloved. Then there are poems like "Ek Khwab Hoon Mai" is about what the lover feels about himself. Poems like "Dil Ke Zakhm Kaise Bharen" and "Har Baar Toota Hoon" which give vent to the pain of love.
Overall the book proved to be a good read especially since it covered almost every emotion of love. I especially liked the simple language in which the couplets and poems have been written which makes them easy to understand and read even for a non-poetic person. Perhaps the only thing that a few poems were too long and that the couplets were not placed every section of the book. However, the overall presentation was simply superb especially with the inclusion of the pencil sketches of a woman's face each expressing a different emotion.