Colorful Notions: The Roadtrippers 1.0 By Mohit Goyal – Book Review
Book Review Of Colorful Notions: The Roadtrippers 1.0 By Mohit Goyal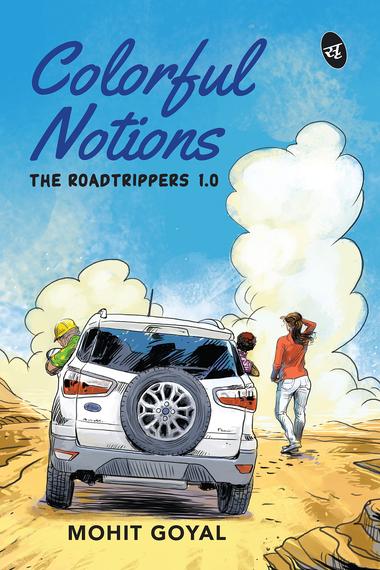 Publisher: Srishti Publishers & Distributors

Publication Year: 2016

ISBN-10: 9382665803

ISBN-13: 978-9382665809

Pages: 200

Rating: 4.0 on 5
Having reviewed quite a few books that essentially had their plots woven around a road trip I was looking forward to reviewing Colorful Notions written by Mohit Goyal. While the title says clearly what the book is about, the image on front cover puts to rest any lingering doubts that readers might still have about the novel.  Frankly, the prospect of reading Colorful Notions: The Roadtrippers 1.0, seemed like yet another opportunity of learning something new about life.
Abhay, in order to get away from his disturbing past and take a break from the troubled relationship he shares with his parents, plans to go on a road trip aimed at doing some soul-searching. He is joined in this endeavor by his best friend Sashank, who just gets the perfect reason to get away from his over-protective family and the stress of adhering to the rules of society. The two then are able to convince Sashank's girlfriend Unnati, who is an RJ and feels unsure about her future, to join them on the trip. The three set out on this exciting journey that is to take them through 25 places across, they are not quite sure how it will change their life and what they will lessons learn during the course of their travel.
Written in a simple and flowing language, Colorful Notions is one of those books that grabs the attention of the readers from the word go. It has all the ingredients that a book needs to make it an interesting read, including the thrill of venturing into an unknown future, proper buildup of characters and situations, ample drama and romance as well as a realistic approach that helps the readers to relate to the characters. Overall I found Colourful Notions to be quite an interesting addition to my collection and wish Mohit all the best for its success.
I received a free copy from Writersmelon in exchange for an honest and unbiased review.'