Book Review Of A Walk In The Rain By Udai Yadla
Book Review Of A Walk In The Rain By Udai  Yadla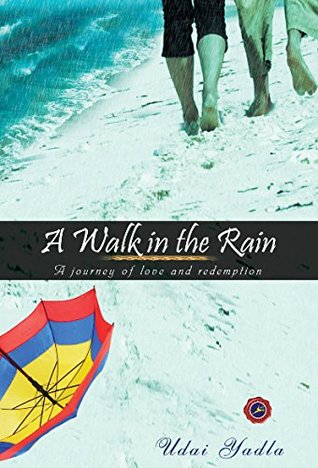 Publisher: Kyron Publication

Pages: 240

ISBN-10: 9385783769

ISBN-13: 978-9385783760

Publication Year: 2016
The cover of the book A Walk in the Rain, says it all. Written by Udai Yadla, who is an IT consultant by profession and an avid writer by heart, this is story about love and its pain as well as abut redemption and the sacrifices associated with it. But what the actual surprise lies inside the covers in the form of a thrilling twist that enhances the excitement of this tale of love. When I first held the book in my hand, I felt attracted to it every time I saw the cover picture depicting a couple walking on the sea shore.
Sunny has been living a life of desolation and depression since his girlfriend Sandy ditched him, without an explanation, several years back. Distressed to see his friend in such a state, Sunny's best buddy Imran, vows to change his life for good. Little does Imran know that he will attain his objective but only after unintentionally making the ultimate sacrifice! The tragic death of Imran at the end of his very own surprise birthday party planned by Sunny, leads the latter to seek vengeance. In his efforts of finding the killers, Sunny is forced to form a reluctant alliance of a prostitute, Saloni, who desperately needs money and does not think much about using others to get it.
A Walk In The Rain tells the tale of intense emotions, with the extraordinary twists and turns enhancing the thrill of the story. It depicts the excellent imaginative and creative skills of Udai, manages to maintain the level of suspense, thrill and romance till the very end. Perhaps the only drawback of the book is that it exaggerates certain situations too much which make the reader lose focus to some extent. Apart from that, the book proved to be an interesting read and   we wish Udai great success.