A Book Review Of Three Nights And Four Days by Shilpa Jain
A Book Review Of Three Nights And Four Days by Shilpa Jain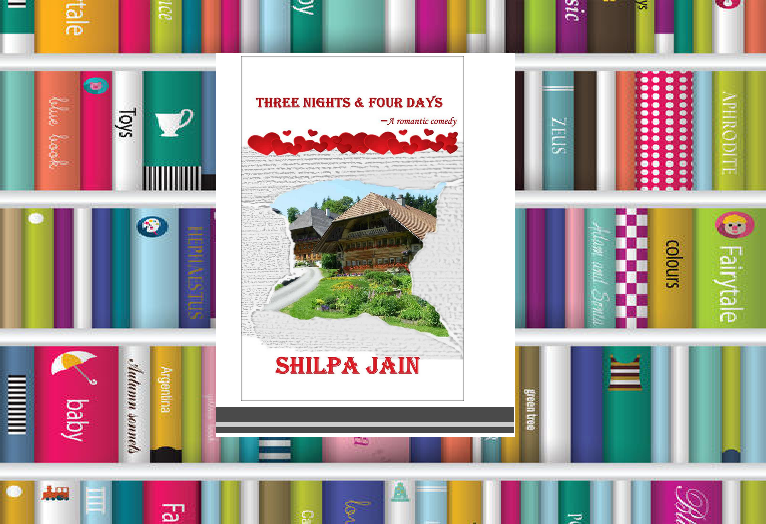 Format: Kindle Edition 

ASIN: B08BKSX4ND 

Pages: 

153

Rating: 

4 on 5
Romantic novels I do love, but still, it's not my favorite genre yet as I love thrillers the most. But why I picked this book Three nights and four days by Shilpa Jain can be a question to many. So, let me tell the secret behind picking it up. When I saw the word comedy with romance, it was hard for me to resist as comedy is another genre that I madly love to read. I get a different level of a kick in the mood when I find the comedy element in a story. Well, at least it gives me the chance to smile and relax.
The plot of this story kept very simple yet unique with no such cheesy elements to make you feel that it's a romantic novel forcibly. But, some wonderful cozy scenes are there that, as a reader, I liked. In this story, there are two young angels named Tisha and Pari, who are school students and also rivals.
There is a common desire of both, and they want to see their divorced parents back in normal, marital life. Pari desires to see her divorced mom's patch up with his father and become a family again. While on the other hand, Trisha is having a weird wish. She dreams to see her father and Pari's mom together as a couple. The plot narrates the complexities one witnesses in a relationship between two divorced people and how that affects the lives of kids.
The comedy element starts when all 4 key characters decide to go for a vacation together, and the duration of the trip was for three nights and four days. So, now you know why the novel is named "Three nights and four days". There were some funny moments in the trip which almost ended with proposing of Trisha's father to Pari's mom…… but will that happen, or there will be some twist which will change the course of the plot. To know I insist you read the book. Trust me, you will not regret and the climax will make you feel completely satisfied as a reader.
The pace of the story kept me hooked until the end, and the style of writing is simple. The best feature of the story is its characters. Each one of the four lead characters is beautifully developed, and my personal favorite is Pari. I must say author Shilpa Jain did a wonderful job and deserves a round of applause. The book deserves absolute success.
Three nights & Four days – A Romantic Comedy by Shilpa Jain
My rating: 4 of 5 stars
The plot of this story kept very simple yet unique with no such cheesy elements to make you feel that it's a romantic novel forcibly. But, some wonderful cozy scenes are there that, as a reader, I liked. In this story, there are two angels named Tisha and Pari, who are school students and also rivals.
There is a common desire of both, and they want to see their divorced parents back in normal, marital life. Pari desires to see her divorced mom's patch up with his father and become a family again. While on the other hand, Trisha is having a weird wish. She dreams to see her father and Pari's mom together as a couple. The plot narrates the complexities one witnesses in a relationship between two divorced people and how that affects the lives of kids.
Read the full review here: https://www.indiacafe24.com/book-revi…
Special Thanks to HBB Book Reviewing Team  for providing a Review copy