A Book Review Of The Colours of Passion: Unravelling Dark Secrets behind the Limelight By Sourabh Mukherjee
A Book Review Of The Colours of Passion: Unravelling Dark Secrets behind the Limelight By Sourabh Mukherjee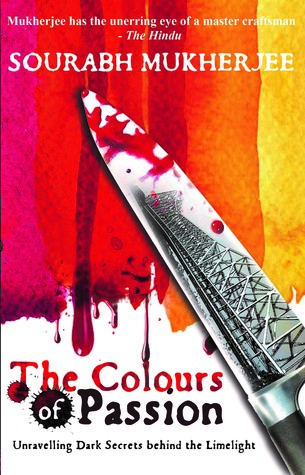 Publisher: Readomania

Publication Year: 2017

ISBN-10: 9385854453

ISBN-13: 978-9385854453

Pages: 238

Rating: 4.0 on 5
The deep dark secrets behind the shine and glitter of the silver screen have always attracted people, which is also perhaps why I liked the idea of reviewing The Colors of Passion by Saurabh Mukherjee. The cover of the book featuring a knife drenched in blood, gave me an inclination that it would contain enough thrill and suspense to make it an interesting read for me.
Tollywood's heart-throb, Hiya Sen, is attacked along with her dashing young entrepreneur husband, Manav Chauhan and their long time chauffer, Lakhan. However, the tragedy does not end here as Hiya ends up being brutally raped and murdered, while Manav and Lakhan are seriously injured. The task of investigating this high profile murder falls on the shoulders of ACP Agni Mitra. With a long list of celebrity suspects, it is up to ACP Agni to find the answers to the questions that this murder has given rise to. The prime suspects include Manav's former fiancée, Neha, Hiya's boyfriend Mayank Kapoor and her rival Rituja Bose as well as Neha's father Deepak Awasthi, all of whom have some dark secrets to hide.
The first thing that I would like to say about the book that it is a perfect page turner and all credit goes to Saurabh Mukherjee for his great writing skills. He has managed to retain the suspense and thrill of the plot throughout the entire book while providing the readers a peak into the outwardly glamorous world of Bengali film industry.  The simple yet gripping language ensures a pleasant reading experience and the gradual development of the characters and the beautifully revealed sub plots add to the overall book reading experience. Overall I found The Colors Of Passion to e a great addition to my collection and wish Saurabh great success for this book and others to follow.