A Book Review Of Malgudi Adventures By R. K. Narayan #Book Marathon
A Book Review Of Malgudi Adventures By R. K. Narayan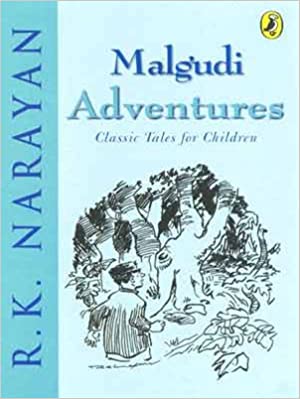 Publisher: Penguin India

Publication Year: Latest Edition December 2003

ISBN-10: 9780143335900

ISBN-13: 978-0143335900

Pages: 280

Rating: 4.8 on 5
Children's books can be a great stress buster for adults and can help in bringing a smile to the lips of readers and rekindle the memories of their childhood. Hence, I always feel elated about getting an opportunity to read and review children's books.  Recently, I got the opportunity to review Malgudi Adventures, a classic children's book authored by the famous writer R. K. Narayan.  The beautiful blue-toned cover page of the book features the trademark cartoon associated with tales of this famous author.
When I was a schoolgirl I used to watch the Malgudi Days television serial and was very fond of it but never read the book. Why I purchased this book? Well, it was not for me but for a little boy in my neighbor as a gift for his birthday. I always encourage kids to read books as nothing can be good than this compared to playing video games.   And a reader like me never want to miss such opportunities. I quickly read it and then gift packed 🙂
The book is set in the small South Indian town of Malgudi and chronicles the escapades of a boy named Swami and his friends. The book comprises several short stories, each of which describes the unique adventure of Swami with a new character. The stories provide a sneak peek into the simple living and slow-paced life of the people of Malgudi in a light-hearted and curious manner. Even though most stories included in the book do not have a definite start or end, they are interesting and educative in their own way.  I especially liked the tales narrated in A Tiger In The School, A Tryst At The Temple, and The Navaratri Adventure.
I personally love the writing style of R. K. Narayan, and his ability to turn even the most ordinary situations into something extraordinary and hilarious. Malgudi Adventures is this second book after Magudi Schooldays that follows the life of Swami and his friends. While the book is intended for the kids, it nevertheless makes for an interesting read even for adults like me. The stories are all very realistic and actually make the readers feel like having been transported to the fictional town of Malgudi. I really recommend this book for reading to everyone interested in decent short stories with interesting twists.