A Book Review Of Fifty Shades Of Grey Penned By E. L. James #BookMarathon
A Book Review Of Fifty Shades Of Grey: 
Book One of the Fifty Shades Trilogy
Penned By E. L. James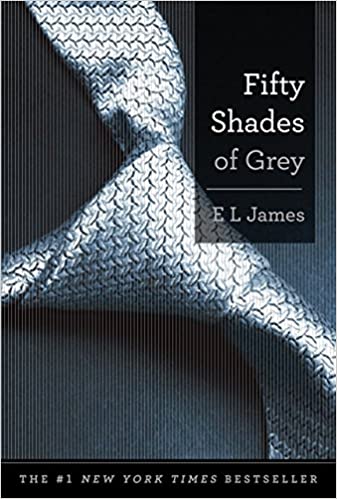 Publisher: Vintage Books

Publication Year: April 2012 (1st Edition)

ISBN-10: 0345803485

ISBN-13: 978-0345803481

Pages: 514

Rating: 2.5 on 5
Despite its immense popularity and the distinction of being the fastest-selling novel for adults of all time, I somehow never got an opportunity to review Fifty Shades Of Grey until quite recently. So when  I finally got the book in hand, I actually felt quite excited to express my views about this book so loved by the masses. After taking the book in hand, I was actually a bit disappointed by the design of its cover page, which features a knotted tie along with the name of the book and the author. It was a gifted book so was not aware of what the content will be all about.
The novel narrates the unusual love story of the beautiful, witty, and intelligent Anastasia Steele and Christian Grey, a young, handsome, brilliant, and intimidating entrepreneur. Anastasia, while filling in for her friend to take an interview of Christian for their college paper, finds herself inexplicably drawn physically to him. As she tries desperately to get closer to him, she is surprised to learn that Christian is also attracted to her, although he has his own terms for getting into a relationship with Ana. Ana gradually becomes aware of the singular erotic preferences of Christian, she also comes to know that Christian is deeply tormented and is hiding his own demons behind the façade of the multinational business, his vast wealth, and even his loving family.
I personally found the novel too erotic and lacking the emotional content and empathy that forms the basis of a truly great love story. Even though the concept of BDSM forms an important part of the storyline, it does not really necessitate the inclusion of an elaborate sex scene on every second page.  Moreover, I also felt that the development of the characters was not too good, especially in the case of Anastasia, who is introduced as an innocent virgin and then has no qualms about discussing sex with someone she has only met twice. Even though the book turned out to be a major success, it did not match my expectations of a good novel.