A Book Review Of Aham Authored By Saurabh Thakur
A Book Review Of Aham Authored By Saurabh Thakur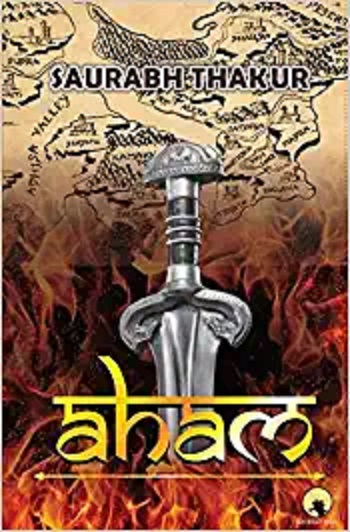 Publisher: LOCKSLEY HALL PUBLISHING LLP

Publication Year: 2020

ISBN-10: 819422814X

ISBN-13: 978-8194228141

Pages: 199

Rating: 4.3 on 5
Mythological thrillers have held a unique appeal for me as a reader, although I have come across only a handful of books belonging to this genre that has truly impressed me. Aham,  the first book of a trilogy,  is one such book that offers a perfect balance of mythology and thrill to entice the readers. The book, authored by Suarabh Thakur, comes with an aptly designed cover page featuring a sword in a field of fire situated below a war map.
The book has two parallel storylines, the first of which focuses on Vaanee, the powerful demon princess, keen on seeking revenge against the Spirits for her sister. The other storyline is focused on Rwiju, a young and exceptional warrior, with a mysterious past and belonging to the Rekhyt clan. The clan prevented Vaanee from fulfilling her quest for revenge and this naturally paves the way for her clash with Rwiju. As the two races clash with each other, revenge, hate, and justice seem to get entangled with each other blurring the lines between what is right and what is wrong.
Aa mentioned before, the book is the first in a trilogy and draws its inspiration from the different mythological stories about gods, demons, and humans. The author deserves much praise for creating a realistic world by presenting facts related to it in a slow and steady manner. Despite the large number of characters included in the book, he has been able to maintain the flow of the storyline and keep the readers engaged and captivated. The language of the book is lucid and the narration is interesting enough to keep the readers hooked. In fact, I found the book to be a really great addition to my collection and since it ends in a cliffhanger, I am really looking forward to reading its next part.