Eden Garden To Be The Venue For World Cup T20 Final Match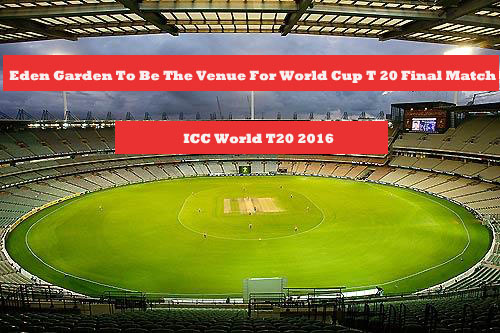 Cricket fans in India have just been given a reason to rejoice and celebrate, with BCCI announcing eight venues across the country that will host the World Cup T20 matches starting from 11th March 2016. BCCI has identified Bangalore, Chennai, Dharamsala, Mohali, Mumbai, Nagpur and Delhi as the selected cities where the games will be held. But the biggest game of the series, namely the   World Cup T20 final will be held at Eden Garden in Kolkata, the most popular ground in the city.
Each of the chosen venues is known to have hosted some of the most prestigious matches in cricket history. It is also the first time that the World T20 matches will be held across more than three venues. The early announcement of the venues has been made to give the ground management teams to prep up the venues to meet the specified requirements of holding an international match. In case the grounds are not up to the mark by the specified time, BCCI will be forced to change the venue, which can not only prove extremely embarrassing but highly inconvenient for both the players and organizers.
Eden Garden has once faced this issue during the India vs England match when the renovation work on the ground was not completed in time, forcing the organizers to shift the game to Chinnaswamy Stadium in Bengaluru. The venue also missed out on hosting any major contests during the 50-over World Cup series held in India and Bangladesh in 2011. That is why it is a special honor for the city and especially the ground management of Eden Garden to be hosting the final of the Word Cup of the most popular format of the game.
BCCI Secretary Anurag has been reported to have said that the board is extremely proud to host this prestigious event. He is also believed to have mentioned that the preparations for the making this event a truly memorable and fun experience for both participants and fans have begun in earnest. The board has even constituted a managing committee to overlook the preparations and arrangements for the tournament and ensure that it turns out to be a word class event that is conducted in a smooth and hassle free manner.