Rajeshree Salunkhe – Her Beautiful World Of Colorful Beads
Colorful beads when crafted with love and care it creates master pieces. If you want to see that masterpiece just check out the beads jewellery of Rajeshree Salunkhe.  Her Jeweleries will give you the look  which is both stylish and elegant. Her effort and dedication  – Well reflected in her work. Meet the talented entrepreneur cum jewelry designer Rajeshree Salunkhe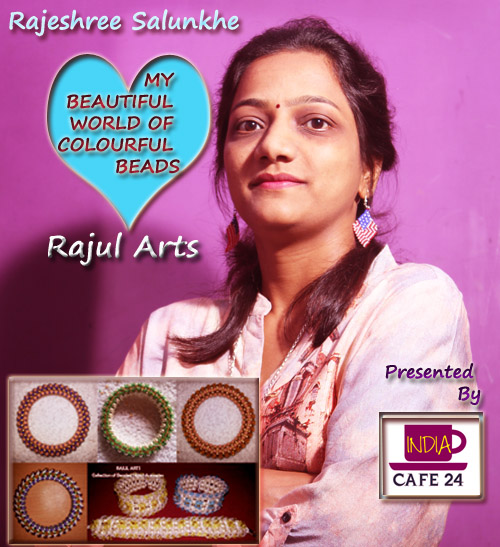 Hello Rajeshree, Welcome to the platform of Indiacafe24.com. Rajeshree, we request you to introduce you to our readers and tell something about your background and family.
Thanks for giving me this honour & for showcasing my Interview on Indiacafe24.com.
Hello Friends! Myself Rajeshree Salunkhe a Designer of Handmade Beads Jewelleries & Accessories. I'd completed my Masters Degree in Arts with specialization in History subject.
I'd born at a beautiful hill station 'Mahableshwar' & brought up in Thane, Mumbai in a very
supportive Family.
I'm married to a person who himself is a successful professional working as an operations Manager in a FMCG company & a very caring hubby.
In our happy family, we've our two kid's shreyash & varadh, who admires & encourages me for my every creation with their valuable compliments.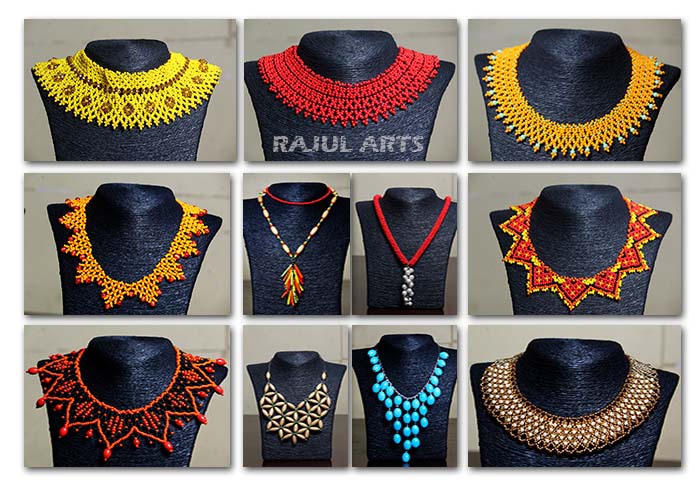 Image Credit: Rajul Arts
Whats the story behind the making of Rajul Arts? 
My nick name is 'Rajul' & I'm passionate about the 'Art' world.
In my life, my husband played a vital role as he motivated me to pursue a Diploma in Fashion Designing. Later, I couldn't take an opportunity as a full time Designer, due to busy schedule with my Kids in nurturing & looking after their routine.
Going forward I thought to have my own business but there was a little ambiguity in my mind.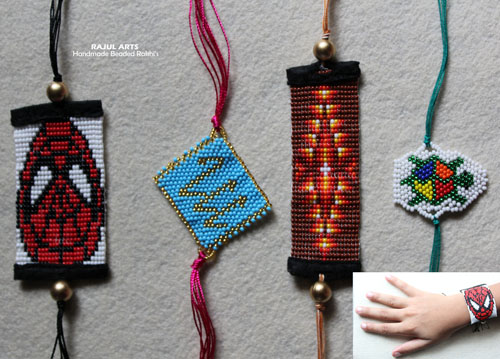 Image Credit: Rajul Arts
One thing was clear that I wanted to do something in designing. That's how I decided to do a course in making of Imitation Jewellery. After completion when I entered into Business, I realized that there was saturation in Imitation Jewellery. A strong desire to do something innovative & creative compelled me to start making Beads Jewellery. My day was not getting completed without doing any creative work in Beads. This is how in the year 2014, Rajul Arts came into existence.
When you first realized the fact that there is an artist within you?
Since childhood, I was fond of Handicrafts & Paintings. In my leisure time, I used to wonder
what kind of technique & skills an Artist must have incorporated to create it.
I use to arrange the materials by using my piggy bank savings & try to recreate the Art which I used to see in school, institutions & at relatives place.
The satisfaction of creating an Art with my own hands & appreciation from my family & friends helped to find myself as an Artist. These things kept me motivating & curious about learning various Arts & Handicrafts.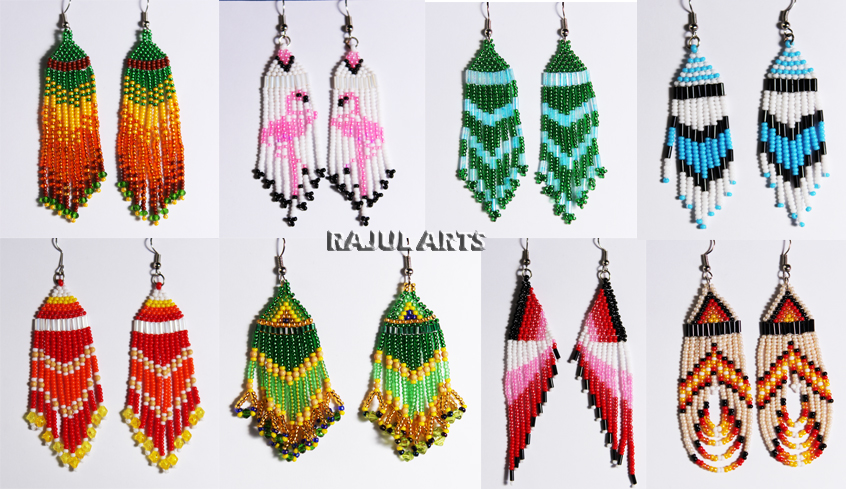 Image Credit: Rajul Arts
Who is the one who inspired you in turning your passion into profession?
For my every creation, my husband has complimented & encouraged me to come up with something innovative & unique in my every design. He's a nature photographer.
My creation of colourful beaded Jewellery has been inspired by natural beauties like Birds, Flowers, anything in nature that fascinates & inspires me. Looking at my talent, my husband inspired me to bring my creations in front of the world.
How is the feeling when people appreciate your work?
When someone appreciates my work, it boosts my creativity & encourages me to do still better and better work. Appreciation also enhances the potential in me to attain next higher levels in designing.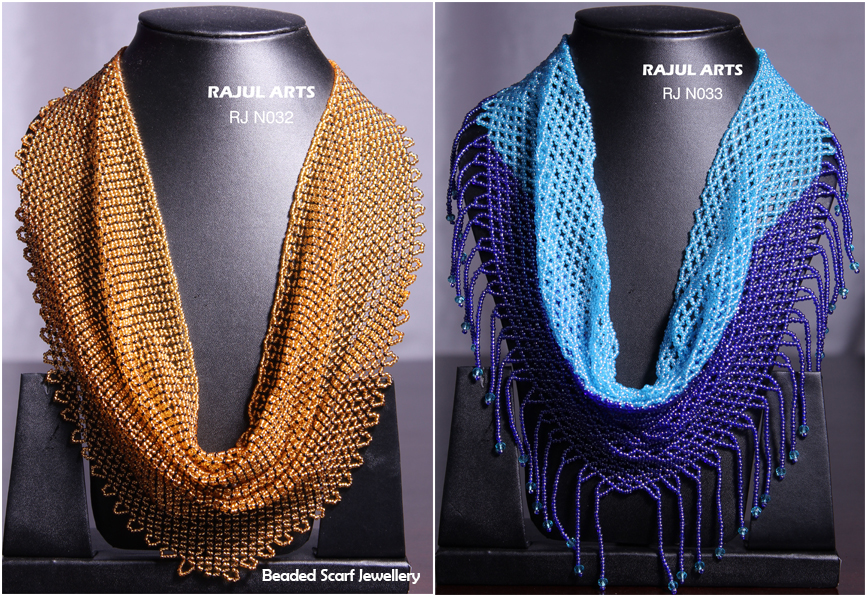 Image Credit: Rajul Arts
How successful is your creativity commercially?
I'm successful as an Artist & my creativity is liked by many in India as well as overseas.
Commercially, it's a beginning for us as it's been a year & a half now since inception of Rajul Arts.
We are promoting & selling our products through exhibitions & e-commerce sites.
We also undertake workshops & classes for the interested students who want to learn this Art.
The task is not easy to establish any art form in the mind of creative people, so what sort of obstructions you faced in your path to grow?
As in any Business, there always come some hurdles to cross over before you make consumers aware of your Product's features & Benefits.
This is required as we feel it clears their queries & compels them to buy our product affectionately.
It involves explaining the Art lovers about the fact that our every unique creation has behind a hard effort, vision & prolong hours of dedication.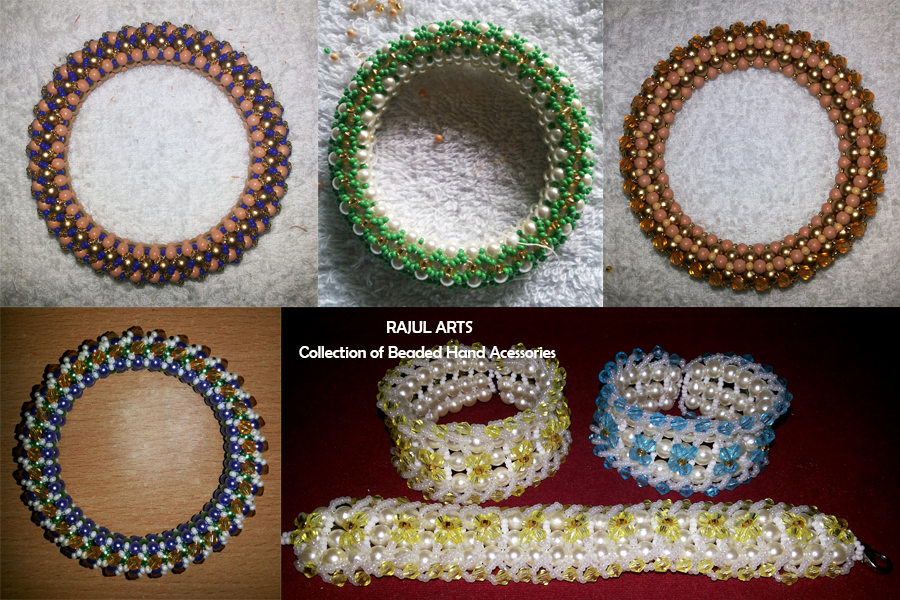 Image Credit: Rajul Arts
Do you think that Indian people are ready to pay the right price for the work of an artist? Or there is a specific niche of people who are ready to pay?
Yes! There are Indian people who are willing to pay the right price, as for every product there is a market. But when it comes to niche products where enormous efforts & skills of Artist are displayed, you've to reach to those categories of people.
What materials you are using in your artist work?
My creations are made using colourful international seed beads, glass beads, fancy beads, jewellery thread, wire etc.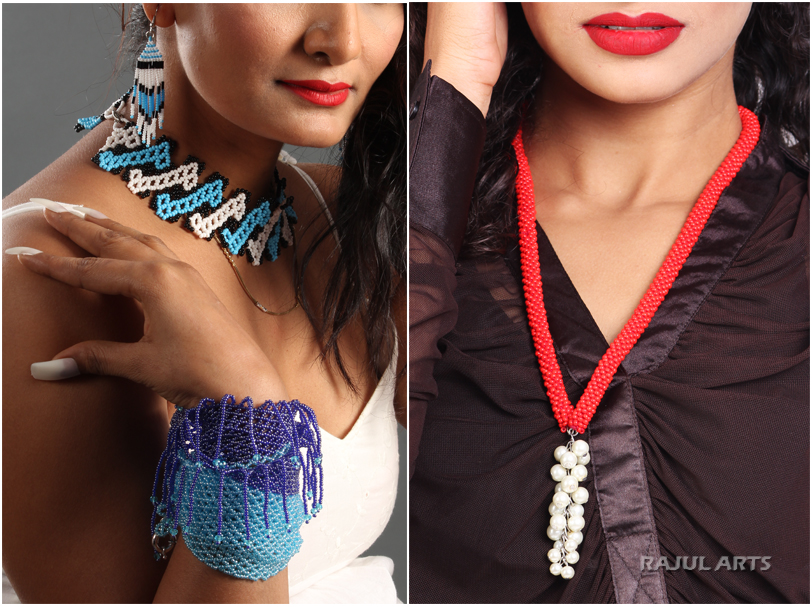 Image Credit: Rajul Arts
What are the different range of products you are having in your collection?
Rajul Arts has a wide range of products for all generations to wear on every occasion.
Our product goes very well with traditional & western outfits.
Available as Necklace sets, Ear Rings, Bracelets, Bangles, Anklets, Armlets,
Hair accessories etc. Designs are also made in fusion with African, American & Egyptian
Jewelleries like Masai, Zulu & Native American patterns to name a few.
What are the parameters you keep in mind while setting the price of your individual art work?
Price is set in consideration of the materials used, size, and weight & hours put together for making it.
The other deciding factors are type of packaging used, shipment location & urgency of the buyer.

Image Credit: Rajul Arts
If anyone request you for a customized design using your art style can you do?
Yes! Well, that's a great opportunity for us.
We're also customising our products to suit needs of the consumers where they love to have their own personalized unique accessories with their choice of colours & patterns.
We also design jewelleries for upcoming Fashion Designers for their project works & Boutiques,
for models portfolio shoot.
What are your other passions in life?
As an Artist I'm also good at Freehand Painting, Warli Painting, Fabric Painting, Canvas painting, Crochet work, Ari work etc.
But, I'd finally got my destination & love to be in the beautiful world of colourful beads.
I'm more passionate about creating some artifacts like festive accessories, auspicious articles
all exclusively in Beads.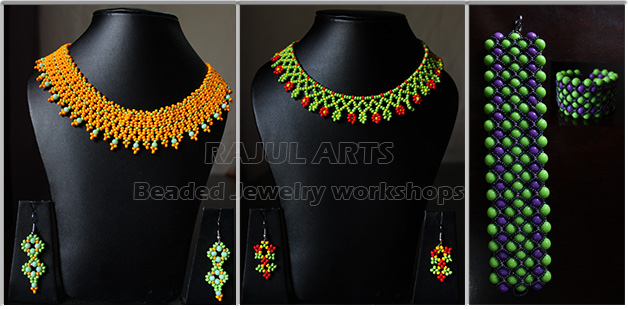 Image Credit: Rajul Arts
What are your expansion plans for Rajul Arts? 
At this moment, we're more focussed to service our domestic as well as global Buyers who are fond of Indian Arts & Handicrafts.
Our next milestone would be to enter in Home Decorative articles & to uplift our Art to the next level.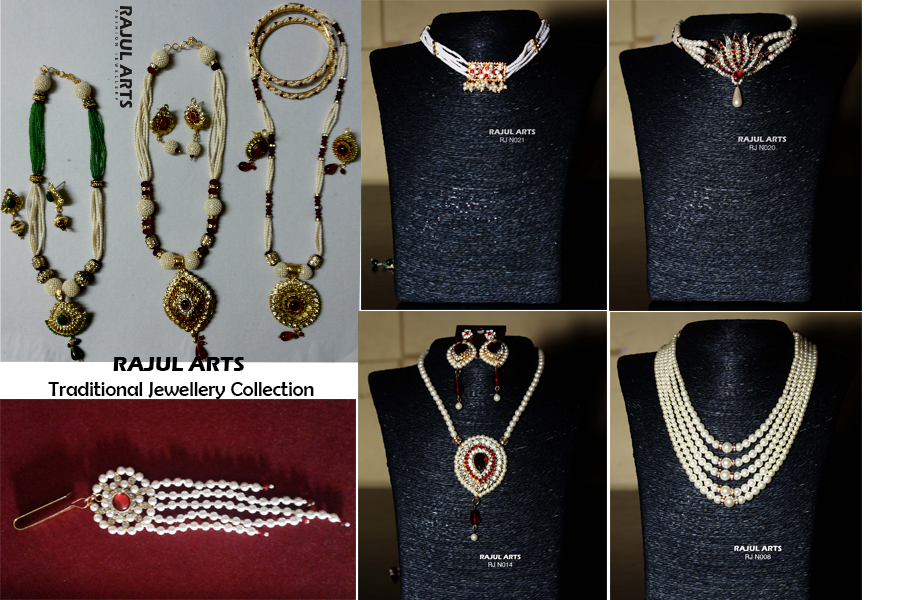 Image Credit: Rajul Arts
 For placing order for your products where clients should contact you?
For interested Buyers we would suggest them to  mail us on rajularts4@gmail.com
We're also present on e-commerce based online sites for selling our products.
Which is so far your best creation? (Share the image)
The Best creation of mine till now is 'Golden Choker Necklace' inspired from a Gold Fish.
It's been designed with Golden netted base & embellishment of Japanese Moti on it.
It goes with traditional saree, anarkali dress & party gowns.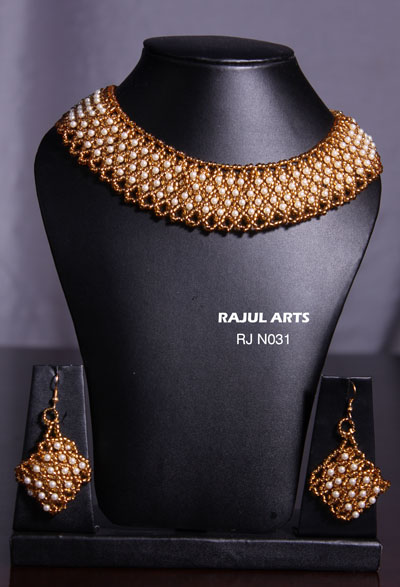 Image Credit: Rajul Arts
Share some WOW moments of Rajul Arts?
The WOW moment for us is to see overwhelming response & appreciation from our fans of fb page in short while. The first exhibition in our home town had a great response & consumers were curious to know about our products. We got mostly the custom made orders.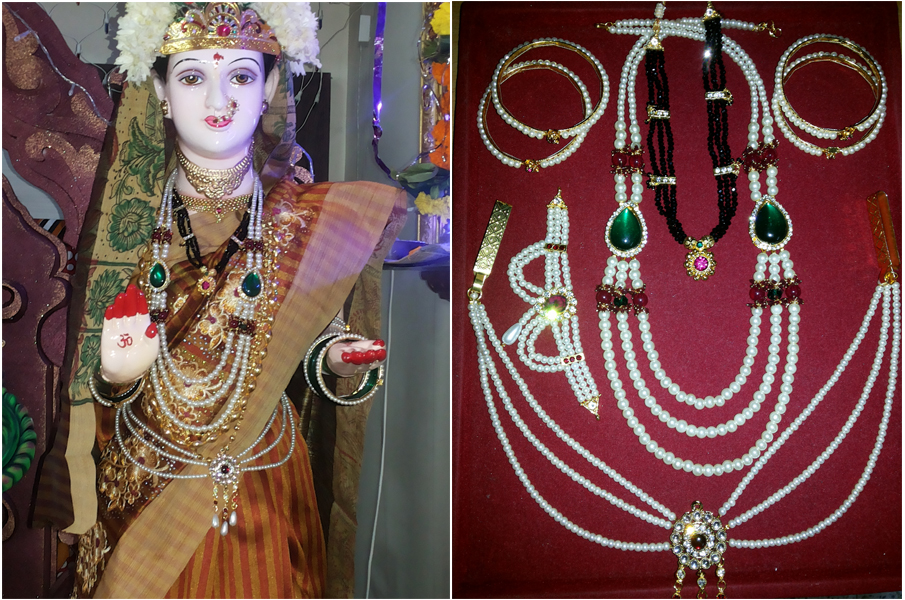 Image Credit: Rajul Arts
Define Rajeshree- The artist cum entrepreneur in one line
Finding of myself as an Artist to Entrepreneur on the colourful journey.