Meeting The Bengali Queen of Cooking – Blogger Indrani Dhar
Do you love cooking and want to find some excellent food recipes to try your hands? If yes, then look no further and visit the recipe blog of 

Indrani Dhar.

We can assure that you are going to love it. Indrani is a very talented lady and loves to share her recipes with all. We had a chit chat session with this amazing lady. Check out what she  shared with us…………………………………….

Welcome Indrani. We are glad to have you with us
First of all a big thanks to Indiacafe24.com team and a big Hello to all readers of Indiacafe24.com…….
Tell about yourself and family
Hello, I am Indrani. By nature, I am a very simple and transparent person. Born and raised in a Bengali middle class family who instilled great moral values in me and taught me to value relationship more than any other material things. After living 14 years of my married life outside India, I'm settled now in Kolkata with my 3 kids and hubby. Right now I'm a homemaker, taking care of my 16 yrs. old daughter and 8 yrs. old twin boys who need extra attention. This is my whole identity right now other than I have a food blog named Recipe Junction, which is my another baby and I nurture it also like my own kid. I'm blogging for last 8 years and loving it. Anything creative gives me immense pleasure.

Who is the one who first noticed a spark in your cooking style and inspired you to become a cooking blogger?
Actually it was me, who inspired me to become a food blogger. I had a long-time wish to publish bengali day-to-day recipes on the web. Around 10-12 years back there were not much websites or blogs on Bengali recipes. So I wanted to publish only Bengali recipes which was very rare to find then for amateur cooks like me. So I just fulfilled my wish when I got an opportunity to start one.

When you decide to start with your cooking blog?
 Just after marriage living abroad and cooking for hubby tend to many long-distance phone calls to mom asking for recipes. That time I decided to write a Recipe website on Bengali recipes for amateur cooks like me. I had no idea about blogging then. Around 8 years back one day I found out a blog on Bengali recipes. That was one of the happiest days in my life. Inspired by her blog, I got the chance to fulfill my wish and within 7 days I started my first blog "Appyayan", but I had to stop blogging there after 3 years and posting about 400 recipes, due to some sudden mishap. And then I started my current blog " Recipe Junction".

What are the key features in your recipe blog which is different from the rest recipe blog in India?
I feature traditional Bengali recipes, regional Indian recipes, Microwave recipes, Baking and International Recipes other than experimental recipes on my blog. In any category, my recipes are very healthy and useful for day-to-day cooking. I also explain the procedure in a simple language so that a 10 years old can understand and follow the recipe.

I research and include the health benefits of the main ingredient of my dish for most recipes, so that people know how that ingredient is beneficial for them and why they should include that in their diet. I think very few people in blogging world do that. In that way, I can say my blog is a bit different from most of the recipe blogs in India. I also try to capture my food in a decent way and make appealing to the eyes for my visitors.
Is there any scope where people can request you to teach some specific dish as per their interest Via your blog?
Yes, visitors can always request me for recipes through the contact form on my blog.

How it feels when people appreciate your style of cooking?
It definitely feels good.
What are your future plans about your blog?
Blogging gives everyone a huge array of knowledge and it gave me too. In future, as I will learn new things I'll bring it on my blog. Other than this I don't have any future plan about my blog.

What are your other passions in life?
Other than cooking and blogging, I love to do gardening, painting, reading books and newly I am loving the food photography a lot.

 Who are the best critics of your cooking?
Obviously my kids and hubby are the best critics of my cooking. They always give honest opinion. If I experiment something and that doesn't go well with them, I don't add that recipe on the blog.

what inspired you to become a blogger?
Blogging is the best platform if you want to share your passion with others. As I told earlier, I had a wish to share Bengali recipes with everyone. After I found out what a blog is, it took me just 7 days to start a blog and after 8 years I'm still blogging and sharing my recipes with the same passion and enthusiasm.

Share some WOW moments as a blogger?
As a food blogger, after sharing recipes, I just want the feedback from the readers who have tried my recipes. Many readers have shared their positive feedback with me after trying my recipes. Once a 14 yrs. Old girl tried one of my recipe and surprised her parents by cooking for them and they loved it.

I could feel her satisfaction and happiness from her comment. It's worth the whole trouble I take to cook a dish and then click the food in a visually appealing way and write down the recipe for my viewers. Recently, a foreigner tried my "Chicken Jalfraizee" recipe and he loved it and commented that, he is trying an Indian recipe for first time and my easy way of writing gave him the courage to try out this recipe. This kind of positive interactions from readers are the best reward and gives me energy to go on and do what I'm doing.

Anything special you want to share with us or even advice for young bloggers?
As I mentioned earlier, visitors can request for a recipe they want me to feature through the contact form of my blog. I'll be more than happy to publish that requested recipe.
People can follow me through my facebook page

Anyone can start a blog who has passion for writing and sharing their passion to the world. It gives an immense pleasure always. So I'll say " Go for it ".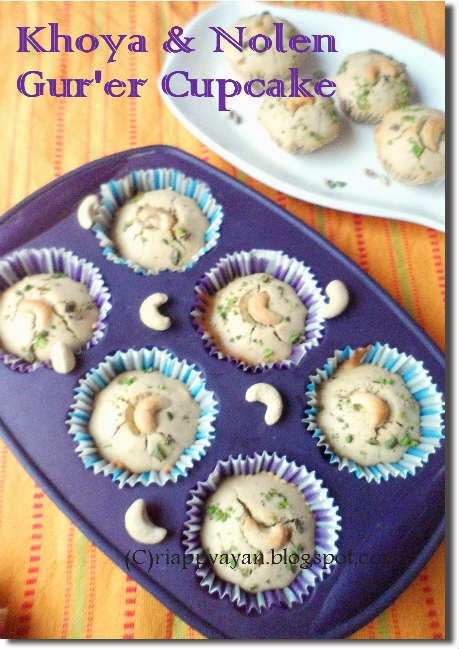 Define Indrani The cooking Diva in one line?
Passionate, experimental and positive person who is ready for any challenge anytime.