Young, Charming and Sportaholic Author- Ishan Kamdar
Well, he is a British Indian but with a pure desi heart. He is a debutant author with immense love for his nation and sports. And yes, he is an amazing golfer too. Authors with sports backgrounds appear very interesting to me and so this time I am presenting you young and charming author Ishan Kamdar.
 
Welcome Mr. Ishan Kamdar, it's a definite matter of pride for me to present you on this platform. I insist you share few words about you, your family, and your education.
Hi, I'm Ishan, I am 32 years old, married with a new young son, Kush, born in November. I was born and brought up in London, studied here and at Cambridge, and since then have joined my family business. I have a passion for sports, mainly watching them, especially cricket, which I have played from a young age. Hopefully, this book will inspire more people to play cricket, and if not then to write more books about it!
You are British Indian….. so how is life in London or how different it is from the Indian lifestyle?
I think a lot less bustle mainly. We have family in Mumbai and in part of Gujarat, and Mumbai especially is very active and lively. There are always things happening, noise, activity, hustle, and bustle. Of course, traffic is also a nightmare. London is busy, but I think less crazy. There are lots of things to do, and lots of opportunities, but it doesn't have the crazy of India. I have holidayed in India regularly but never lived there for a long time. I thoroughly enjoy it, especially the variety of food for vegetarians, but it is different. I guess that's what you want from a holiday!
You are a student of Economics and that too from a reputed university- the University of Cambridge… Can you share a brief of the teaching style in Cambridge?
Very intense, but a great honor to study there. The terms are short, but they work you very hard and expect full commitment and engagement. You are continually assessed and tested on your preparation and thinking, and if you haven't done the work you will be found out. It was a fantastic experience for me, a great 3 years, from which I received a prestigious and reputable degree and a wide range of friends from all backgrounds in life.
You are now the Managing Director of Comline Auto Parts, your family business…. So, after joining this profile how life changed for you?
I have worked for my family business for 12 years now, since leaving university. I stepped up to the managing director role just over 2 years ago. It has been a whirlwind experience, mainly because Covid has been so significant in the last year. We have had to carefully manage our cost base whilst the business was struggling, but also look out for the opportunities in the market and make sure we grab them. I really enjoy the team I am working with and look forward to pushing the business further with them. As a family business, I am also keenly supported by my father and brothers, who are active also in the business.
I heard your business deals with car spare parts. How different is the driving habit of people in London from Indian drivers? Any idea?
As I said Indian drivers are crazy. I can drive most places in the world myself but I am still too scared to take on the challenge of Mumbai's roads. Perhaps I am just used to road signs and signals! London is more congested than other parts of the UK, and traffic is still a problem. The only advantage of India: taxis and rickshaws are much cheaper and so the cost of getting around is better, if not the time. The Indian market is a great opportunity for the automotive industry and we have a lot of partners in India doing great work.
You are a passionate lover of sports. Which sport is your favorite at why?
My favourite sport to watch is cricket. I grew up on this sport, watching with my father, and learnt all the strategies and intricacies of it. Especially the old school strategy of test matches, but I am also coming around to the big bash style of T20s. My favourite sport to play is golf. I play regularly at my local club in north London and would happily travel around the world to play the best course out there.
Life after corona and lockdown hampered globally. How the people in London are coming back to life after a corona.
Very slowly, but positively. The UK has been a leader in the vaccination programme with almost 50% of the population already covered. The case rates have fallen dramatically and so we are hopefully that we can return to normality soon. We have a plan to open up, and the first steps of this have already started. Everyone is ready to get out and about as quickly as possible! We are looking forward to getting back to restaurants, activities and hopefully soon going on holiday. This being said cases around the world are getting scarier. Obviously, India is having a particularly difficult time with the virus at the moment and cases seem to be growing exponentially. We wish everyone in India the best of luck with dealing with this and ask every to stay safe!
You are a keen golfer and regular performer at the local club. What attracts you most in golf?
It's a very personal sport. Its you against the world. Its only your fault if you play badly, its your success if you do well. Though most of the time it drives you mad because you know you can play better than you are! I like the challenge, and getting out in the sunshine.
Travelling is something you are passionate about. Which is your favourite destination?
Any beach, anywhere. I love swimming in the sea, and am a qualified open water diver. For our honeymoon, we were lucky enough to go diving in the Maldives which was a fantastic experience.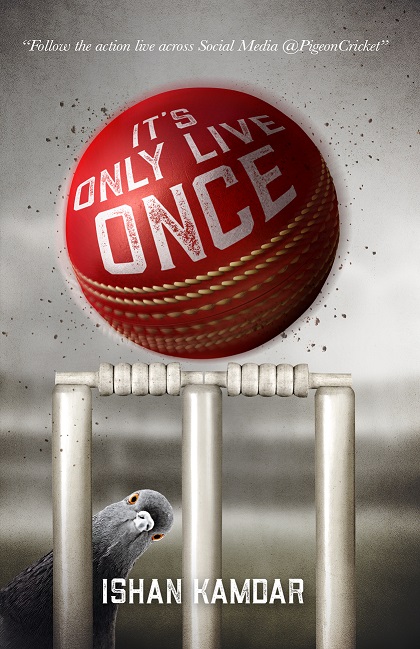 "It's Only Live Once" is your first work as an author. Tell us about the plot of the story and how it came into your mind?
It is a story of a one day international between England and India as "watched" by a modern day fan. He is consuming the match through radio commentary, twitter arguments and cricinfo style ball by ball updates. The idea came to me one day last April as we were in lockdown and starved of live sport. This concept was "live" for me to as I didn't know which team was going to win in the end, and so got to experience the match as I was writing it. That was part of the appeal and excitement for me. I was also interested in seeing a female cricketer break into the main national side, and I think it is only a matter of time before we see this. Some cricket positions, such as spinner, don't need brute strength but skill and guile, and maybe one day a woman will be the best in the world at this.
You are a new father…. How life changed for you after the arrival of the little one?
Completely changed. Cant play golf anymore! Haha. My son is fantastic though. He is 5 months old and has a real personality. Wouldn't change him for the world, and look forward to more children in the future hopefully.
What next in the pipeline in books and of what genre?
Depending on the success of this book and the feedback and reviews I get: next up is part 2 of the series. But I am waiting for that feedback to see if I can learn and make improvements to the format or style to make it more enjoyable for the readers and my fans. I think I will stick to the sporting genre because it interests me and I can enjoy the live action at the same time. I also want to know what happens in the next match, and then .. who will win the series!
Traditional or self-publishing what are the pros and cons of both types of publishing?
I have only done self-publishing so I can't talk about the traditional route. I chose this way because I wanted to go directly on amazon etc and build a following online. I am really pleased that Lipika and marketmybook.in are helping me with the launch and roll out in India and hopefully together we can make a real impact on the market.
Any tips for budding authors?
Go and write! I am the least likely author, and I managed. I had no plans to write a book, nor was I very good at creative writing at school. But if you have an idea and a concept then go and write it. It is now so easy to self-publish, there are so many resources available online and you can go directly to market.
Define     Ishan Kamdar the author in One line?
Unlikely self-published author and sports fan, with an interesting cricketing concept, hoping to become a bestseller, and write many more books!