Sakshi Arya – The Author With New Promise
Sakshi Arya,  is one of those promising and talented authors who had the guts to say NO to a successful IT career to embrace the world of literature with confidence. We are happy to have her with us in this session where she spoke her heart out about her experience and journey so far.

Welcome

, Sakshi . It a pleasure to have you on this platform of Indiacafe24.com. Our readers would surely want to have a sneak peek on your background. Kindly share a brief about you, your education and your family.
I'm just another ordinary girl with extraordinary dreams and that's really how I took steps towards turning my career upside down. I've grown up in a neutral family with tons and tons of books and colors. I loved reading and would narrate stories to friends and family from a very young age. What began with writing daily journals, turned to penning thoughts down. There was a lot going on (still is), battling depression and anxiety, so I didn't really score well in my 12th boards (which sure didn't make me eligible for DU, to pursue literature) and thus, even before the idea of writing stuck, there I was enrolled into engineering— added to a bunch of robotically functioning people. And not that I am belittling any profession, it was a great experience but it just wasn't for me. After 2.5 years of working in IT, I finally took my big step. Following my gut and switching to writing. I live in Delhi with my mom and she has dutifully stood by my side, through all my decisions, encouraging me to move ahead without fretting (which I do, irrespective!).
How the idea of turning an author came to your mind? Is there someone who inspired you or it just happened?
I've answered it with question 1— I've always wanted to be a literature student. Only that it took a while to finally turn towards it. And even though it's really difficult to make a mark having switched fields, writing really is a zen. And I guess I'm struggling towards making my words reach a larger audience.
Who are those Indian authors whose writings inspired you the most? Do you have any foreign writers in your favorite list?
Honestly, there are many. Charles Dickens and Leo Tolstoy have been the ones to have polluted my mind to the most. I love the detailing and I really would be honored if I'm someday able to write even one percent of what they ever did.
And to name some of the recent ones—
I really am inspired by Nikita Gill, a British Indian Poet, who's poetry acts as a catalyst strumming my thoughts and making me weep. With her books, I don't have a single favorite one, they are all magical!
Perumal Murugan: He has such beautiful stories, which everyone should really read. They're heartwarming. My favorite is Poonachi, the story of a goat who has to go around alone all life for being different.
Markus Zusak: I've read everything that he's ever written and I am in absolute awe. He's relatable, well connecting.
I try to read everything, but then sometimes also end up choosing books which sound more connecting. And really, each of them makes me cry at some point.
Share a few words about your latest book A Bondage with Freedom and how it happened
With all that has been happening in my life— all sorts of dysfunctional relationships— I really had a title in my head from a long time, much before I conceptualized the book. The idea sure came from people and incidences around me, but while I had something like that in mind I didn't begin writing it until I was really sure. It happened to be my saturation point, one day when I just could hold my thoughts anymore I just have begun typing— thinking that letting the words flow and putting it out might just liberate a tiny bit of me. A story, characters, and life which kept weaving in my head for about 6 to 8 months, finally took me 15 days to get inked/typed on paper. I experienced a lot of sleepless emotional trauma in those days, but it was a beautiful journey— Shahzeen, Rafia and I; with their lives and stories; locked in a single room until we felt a little justified with what had been written. I honestly feel, that if I'd be able to reach even a single person who would connect and feel relieved because of the story, my task would be done. And that would set me free— the virtue with which it all began.
How the characters Shahzeen and Rafia of your story developed in your mind? Are the characters based on some real-life experience or the latest social happenings motivated you to sketch these characters
In a way it's both. I've picked up incidents inspired by my mother's life and have also used my thoughts which are generated as a result of reading the mundane social happenings. There's so much going on, and there need to be stories related to them. For those people who've suffered such miserable lives, never given chances. Life sure is good, but it has a darker side to it too. And this story is to inspire and touch all such lives. So that maybe, they can find their calm and look beyond that darkness.
Being a student of TV Fiction Screenplay Writing, are you planning to develop your novel into

a script

for TV serials or even a film?
Well, given a chance and approval from a production house (which literally is a very long process), I'd love to form it into a series available to be watched— even by those non-book lovers! 😉
The conflict between the publishers and authors is very common. Have you faced such problem while finding a publisher for your books?
Totally Yes! After having written the book, I sent the manuscript to all the best of Publishing Houses— Penguin, Rupa, Hachette, Harper Collins— Like you literally name them and I would have sent it there. But to my dismay none replied. And while I might risk sounding negative here, but the reality of this fact really lies that writing as a talent is very underrated. I'm of the view that publishing houses, as popular as they get, seek controversies and background to the author rather encouraging newbies. And consider it blaming this system— it undoubtedly makes it extremely difficult for novice authors to get recognition.
When I was nearly on the verge of giving up, with no response from anyone, a writer friend recommended Raindrops and everything changed from there!
I sent over my manuscript which they liked— for a very different story— and provided me a platform for sending my words out to the world. Now I'm literally looking up to more responses from the audiences. I hope there'd be a change further on.
What are your other passions in life?
I work toward things with spontaneity and literally believe in trying my hand at all that I can. But a few things I really enjoy doing, aside reading and writing, includes painting, photography, traveling.  While these are things I've been able to do, another one which I look forward to be doing sometime in future is working towards mental health awareness and bringing to our country, an effective pedagogy where any individual would be able to share their stories and learn effective writing.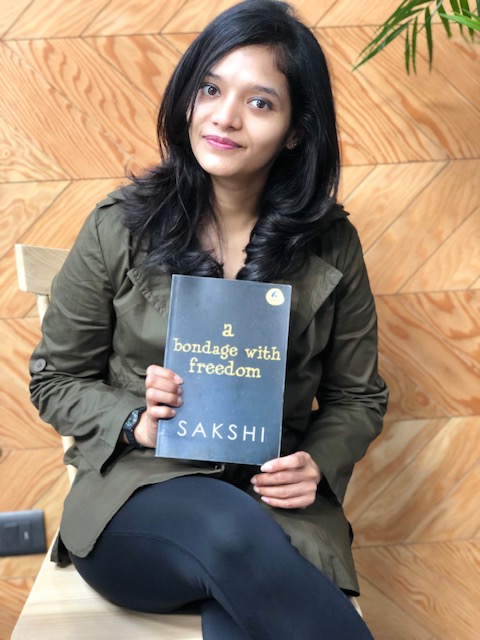 What are your future plans-?
I believe in keeping short-term goals and try my best to make them work. And keeping the same in mind, I currently have a lot going on— I'm working on a Research Paper about Clinical Gerontology: Dealing with depression, suicides, and other mental health issues. Also, I'd soon be reviving my blog (which has been lying dormant because of my procrastination). With all this, I'm also conceptualizing my second book. And am looking forward to the Jaipur Lit Fest 2019, for which I've enrolled as a delegate. Though I've been to Jaipur before, It's my first time at the fest and I'm extremely excited (I really hope I'm able to be a speaker there, someday!) 😉
And lastly, I'm looking for jobs in a relatable field, but it's really sad that having no English degree (such as a bachelors or masters in literature) makes it next to impossible to be considered. I am not really a fan of such rules and restrictions as levied by employers. It's disheartening and disappointing.
What next in pipeline and of what genre?
I wouldn't be sharing the next title so soon— but it's going to be a very personal yet slightly fictional memoir. I'm going to take some time to be writing this one, but it should be done well before the end of 2019. (I guess, I'd try being more patient with publishers this time.)
Define   Sakshi Arya the Author in 1 line the author in One line?
Extremely opinionated writer/person working towards making a mark through words.