S. Venkatesh- Who Vizualize Universe With A Sense Of wonder, Earnestness And Curiosity
After interviewing many creative people for so many years one thing I can very well say is that India indeed is a land of wonders. Being multi-talented is common these days in India and another example of it is Author S. Venkatesh. Why I am saying so you will understand when you witness the talent and journey of this amazing author. Check out the chit Chat I had with the author.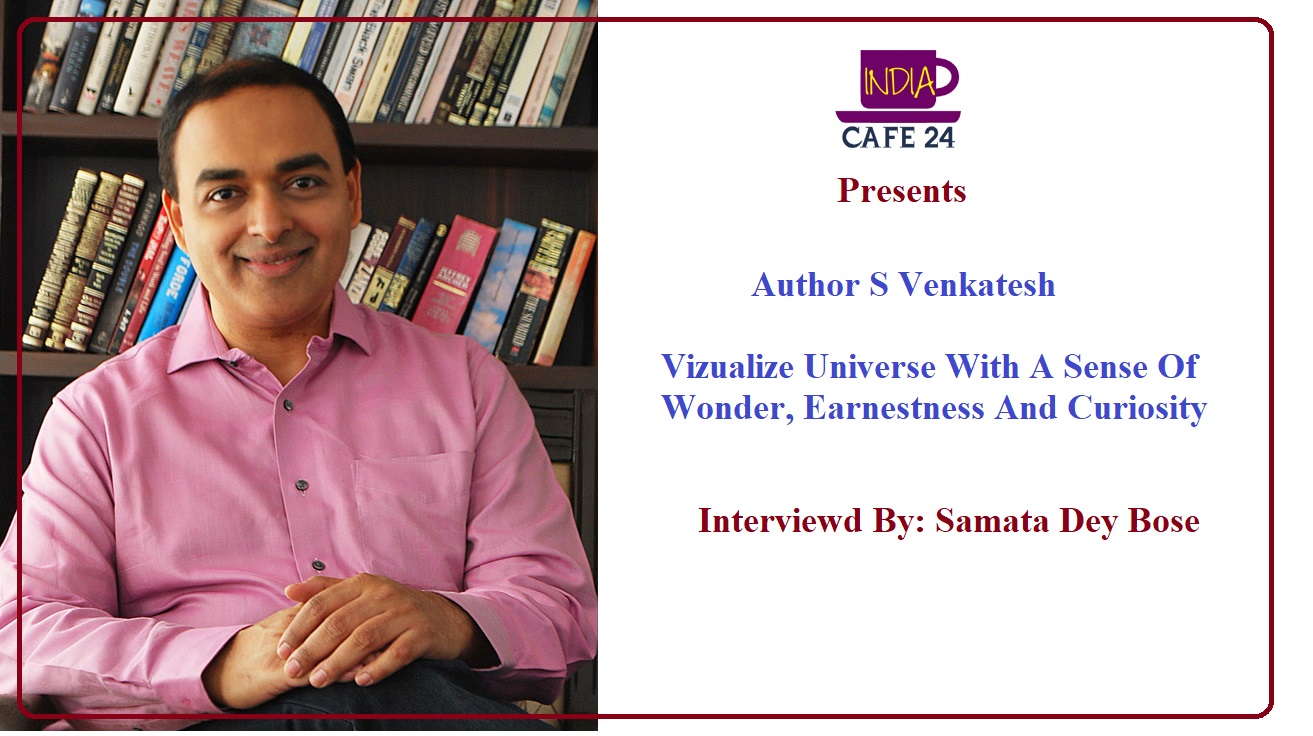 Welcome to this platform of Indiacafe24.com Mr. S Venkatesh. Before we begin the session will request you to give a brief about you?
Thank you. I wear many hats, though at my core, I am someone who is passionate about creativity, inspiration and growth. As a private equity investor, business leader and Board member, I have spent the last twenty-odd years helping businesses innovate and scale up. As an author, I give expression to my sense of wonder and curiosity about people, life and the universe.
I grew up in Tanzania, captivated by its endless grasslands and wildlife, then studied in a town called Farakka in West Bengal, where the Ganga river is at its widest and most magnificent. I completed my schooling in Delhi, after which I studied at IIT Delhi and IIM Calcutta. While I have been based out of Mumbai after that, I have travelled extensively across the world on work, and that has provided ripe fodder for my stories.
I came across the fact, that besides being an author, you are also a speaker, business leader, and investor. So how do you manage so many things together?
It took me some time to develop a rhythm. My roles at firms like Credit Suisse, JP Morgan and Macquarie were quite demanding, and I spent an agonizing few years struggling to make time for writing in the midst of corporate travel and deadlines. There was a period when I averaged over one hundred flights a year! Over the years, I began to use the time I spent in flights and airport lounges to retreat into a quiet space and make time for writing. I then learnt to keep the 'haftas', the things that are always clamoring for attention, at bay, and focus instead on the 'wantas', the creative, energizing things that you really want to do.
Writing is highly creative work, and on the other hand, managing a business needs a different approach. How did the connection happen between an author and businessman?
I initially thought of the two worlds, creativity and business, as separate, but over time, I have realized that the two can actually reinforce each other. My business pursuits keep me in touch with the real world and provide a reservoir of ideas and inspiration that I can tap into. My creative work, on the other hand, helps me to look at business situations from a fresh 'right brain' perspective.
Your first Book KAALKOOT – The Lost Himalayan Secret, was historical fiction…… are you linked with this history somehow?
History has always fascinated me as it encompasses both constancy and motion. While places, people and contexts change, human nature and emotions remain the same. In my reading, I came across many interesting vignettes from the past, ranging from our freedom struggle to ancient connections between India and Rome, Greece and Egypt. I was able to blend these historical elements into the plot of AgniBaan and KaalKoot, integrating these with a thriller set in the modern world.
When did you realize that there is an author within you?
I have been wanting to write since my childhood, though my writing was limited to local forums. Then the demands of corporate life took over. But I would still end up experiencing bouts of inspiration, for instance, when I chanced upon Indus Valley ruins at Lothal while on a business trip, or when I visited war tunnels in Vietnam. Over time, I learnt to channelize these sporadic bursts of inspiration and give them concrete expression in the form of a story.
Plot and Character development are two critical aspects of story writing. How do you develop them? Is there any specific area in your home where the suspense plots develop in your mind?
There is a thin line between letting the plot and characters develop spontaneously, and over-engineering it. I try to spend some time consciously dwelling on the plot and characters during my focused writing time. But often, the best ideas come when I am doing other things like exercising or relaxing, so I guess the subconscious mind is at play. I find myself gravitating towards cafes when I seek to develop a plot!
Your first book was a best-seller- Can you recall the moment when you got this news?
The first month after the release of KaalKoot was quiet; I guess readers were getting their hands around reading a book by a debutante author. Then the positive reviews started coming in. My publisher also took me on book signing tours, during which we received encouraging feedback. So, I guess it was a gradual process, not a sudden moment. I am grateful to readers for the love and support I received for KaalKoot, and the response so far to AgniBaan.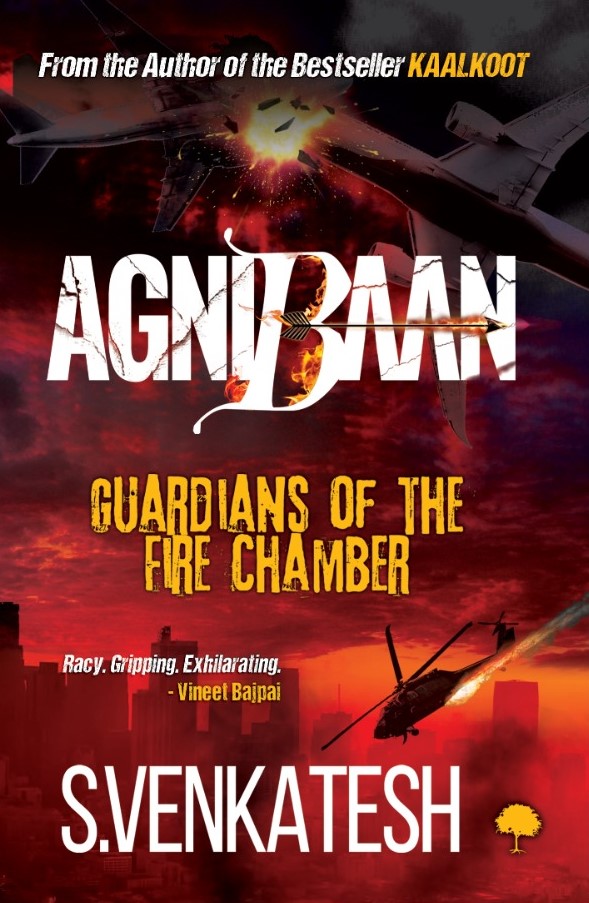 I am a fan of suspense thriller but still can't write any in this genre – What as per you cause hindrances in a writer's life to frame the plot well?
The biggest bottleneck for writers is procrastination. The fear of failure masquerades as perfectionism. Somehow the writer feels his work will not be perfect, and postpones writing. The way out of this block is to tune out the fear of how the work will turn out, and instead just make a beginning.
How many days you took to write your first novel? The timeframe increased or decreased in the case of your second book?
KaalKoot took two years of writing and two years of editing and pruning drafts. AgniBaan was faster, it took around a year and eight months in total.
Your book has been optioned for screen adaptation Such things are a dream for any author. Say something about it.
I was lucky to have a publisher, TreeShade Books, who understood the cinematic potential of KaalKoot. Together with Sidharth Jain of The Story Ink, we found the right partners for screen adaptation in a reputed production house. We are also in early discussions for AgniBaan.
In general, there is an explosion of book-to-screen adaptations today as platforms look for quality content, so if a book has the potential, it will find a home.
AGNIBAAN is your second book. Where the plot of this book developed, and when you started writing this book?
AgniBaan brings together an ancient mystical connection between India and Egypt together with a modern-day conspiracy involving electronic warfare and climate change. The plot and characters came to me over the last couple of years, inspired by some vignettes from history and science.
 Both your books are thriller-based. What other genres do you wish to work on in the coming time?
I have ideas for at least a dozen books, some of which are not thrillers. A couple of them are non-fiction too. But I'm having a lot of fun writing thrillers currently, so these will have to wait!
How supportive was your family when you decided to write books? 
I have been fortunate to have the support of my family through the creative and writing process. As I said earlier, I initially struggled to balance my corporate commitments with writing, but over time, I have found a rhythm.
To be a good author, one needs to be a good reader. What type of books do you love reading the most?
My reading habit started with the classics I used to read at my grandfather's home during my childhood. I also grew up on thrillers by Alistair Maclean, Frederick Forsyth, Robert Ludlum and John Le Carre.  Over the years, my reading grew to encompass multiple areas. I like books that stretch the boundaries of human imagination – Aldous Huxley, William Golding and George Orwell come to mind. I have also been influenced by books on philosophy, from the Upanishads to the Tao Te Ching and the Rubaiyat.
What are your other passions in life?
I love travelling, and places form a major part of the inspiration and backdrop for my books. I find that the external spaces a person traverses often mirror the moods and spaces in the traveler's, or reader's, mind.
I am passionate about self-discovery and personal transformation. I have been fascinated with Eastern philosophy and mysticism from my college days, and been a mindfulness meditation practitioner for many years now.
I am also an avid investor. I spent the first few years of my career in the equity markets with Credit Suisse, and JP Morgan, then as a private equity investor with a couple of Australian firms. Over time, I have been fortunate to be able to understand subtler patterns that underlie the markets.
What is next in the pipeline in books, and of what genre?
I am working on two ideas at the moment. One is a thriller set against the backdrop of the adrenaline-filled roller-coaster world of the stock markets. The other is a thriller with a historical angle, in the same genre as AgniBaan and KaalKoot.
Traditional or self-publishing which one is better and why?
Depends on the context. I was fortunate to find a great publisher in TreeShade Books, who saw the potential in my stories, both as books and potential screen adaptations, and put their might behind publishing and marketing the book. That's where conventional publishing helps.
Nevertheless, the tales of authors getting repeated rejection letters from conventional publishers are quite real. In such cases, the internet provides a plethora of options today, and it makes sense to go for self-publishing. The doors are no longer closed.
What is your advice for budding authors?
Read a lot, and make a start. Don't let a false pursuit of perfection lull you into procrastinating. Also, don't wait for inspiration to start writing. You will discover that as you put in conscious effort, the subconscious mind starts working and inspiration comes more often.
Define S Venkatesh, the author in One line?
I look at life, people and the universe with a sense of wonder, earnestness and curiosity, and I try to bring this to life in my books.