Multi-Talented Author Who Calls Him A Family Man : R. Giridharan
I came across many authors and got to know about their journey in the industry. Few among them are talented and few are extraordinary. I am fortunate to come across an extraordinarily talented person this time who is not just an author but a perfect pool of talents. Yes, this time I have with me R. Giridharan. Join me to know his magical journey so far.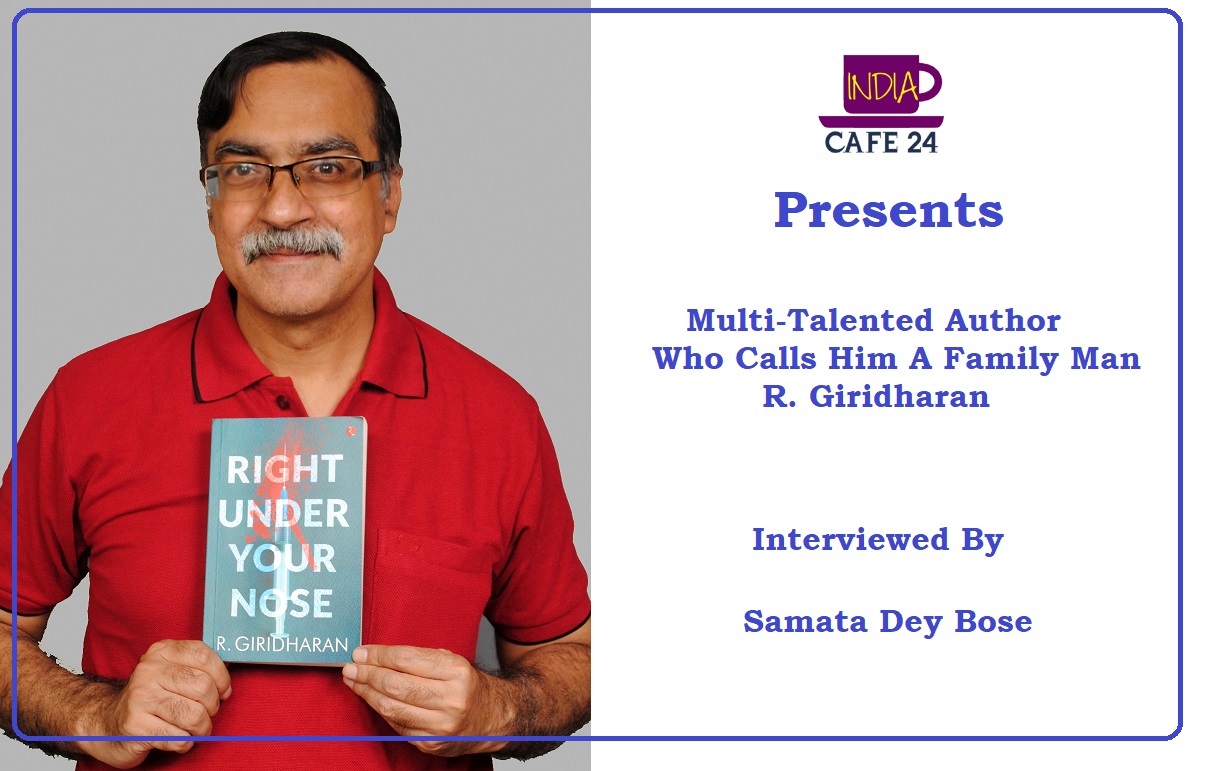 Welcome Mr. Giridharan, It's a definite matter of pride for me to present you on this platform. My readers are keen to know about you. Please share few words about you, your family, and your education.
Giridharan is a family man, who dotes on his gifted daughter Avanti. He is an international commentator, TV panelist, voice-over artist, and behavioral trainer.
I can speak English, Hindi, Tamil, Malayalam, and Punjabi and comprehend Marathi and Sanskrit.  I learned Mandarin but forgot.
You mastered both authoring a book and writing screenplays. Which among the two you love doing the most and why?
Authorship, as it appeals to all senses, while the screenplay is primarily visual. Book gives more scope for the thoughts of the characters.  In a book, the author controls most levers, but in a screenplay, it is the director and actors who matter more.
You are serving as General Manager with the Reserve Bank of India which is one of the most responsible positions one can dream of. How you handle so many things along with such a serious and risky profile with so much perfection?
My passion for cricket led me to umpiring as I wasn't athletic enough to become a player. I was a state-level umpire.  Commentary, radio, and TV came from cricket.  Voiceovers are a natural progression for commentary.  I am a behavioral trainer so it combines, speaking and writing.  Authorship flows from there.
My wife takes care of domestic life and my daughter herself adds creativity to my life.  At Office, my colleagues help me, so I save a lot of time spent by others on minor chores.  I owe to family, friends, and colleagues.
Your role with Reserve Bank makes you responsible for tracking large value frauds. So will it be right to say that tracking frauds help you in think in a critical way for shaping plots of stories?
No, my role has nothing to do with murder mysteries. However, workplace interaction forms the basis of scenes and dialogues.
During your tenure in the banking industry, you traveled to various cities. Which as per you is the best city in India out of it?
Every city has its own charm.
You served as an international sports commentator with All India Radio… are you still doing that? How come you manage so many things altogether?
Yes, I am still doing it. As I said, my wife, daughter, mother, sister, as well as friends and colleagues, support me to the hilt.  So, their inspiration gees me on.  Also, I love to meet people of different kinds.  You meet different kinds of people at banks, at voice studios, at sports venues, and at literary fields.  The urge to meet and know more people drive me.
Who is your favorite cricketer? Do you love IPL? How different you feel IPL is from regular cricket? Does IPL hold the true charm of cricket…. what you feel?
Sunil Gavaskar. Yes, IPL is an innovation hub and it is a professional, not a natural outfit.  IPL has helped in professionalizing the sport.  Also, youngsters from very poor families like Mohammed Siraj and Natrajan have made it big due to IPL.  IPL has a charm of its own, as do Test Cricket and ODI cricket have charms of their own.
I heard that you are a behavioral trainer? What exactly you do in this role as a trainer?
I teach Emotional Intelligence, Communication, train the trainer, Coaching, Counselling, and Anger Management.
You are a visiting faculty or speaker at many of the top-notch B schools of India.  How much these management courses offered by these schools practically help in making a good manager?
They provide a foundation of those skills required. Interface with industry experts adds a touch of the real-world, which differentiates it from purely academic colleges.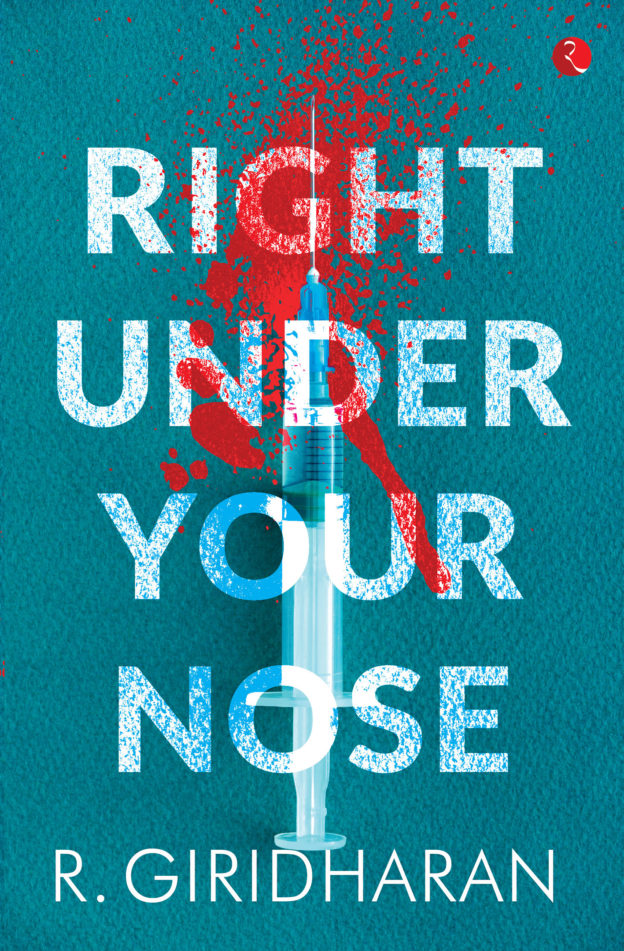 How the plot of RIGHT UNDER THE NOSE came to your mind…. any specific case that triggered this plot?
I wanted a Howdunnit which should leave readers thinking, so I framed questions that I thought would excite readers. It is through answering my own questions posed to myself, did develop my plot.
Which is the best character in the story… asper you and why?
Madhukar Dalvi. He is unsung and undersold. He is dead loyal.  He states his all and puts his career online for Vijay.  He is brave and loyal.  He never loses heart.  Such people are rare.
The book is already available in the market and many already read the same….. how are the reader's reviews? Which among them you found different from others?
I found that a reader mentioned that this is the only book with a male and a female detective and both as equals. I believe it is a first of its kind.
You know almost 6 different languages and also learning Mandarin at the current time…. do you have any plan to write a book or script in any language other than English?
No
Do you have any love for poetry?
No, but I love my daughter's poetry.
Share some words about the recognitions you received for your work in various segments you worked for :)?
Among the ones that I cherish are:-
          'You are a dad to be proud of'

          'You are a priceless son'

          'You are a great husband'

          'You are a peerless listener'

          'You understand us, so well'
Every award we win is precious, but some are very special… which award is that for you?
Cannot pinpoint.
Is there something that you feel, Do you need to improve in your next project?
I would like to add some more humor. I think it was pretty ordinary in the book.
What are your other passions in life?
Traveling with family. We have visited 22 countries together.
What are your future plans- what else you want to do?
I want to help people, especially budding commentators and authors.
What next in the pipeline in books and of what genre?
A sequel to this one, then one on Anger Management (co-authored) and one on sports commentary.
Is there anything that we still don't know about you?
I am a very good listener and am tone deaf. I can't sing or dance to save my life.
Traditional or self-publishing what are the pros and cons of both types of publishing?
Self-publishing gives you greater control but then it is too much hassle and you are responsible for everything.
Traditional is less cumbersome, saves time and the publisher expertise and infrastructure can be leveraged.  I also mean that your book passed muster somewhere.  However, your royalties are much lesser and you have little control.
As you are a behavior trainer … what features or qualities you consider must-have in authors?
Empathy, Imagination, Self-Awareness, Self-Control, Humility, desire to learn, and ready to let go. More importantly, perseverance.
Any tips for budding authors?
Don't get put off by rejections, soldier on, no one can stop an idea whose time has come.
Don't be scared of being original. Your uniqueness is your strength.
Writing requires observing people, so do that.
Be an avid listener and have loads of patience.
समय से पहले और भाग्य से ज़्यादा कभी नहीं मिलता
A quitter never wins, a winner never quits.
When the going gets tough, the tough get going.
If you need to talk, I am always there.
Define     R. Giridharan the author in One line?
An author whose heart beat for the reader.