Meet Ajay K Pandey- Author of Real Life Story
Having an interaction with such an author who penned down a story which is on his own life is very rare. We got the chance to interact with Ajay K Pandey, who authored " You are the best wife". Its the story of Ajay and his beloved late wife Bhavna. On this Valentine week we present this amazing author who experienced the journey of being in love and losing the love both at a very young age.


It a pleasure to have you on this platform of Indiacafe24.com. Our readers would surely want to have a sneak peak on your background.
 Answer : I grew up in the modest NTPC township of Rihand Nagar with big dreams. I studied Engineering at the IERT (Allahabad) and MBA at IIMM (Pune) before taking up a job in corporate firm. I am currently working with Cognizant, Pune. I had a dream of becoming a teacher, but destiny landed me in the IT field.
What did you think about Romantic Novel and its popularity in market?
 Answer : Romance is all about love and emotion. As these kind of novels are close to reality, reader can easily find themselves connected to story and can feel it. The frankness and natural way of storytelling makes it popular and most widely read genre in market.
 Writing came to your life , with Bhavna your wife as inspiration or you already had a knack towards writing?
 Answer : I never tried to become an author, I had never written even a short story. This book is written for special purpose. So yes, you can say that Bhavna is only inspiration behind this writing.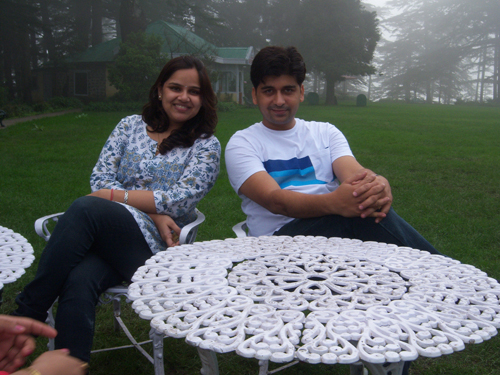 What elements of romantic genre stories fascinate you most?
Answer: I fascinate more towards the real love stories. An emotionally satisfying and optimistic ending are major factors that I consider before reading any romantic tale. I will enjoy a story more if it is giving inspirational message for living life and maintaining relations.
 Very recently your novel " You are the best wife" got published. So how you are feeling ? What sort of reviews you are getting?
 Answer : It feels good when somebody appreciate your work. I am getting overwhelming response just to share with you, a person wrote to me after finishing the book, "I cried after five years of my father's death."

 Which character of the Novel is your favorite and why? Answer not being Ajay but as a reader
 Answer : Bhavna is my favorite character because she is full of life and really inspiring.
I am quoting her ideology:
There are two kinds of personalities. There are those who have everything and still complain as if they have nothing. And there are those who lose everything and act like life has given them everything. Sometimes both these personalities exist in the same soul. Kill the first one, I love the second, inspires me every day.
How you reacted when you saw your first copy of debut Novel You are the best wife?
Answer: It was very emotional feeling. Off course, I was happy too, since I have done something for better cause. The main reason to write this novel is to make her (Bhavna) memories everlasting. I had tears while holding my first paperback.

As its your own life story how was the feeling and ups and downs of emotions when you where penning it down
Answer: It was an emotional rollercoaster. There was humor, emotions, romance and pain at the same time. But the best part, it was my life, my journey, so I enjoyed it.
The conflict between the publishers and authors is very common. Have you faced such problem while finding publisher for your book?
 Answer: I got one dozen rejections. And some of them do not have courtesy to reply a no even. But I feel myself lucky that I got a positive reply from Srishti Publishers & Distributors within a year and afterwards my journey of manuscript from book with Srishti was quite smooth.
 When you first realized that you have the spark of becoming an author?
Answer: When my first draft was ready. I had a confidence that I have done a decent job but when I started getting amazing reviews, it made my belief firm
What are your other passions in life?
Answer: Travelling, trekking and reading novels are my hobbies. Travelling to different places has taught me about different cultures and people, and makes me wonder how despite all the differences, there is a bond that unites them. Reading is perhaps what makes him feel alive.
What are your future plans – how you want to see yourself?
Answer: Currently I am promoting my book. The appreciation and accolades are forcing me to hold my pen again. Since it's just a beginning so currently my fingers are crossed for sharing any future plans.
Any more Novel we can expect from you in coming time?
Answer: This book has given me a lot of appreciation and enthusiasm and my readers are definitely not leaving me with single book. So I will come back with something inspirational but currently nothing to share.
Define Ajay K Pandey the author in One line?
Answer: An Author who writes from heart by keeping the reality intact.