Author Interview with Vandana Singh, Free and Frank Session
The life of an author is not as simple as it seems. The role of an author is not only to pen down the narrations of a story. rather its an art to reflect every emotion perfectly so that it can reach the hearts of readers. Vandana Singh is one such author whose every sentence speaks about her command in the world of writing. We had a quick session with her about her journey and experience as author. Check out what she shared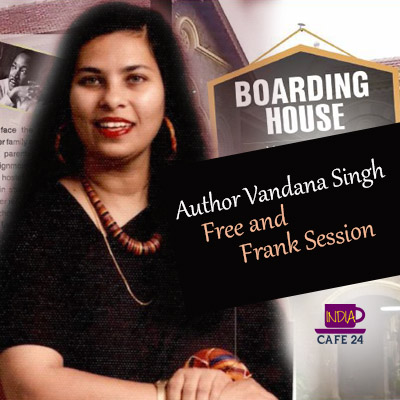 It is a pleasure to have you on this platform of Indiacafe24.com. Our readers would surely want to have a sneak peak on your background and family.
I had my schooling in both Catholic and Protestant English medium schools. Catholic schools taught me about family values and the Protestant school taught me about hard work and the Protestant work ethic. I did my B.A. English Honors and M.A. in Cuttack, Odisha. Cuttack was relatively poor but quite personal—while North India, to which I belong was in general bigger, richer but much more impersonal; I also felt it had a lot more male chauvinism. After my Masters, I went to Laos where my family had moved for work. There I greatly enjoyed the Buddhist culture. Then I went to the US. I joined my only brother in Atlanta. Now I have been living with my family in Gurgaon for the last nineteen years. I belong to a wonderful family—my family members are all real gems of people. My father came from an old, rooted and traditional family in U.P., while my mother comes from a more modern and progressive family in M.P. I had a very gentle, humble and sacrificing father and a very confident, sacrificing and progressive mother.
When and how did you decide to pen down a novel?
In college I was a student of Literature—so studying Literature and writing came hand in hand. My writing was appreciated both in school and college. When dealing with adjustment problems in the US, I got the idea of penning down a novel in mid 1990s. I had deep literary roots in my family on my father's side.
Which genre of book you love to read and prefer to write on?
I like to read fiction and non-fiction based on human values, human relationships and books that enrich historical and political awareness. I also like to write on these topics.
Very recently your novel Boarding House got published. So how are you feeling? What sort of reviews are you getting?
I am happy that my novel is published, but I also feel apprehensive about how my novel would reach the general masses, as, so many books get published these days. I have not got any reviews yet.
Share a brief about the story.
The novel is about the trauma a child has to undergo when she is separated from family, as it leaves for Africa for an assignment. The indifference of rich girls in the hostel, the ill-treatment by relations, failure in studies after being a good student, hurt in love, loss of anchor in organized religion, mistreatment by both Indians and Whites in America, the heroine's quest for love and acceptance is finally fulfilled, through her Black professors, who become her mentors and father figures, in a historically Black University in the US.
How did you react when you saw the first copy of your debut novel Boarding House?
I felt elated when I saw the first copy of my novel, but I also felt concerned as to how it would perform in the book market.
The conflict between publishers and authors is very common. Have you faced such problems while finding a publisher for your book?
I did not have to face much problem finding a publisher for my book. I first sent the last three chapters of my novel to one reputed outlet. They asked me to send the whole novel, which they later rejected. Then I sent the last three chapters of my book to another publisher in New York. They accepted to publish my novel but somehow did not seem to fit with my desire to publish my work in India. After sending my book to a few more publishers, I sent the first two and last three chapters of the novel to LeadStart Publishers in Mumbai. They accepted the novel for publication. They said they receive 150- to 200 submissions per day, but choose to publish just 3% to 4% of the submissions. So I was very happy—but sad also that my mother was not alive to see and enjoy my achievement. LeadStart has been very helpful, co-operative and supportive of everything all the way up to the final publication of my novel
When did you first realize that you have the spark of becoming an author?
Right since school I was good in the languages—Hindi and English. I also had a very literary minded family on my father's side. My paternal uncle had translated the Greek epics by Homer, Illiad and Odyssey into Hindi poetry. I had completed my novel in 2007 but just let it stay lying around. In 2010 I started looking for publishers and without too much trouble, I found one in 2011—LeadStart publishers, Mumbai
What are your other passions in life?
I love old Hindi film songs, Classical Indian Music and Dances. I also passionately stand for the human rights of Native Americans and Blacks in America. I feel greatly about the poor and the marginalized in India and in the world.
What are your future plans?
I am working on my second novel. I also have ideas that I am working on for my 3rd and 4th books.
What is next in the pipeline and of what genre?
My second novel is about the thoughts of love of a middle aged woman; the genre, broadly, might be Romance.
 Which authors inspired you in life?
I am inspired by Joseph Conrad, Aldous Huxley, Somerset Maugham, Leo Tolstoy, Thomas Hardy, and Charles Dickens. I also enjoy Third World and Black writing—all for their deeply human concerns.
Any suggestions to budding authors?
Study the Humanities, Literature, History, Religion, deeply. Be politically aware—read your newspapers. Go to your roots rather than superficially and blindly aping any culture with which you might not intrinsically connect. Never forget your own language.
Define Vandana Singh the author in one line.
I am sensitive, intensely emotional with profound human concerns.