Aswin Shankaranthe – Chit Chat session with Multi Talented Author/Poet
Young, Vibrant, multitalented and a charming young man Aswin Shankaranthe is here with us this time to share his journey in the industry.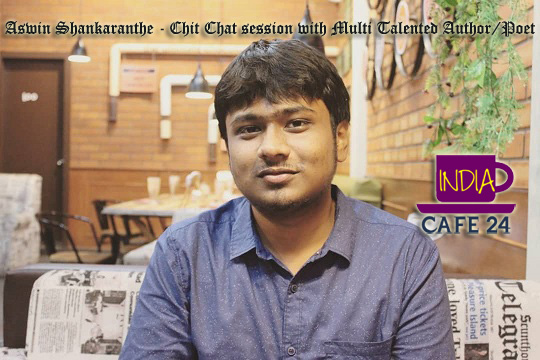 Welcome, Aswin. It's a pleasure to have you on this platform of Indiacafe24.com. Our readers would surely want to have a sneak peak on your background. Kindly share a brief about you, your education and your family.
Thank you Indiacafe24.com for having me.
I am currently doing my 3rd year in Production and Industrial engineering at VIT vellore. My father Shankharan Ve is an Additional general manager at BHEL Trichy and my mother Anuradha Shankharan is a Carnatic music teacher having her own music school. I am blessed with twin sisters who are first year engineering students cum professional singers. Manisha Shankharan is a trained Hindustani classical vocalist and Malavikaa Shankharan is a well-recognized Operah singer who has finished her ATCL in western classical music. With the blessings of god, I am blessed with a beautiful and a supportive family who keep motivating me in every step of my life.
Which Indian Poets inspired you the most?
I am really not into reading English poetry though I write poems which might sound a little outlandish to anyone who gets to read this. But I am highly inspired by the works of Tamil lyricists and writers Vairamuthu and Madhan Karky whose way of writing a song for a particular scene in a film really inspires me to write and emote various emotions and relationships.
Also, I love the Hindi dhohas of Kabir das and the poems of Shri HarivanshraiBachhan to which I was exposed to at an very early age as my grandmother was a Hindi teacher.
For writing a meaningful poem there is need of lot of emotion, how you visualized that there is a poet in you?
Yes, the emotion is what makes normal words to be poetries and any human being who really understands emotions can write poems.
I really still cannot figure out how I could write. Naturally the way I put the words are appreciated by people, personally I am very emotional and always tend to empathize. Any situation of life could be made poetic if the way we look at it is different, even a girl walking on the roads of the Chennai traffic has become a poem of mine. The situation which I personally could visualize and interpret the emotion and convey it right becomes a poetry.
Can you recall the very first poem you wrote? What was the topic of that poem?
The first poem I wrote is for my mother at the age of 11. I personally believe the love between the mother and the child is thepurest form of love created by god which I could relate to having a fantastic mother which made me write my first poem for her.
Share few words about your latest poetry book Between Reality and Expectations and how it happened
"Between Reality and Expectations" is one of the most beautiful happenings in my life and I should thank god and of course my dad who wanted me to do it.
Talking about the way it happened almost resembles the title, it was beyond reality and expectations where I can call this book as an "Happy Accident"
I had around 75 poems written and unpublished. My dad one day asked me why don't you get it published as a book and I then spoke with Raindrops and they agreed after reading some poems of mine and approved it. And within a span of 2 months the book was there in the market.
Everything happened totally went unplanned and that's why it turned out to be fantastic with god's will and wish.
Who is the one who for the first time noticed the spark in you to become a poet?
I really don't know, I could say its myself. But my sisters who tend to read all my works first before it gets published always say that I have a poet in me through I still don't realize even now whether I do have and absolutely I am not trying to be modest here at all as this is the truth.
We came to know that real life events actually formed the base of your poems. Can you share  how it happened?
Yes, real life events are the basis and the extracts of my poetries or stories. I really can't say them as events but I should call them emotions. The emotion that exists in a particular happening I see or hear or I personally go through and the honesty in the emotion is what triggers me off to write something about it. Like you could see a poetry titled "The First cry"  or " The Farewell" or "The so-called love" in my book Between Reality and Expectations all of which are real life events I have heard about and I just tried to put myself there in those characters and go through the emotions they have been through and the words that comes out are the poetries.
Some poetries just dramatize and fantasize the way of life and living which all of us do but we don't tell anyone but rather keep it to ourselves and that at some point disappears. Maybe if you read the book you could re collect at least some of them.
Engineering and Poetry….. A combo of technical and literature world…. It's a crazy combo. Why you didn't opt for literature as your subjects in graduation?
I don't think poetry or writing could have happened without engineering. I am passionate about science and math in my school days and ended up taking engineering. But life put me to various paths, made me go through various emotions, I met a lot of people and all this ended up in writing.
Maybe if I had the passion and love for writing when I was in my school, I may have given a thought. But still I love doing engineering.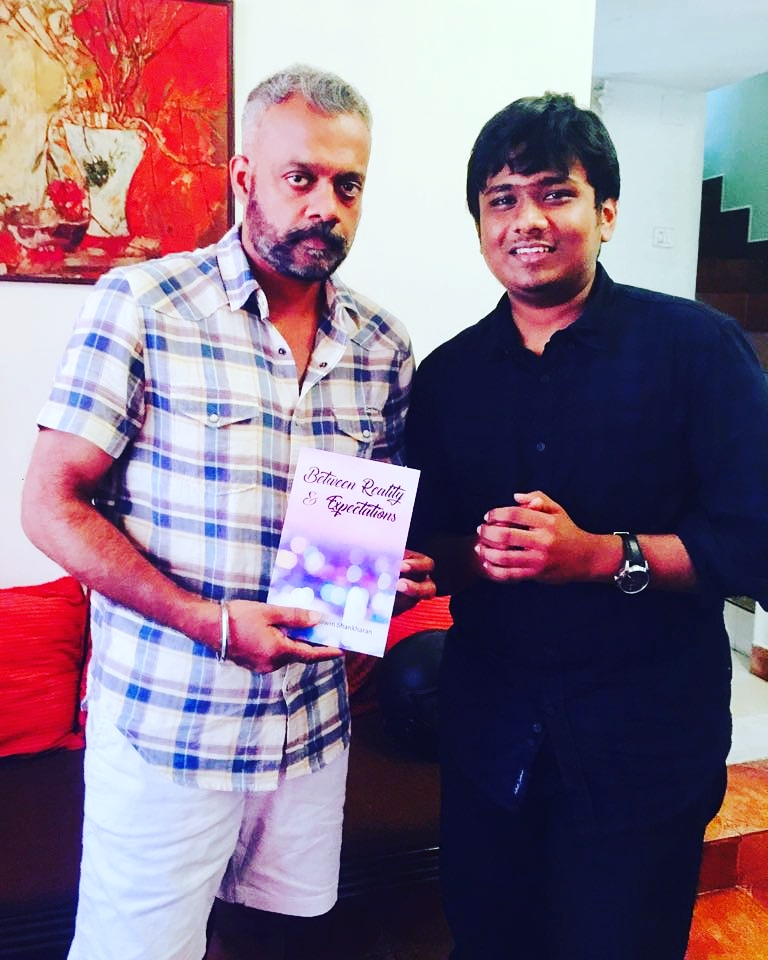 The conflict between the publishers and authors is very common. Have you faced such problem while finding a publisher for your books?
Not at all, the only publisher I approached was Raindrops and I ended up publishing with them. Also, the journey with Raindrops and Mr. Bernard during the process of making the book and even till now is absolutely fantastic. They made me feel very comfortable and were always there to answer to all my queries any time. I guess I was lucky in getting a publisher.
Will you love share the response you got for your 2 books on Kindle 10 odd days and Arranged marriage?
Yes. Definitely. 10 odd days and Arranged Marriage are doing good on Amazon Kindle and I still keep getting comments about "Arranged Marriage" from a lot of people and I am working on doing it as my next short film.
And after this I have published 3 more Kindle books independently titled " The Unartistic dedication", "The Unintended Journey" and "An Umbrella" which also talks about various relationships and emotions in different backdrops and these are also doing quite well.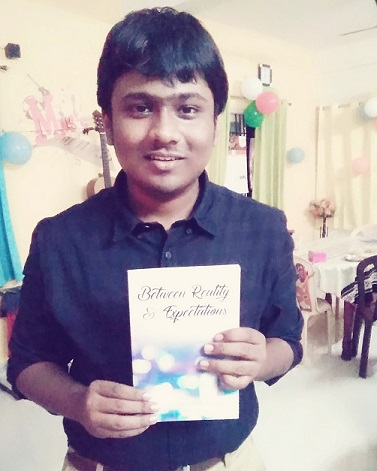 What are your other passions in life? We heard also that you are an upcoming film maker?  You are pretty talented … Please something in this regard
Yes, I have grown up watching films and being a huge fan of directors like Mr.Mani Ratnam, Mr. Gautham Vasudev Menon and Mr. K Balachander whose films triggered me off to start writing. I started off writing to slowly get into writing screenplay and poetries were one of the steps in them. Luckily,I got a chance to present my book "Between Reality and expectations" to Mr. Mani Ratnam and Mr. Gautham Menon. I love watching cinema and I love the way the characters are written and the scenes are staged in films. Film making is of course a passion and my first short film in Tamil is there on Youtube titled "VennilaveVennilave".
Apart from this I love music and I have learnt Carnatic music and I am a vocalist being from a musical family background.
What are your future plans – ?
I have asked the future to surprise me with its plans as always it does, so even I am looking forward for something fantastic.
Define   Aswin Shankaranthe Author in 1 line the author in One line?
A happy go lucky guy who is in the journey of finding a meaning to the life he lives.