Akanksha Agarwal- A Contemporary Poetess & A Proud Corona Survivor
Many of you might be aware of the fact that I am very choosy in picking any poetry book to read. All type of poems is not my cup of tea. More than Love stories I love, Romantic poems and poems representing human emotions. I came across a wonderful poet this time Akanksha Agarwal who is truly, deeply, and madly in love with a romantic poet. She is a proud corona survivor and her love for romantic poems is still on. Join me to know this amazing lady and her journey so far.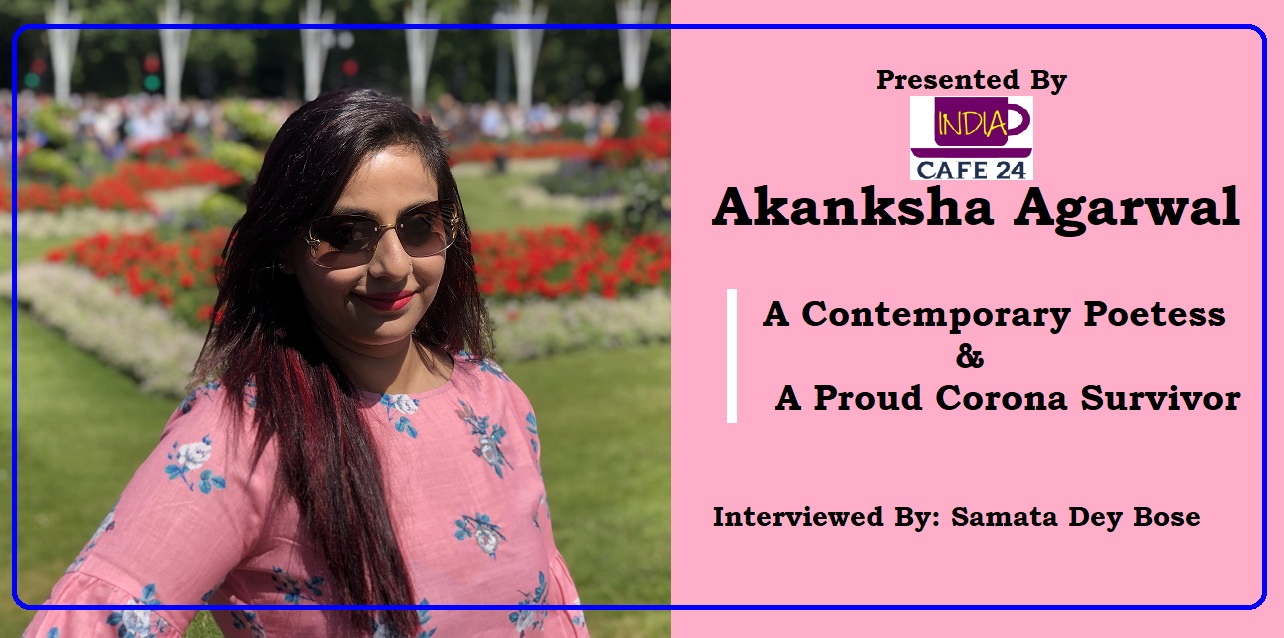 1) Welcome, Akanksha. We are glad to have you within us. Please introduce yourself to my readers.
Hi, everyone This is Akanksha Agarwal, I am from A city called Bareilly in Uttar Pradesh. My parents were doctors. My father was a physician and my mother was a gynecologist. I lost my father to cancer a few years ago. And my mother, who is 65 plus now, is retired now. My father expected a boy when I was born. So, my parents actually raised me like a boy. I was never restricted from doing certain things just because I am a girl. I used to have boy-cut hairs and was exploring almost all the segments of my choice. I am thankful to have such wonderful parents. Eventually, there came a time when I needed grooming and that's why I was admitted to a hostel for further studies. I learned a lot there. When the time came, I got married and settled down. It is almost 10 years now in the married life. And I am happily married with kids. I am a poet, dancer, singer, artist, musician, and a proud homemaker. I started writing with the pen and I have won many writing competitions and prompt challenges. Recently on the social platform Instagram, I have organized a live session with Poets around the globe which was a huge success. I write what my heart bleeds, I enjoy connecting with people. My first book, The Secret In My Blood is a beautiful poetry book based on love and romance.
2) An inspirational moment came in your life when you got a pen as a gift from your father….. Please share with us that inspirational moment.
When I was growing up, my father gifted me a pen and inspired me to write. Since then, I love to pen down my thoughts and emotions on paper. I always wanted to do something that makes my parents and my family proud. So, I thought of consolidating those poems in the form of a book. It was he, who could see the poet inside, when I was young, he believed in me and always inspired me.
3) Which authors and their work inspired you the most?
I love the work of Sylvia Plath. I love reading books by Khaled Hosseini, especially The Kite Runner. I like the works of John Grisham. I loved reading "Fifty Shades of Grey". Also, I like to read biographies of famous personalities like Michelle Obama, Sunanda Pushkar. All of them are inspiring in each way.
4) I experienced that Poetry is quite different from story writing. What as per you is the difference between the two?
Yes, Poetry is way different from story writing. Poetry has ideas, feelings, gestures, emotions, it has rhythm, it has visuals and colors of life. Poetry is lyrical, it's the current thoughts. Whereas story writing is the made-up stories, It is based on characters, actions. It seems to be structured.
5)  You are BBA degree holders and then Completed studies in mass com. Almost no link with literature in education, so exactly at what age you start writing poetry?
Yes, there was no direct link between literature and my education. My writing journey started soon when I was a kid, that time I use to write down about my days at school and College, About my music teacher how he used to teach me. Then I started writing some articles on how gadgets are affecting the kids, Articles on Food, and articles based on my life. Reading those and sharing them with my family and friends, motivated me to write further, so I used to pen down what my heart bleeds, I then started writing poems based on love, romance, and women.
6) There are various genres of poems, which one you love the most and why?
Every man or woman on this earth loves being with someone for their life. So my poetry conquers a stage where love mushrooms, May it be, Happily in love, Lost love, Missing love, Dreaming love. So I love poetry based on love and romance.
7)  If we ask the count of poetry you wrote far, what will be that figure? Which is the best poem so far by you, as per you?
I have never kept any count on the number of poems I wrote, but yes I am sure they are more than 60. This is a tough one, all my poems are my breath, they are all close to my heart. But one poem that's really close to me is-
The whiff of his bones, intoxicating…
Her eyes wandering to never blink,
her ears wanting to tune into his sound, her brain asking to abide with him. Forever, ever and ever!
Her path is where his road is,
her shadow is where his footsteps are, her fingers swayed with his touch,
her smile is when he beams.
Forever, ever and ever!
8)  Share some words about the recognitions you received for your poetry?
It all started earlier When I used to write my poems, I used to send them to various platforms, and if they love it they would post them on their respective pages , websites, and magazines. Then I used to hunt for various " Prompt" and I used to pen down the poems based on that "Prompts". So yes I have won many of the challenges, competitions. And I am glad people like my work and I get recognised. For my poetries, I have achieved many awards and certificates. My poems are in prestigious magazines of many places of the world including USA, the UK, Singapore, and off course in India.
9) Every award we win is precious, but some are very special… which award is that for you?
Yes each award and recognition are very special, but one of my poem and painting got featured in Corona quilt and recently one voice over of my poetry was played at a radio station of London and Glasgow. Both of them were very special for me.
10) Are you interested in story writing? If yes, what type of stories you prefer to write?
Yes, I am writing down a "love story". It's not yet completed. The Characters are Anna and Kris. I would finish it soon and publish it too.
11) How many anthologies you contributed still date?
I have been part of many anthologies in India as well as abroad. I have been co-author of many books. To date, I am part of more than 15 anthologies published and a few are in pipeline.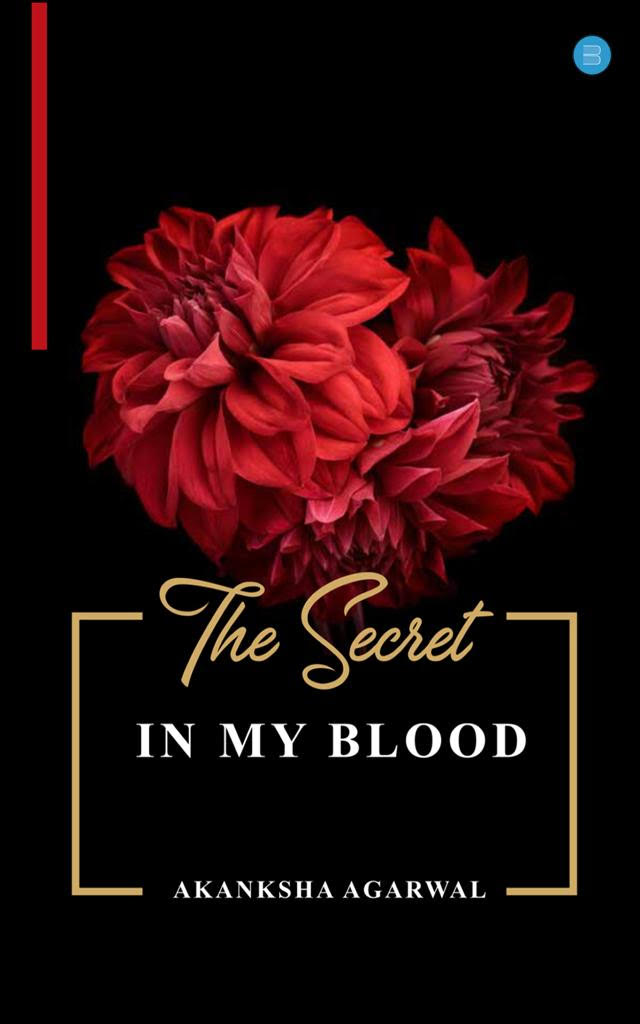 12) Say something about your solo book The Secret In My Blood.
The secret in my blood is a lattice of emotions expressed by a woman through her being that is analogous to life. The analect recites the intricate torrid state that marks the tumultuous journey from a girl to a woman. Every word epitomizes the indefinite feeling of love. The poetess weaves the alchemy of blood and love that demands to be reckoned, one meaningless without the other. The poems depict the fervor and rhapsody between a man and woman with vivid characterization.
The book is spread across three parts –
Ovulating in Emotions – When someone falls in love, everything seems extraordinary and magical. You'll begin analyzing your lover with everything you adore from celestial objects to edible items. You wanted to go to the places to spend quality time and enjoy each other's company. This part portrays the feelings when you know that you can't live without that particular person or how their love intoxicates your heart and mind.

Bleeding in Love – this part is dedicated to the stage where one's heart-breaks. The loneliness, darkness, negative thoughts looming over and everything reminds you of your partner. The sleepless night, tears, yearning for physical touch, endless memories become part of life. You try to forget everything, but still unable to do it because in your heart you know that maybe one day, he/she will come back, and that fantasy lives on.

Fertile to Fly – Love and lust are both the side of the same coin. Physical intimacy is as much important as an emotional bonding. In this part, It depicts the craving of bodies where passion and love for each other are boundless and sturdy as the ocean. This segment is also a gentle reminder that love is about growing old together, and there is no moment you regret if you are with the one you belong to.
 13) I got to know that you are in love with paintings? What type of paintings attracts you the most or you love to paint?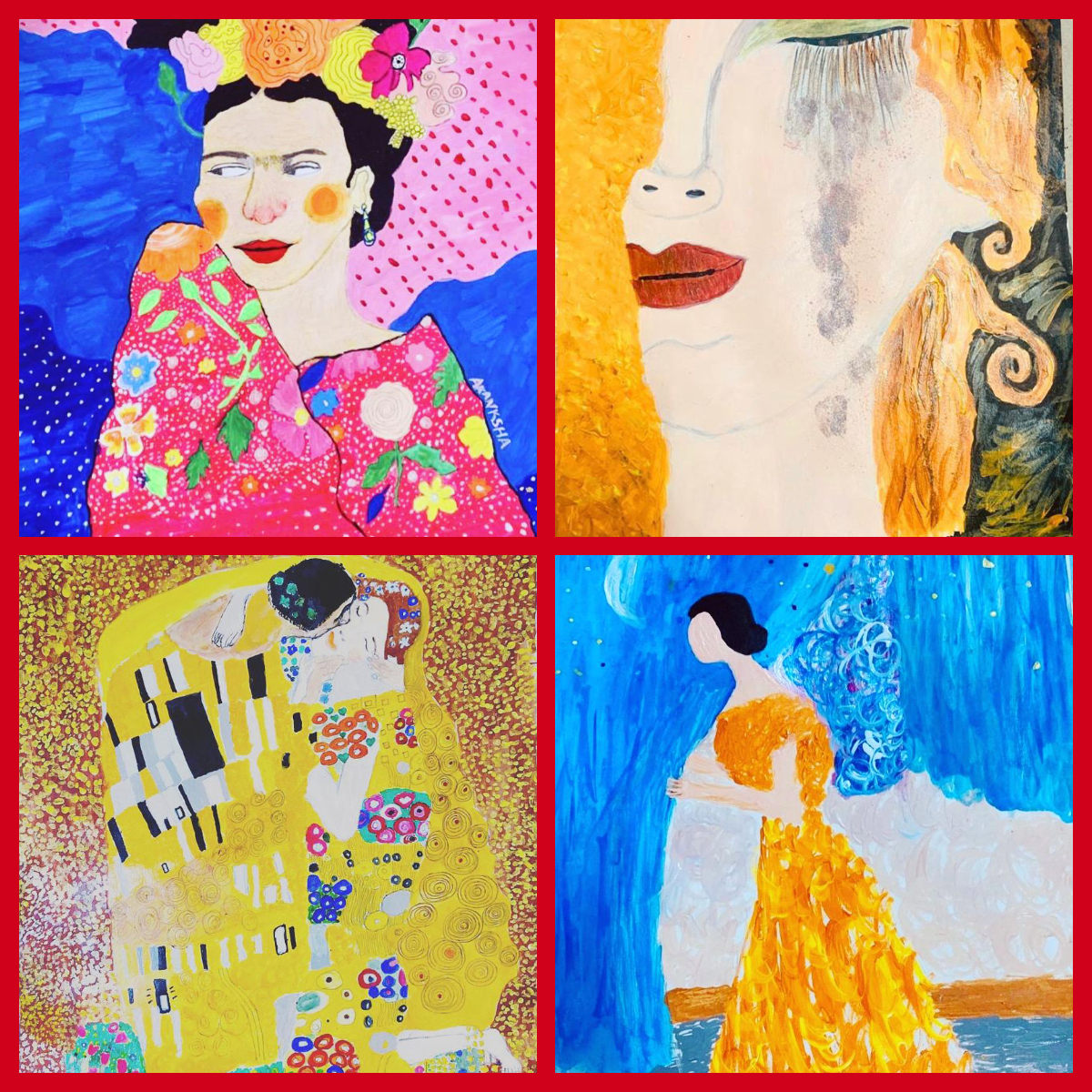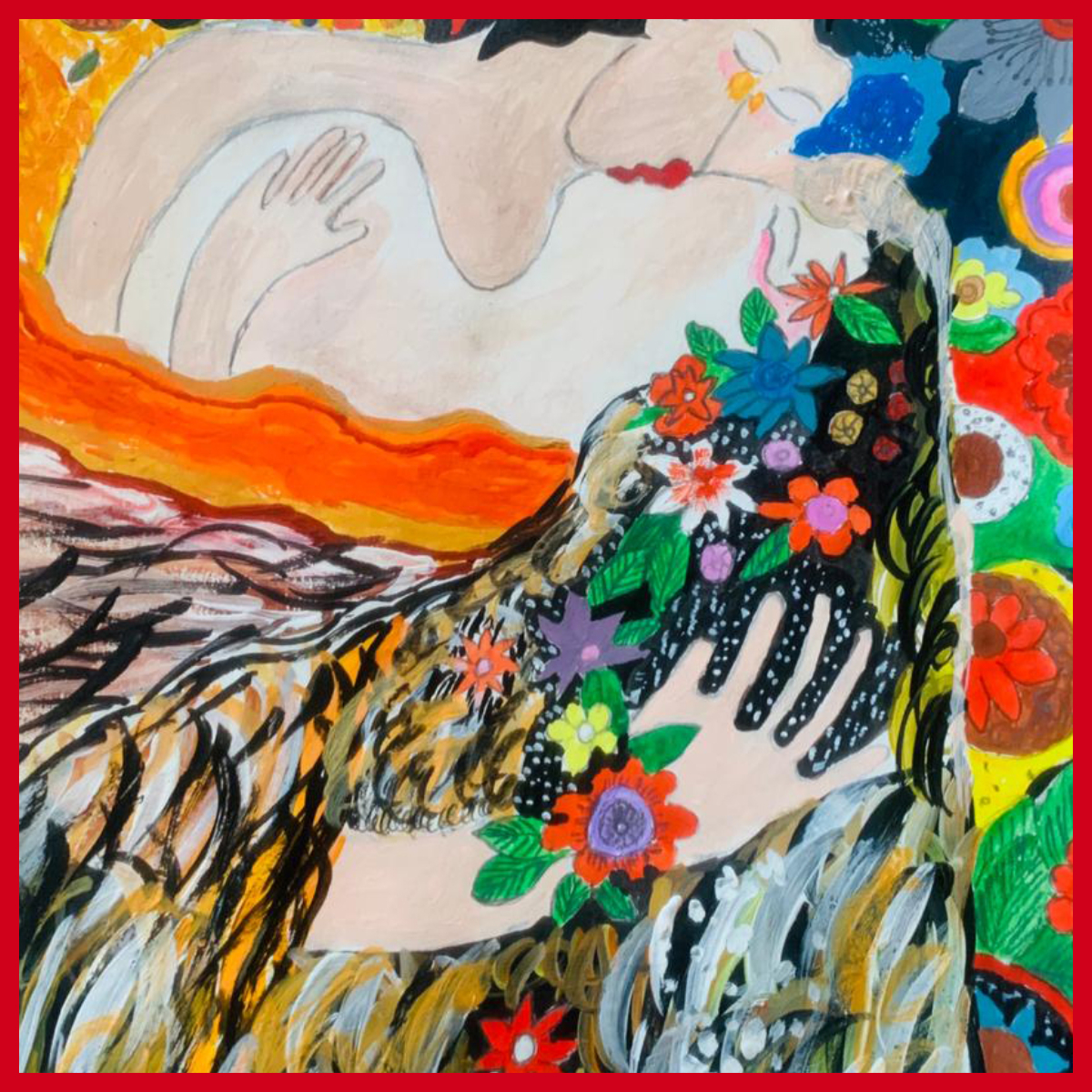 Yes, I love to paint, I love to pick my paintbrush whenever I get time. I have tried to paint some really very famous paintings of the world. Including –
The Kiss by Gustav Klimt
The Golden tears by Gustav Klimt
Portrait of Famous Mexican painter FRIDA KAHLO.
14) Is there something that you feel, you need to improve in your next project?
Yes, I need to improve more on my poems, I have to take care that there is no repetition of thoughts. And I have made my poems more refined.
15) What are your other passions in life?
Other passions in life are I like to cook and try new recipes, Music, fashion, paintings, dance, singing, and reading books.
16) What are your future plans- what else you want to do?
My future plans are I would like to write more and more, I want to get published by any top publisher of the world. Also dealing with the Covid days, I want to be more health-conscious and see myself and my country fit.
I want to promote food grain called "Millet" in India, people here are not aware of it. Millet  is a whole grain that's packed with protein, antioxidants, and nutrients. It has  numerous health benefits, such as helping lower your blood sugar and cholesterol levels. Plus, it's gluten-free, making it an excellent choice for people who have celiac disease or follow a gluten-free diet.
17)  What next in the pipeline in books and of what genre?
One is the "Love story of Anna and Kris" Also being a  Corona Survivor, I would like to write about the pain patient goes through and how it affects one's psyche. And it can have an long lasting effect of the body. The title of this would be "The Burning Syndrome"
18) Before we come to the end of this session, I wish you to share with my fellow readers about your life after recovery from COVID.
Recently I caught a viral infection and my upper and lower limbs stopped feeling. It was really a tough time. I had to be shifted between home and hospital. I am in recovery mode now.
I was totally based on the kindness of others. Every nurse, doctor, and physio, my mom, my husband, my family makers that helped me did so with humility and care making sure I was treated with respect and kindness.
When you are giving up on life, little moments of kindness – like a cup of coffee or green tea being made for you and just someone listening to what you have to say can change your day for the better. My hope was not lost and even if I was at my lowest, life could get better, and that there is a reason to live.
That moment will stay with me forever. While fighting with Corona , the side effects of heavy medications, the loss of mobilty in my limbs , and an unexpected things that happend I  began to make the most of his time by writing down my thoughts into my mobile notes.
So yes now I am on the recovery track, settled back at my home with my kids. Life is getting back on track.
I am sure with god's grace and love of my family soon I'll pick up my paintbrush , paint my thoughts, I would sing -record my voice , I would write the poems , I will cook for my family and I will be as cheerful as I can.
Still some days I feel low, but Yes we are god lovers and with good diet, exercises, positivity and blessings of my family things are and will get better.
19) Define Akanksha Agarwal the poet in One line?
Akanksha Agarwal –
" Born to Spread love and happiness through her writings and words are her strength".