With Canvas, Paint & Brush- Sarbani Bhattacharya Direct from Heart
She is a painter , She is a dreamer, She is a Social worker and Yes, She is a responsible citizen of this society- She is none other that charming and beautiful Sarbani Bhattacharya. Its an honour for Indicafe24.com to have her for this session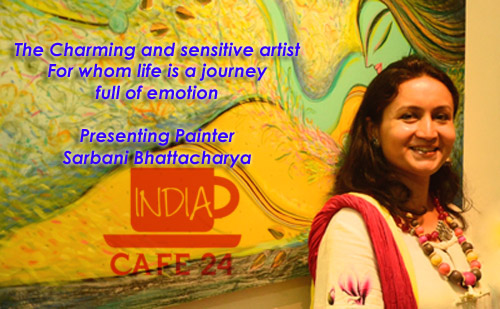 1) Hello Sarbani, Welcome to Indiacafe24.com. It's an honor to have you with us. Sarbani you are already an established painter, so would like to know your vision as an artist about the present condition of the global society?
As usually Good and Bad both existing together in our time line too, though unrest is there at many places, but I can see and feel a mass awareness on positive understanding of humanity is happening worldwide balancing the intelligent and emotional quotient. I feel more realization should arise on respecting Nature. The recent earthquake at Nepal again proved that our life is a beautiful gift of Nature, if Nature doesn't wish to offer the gift we are helpless.
When the gratitude sense towards the Nature diminishes we get these painful reminders to make us realize who controls whom.
My prayers for Peace with our inner self and Peace with Nature.
2) We have noticed that you always made an attempt to contribute towards various social causes through your painting and art. Say something in this regard.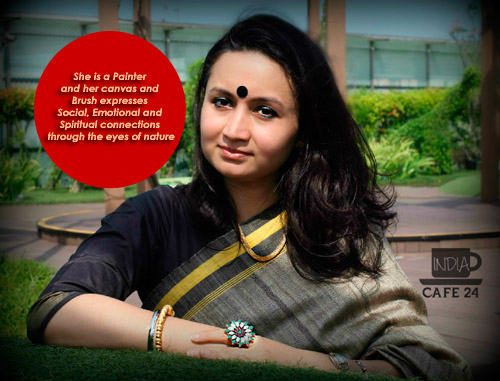 Very simple to say I feel happy to give, of course to give with in my own capacity, I fell energized through this process. Being an artist I believe I have this ability through which I can help. Help in different ways, sometime help to raise awareness, sometime to raise fund for some cause. Working with different social causes through art, I can connect with more mass awareness, which lifts up my spirit.
 It's a pleasure to share that, my ongoing solo exhibition 'Nurture Nature' is having one Charity painting for each category, on Nurture and Nature.
(30th April-17th May, Utterly Art Gallery, 20B Mosque Street, Singapore-059500 , Phone No: 62262605/ 94872006)
 For Nurture: 50% of the proceeds from the sale of "Cosmic Cycle" is going to Protsahan India Foundation, a social enterprise that uses creative education and art innovation to empower street children & young adolescent girls.
For Nature: 50% proceeds from the sale of "In Harmony with Nature-I" is going to Nature Society of Singapore, to work on saving Nature!
In Love with a Rice Story.
'The Blue Yonder' and artist Sarbani Bhattacharya's collaboration
Three days (29-31st Oct) Live Sketching journey at ITB Asia to raise awareness on Preserving Pokkali, a rare type of rice that can with-stand saline sea water.
3) What are your parameters of defining a painter who is expressive, and sensitive towards a society?
Hmmm….for artist's expression I do not believe in parameters that way, but surely seeing the visual language of the artist in his/her art you will get to know what message the artist wants to convey…Any art which is for some social cause, should convey certain messages to recognize, be in metaphorical way. And all artists depict social stories this way only.
Suppose on Fearless Campaign( initiated by Shilo Shiv Suleman), I worked on some female figure in a martial art pose, putting texts, I wrote fearless on her hands defining her 'Fearless', "Shaktirupena Samasthita".
4) Being a painter do you think that there are true admirers of painting in this world or its just a fashion and style statement for them to buy expensive painting for interior decorations?( Status symbol , rather interior decoration)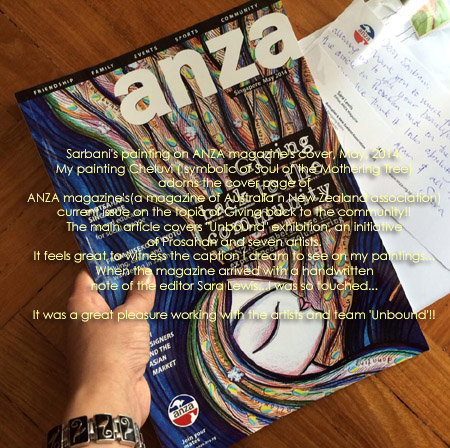 Surely both categories exist holding hand in hand in all socio economic level….yes surely it was and it is challenging for artists to survive with out marketing skills. And putting price on intellectual properties is the most challenging. Once art comes as investment buyers mostly go for the established artists rather investing on the emerging ones. The demarcation of established and yet to be established artists is controlled by lot of complicated factors, among one is academic/expertise skill and soft/people skill ratio.
5) When people show interest towards buying your art, do you ever analyze what will be the future of your art in their hands or you try to understand conversing with them what actually provoked them to buy the art?
Well, I do not analyze at all, totally trust on the collector's love for my work, I do not question their intentions 😀
Art Expo Malaysia, 2014
Love to share the wall I put up paintings, I did a live sketch connecting them.
6) what as per you are the social responsibilities of an artist?
Art can speak Heart, through a piece of art sometimes you can convey the whole content of a novel….so any message if one wants to convey for society, or for a mass I believe Art in all forms is the strongest!
For social responsibility I will tell artists should give back to society a bit, as our surroundings are our inspiration.
With Auradha Koirara in exhibition Redress, A fund raising exhibition through Art, for Maiti Nepal.
Maiti Nepal is a non-profit organisation in Nepal dedicated to helping victims of sex trafficking. It operates a rehabilitation home in Kathmandu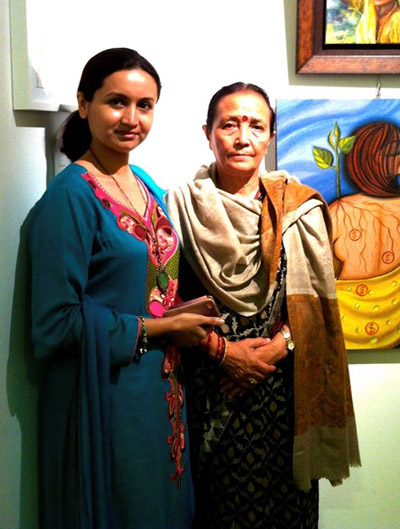 7) Being a community art supporter, what are the new developments in your thinking and how you can think you can help through art to raise awareness? What are the upcoming events in which you are participating? 
Ok, currently my full concentration is on my ongoing Solo exhibition, which is also working as raising awareness through Art.
More awareness effectively can be raised through working with more groups. Already a lot of groups are working for various causes through art; I am working with few. Like to share a very interesting one; I am helping my friend Nicola Anthony in her project, Ouroboros: Art connecting Singaporeans across oceans.
http://singapore.coconuts.co/2015/05/05/british-artist-use-10000-ping-pong-balls-sea-games-light-sculpture
My main areas to support causes will focus on two parts again; it will be Nurture and Nature. Sharing till date my favourite one:
 http://www.clay-street.com/thefloweringofachild/index.shtml
 I have another event with National Library Singapore, but dates are not fixed yet, then October going to Kuala Lumpur to participate in Art Expo Malaysia, an International Art fair.
It is me only :-D. I do take advise from my teachers, collectors, artist friends but the final decision to amend me is totally mine, else how I can be an artist? 😀
9) We will not say that life of an artist in any form is complicated but yes, it is not easy. How is your life and who support you to take your passion for art to a new level?
 Ha ha yes it is not only 'not easy' its 'notoriously not easy' life, and there lies the challenge and that is the addiction!
I must admit I fully enjoy this roller coaster ride 😀 Without the whirlpool of emotional outburst on any surface I feel incomplete.
Regarding supports, my instinct supports me. And my sense of ego also supports me, but this ego is for my good not harmful for others 😀
Fortunately I am a popular art teacher so to support my art related costs I can afford to support myself. I didn't start working on large scale till I earned my own monetary freedom. That was a milestone.
Unbound: A Fundraising Art Exhibition for Protsahan,  a social enterprise that uses creative education and art innovation to empower street children & young adolescent girls.


Date-8th and 9th March, 2014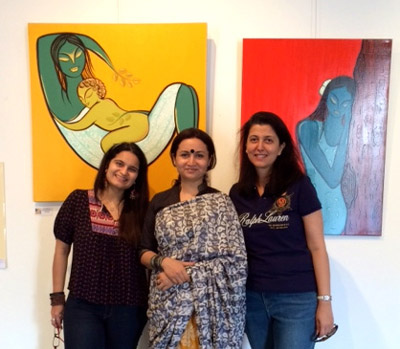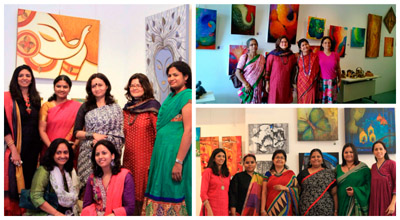 10) How spirituality comes in your art, though being working on emotional and social cause?
 Well, my Art is about my journey of awakening through Art. The practice of meditation helped me to find a spiritual solution for every personal, emotional or social issue, which reflects in my paintings. I was not able to find any spiritual solution during the Nirvaya case period, I was very disturbed like others in that period, this phase my art changed a lot, from vibrant colours, I shifted to very dull brown and green. I had termed that series as Hibernation ( Exhibited in AAF, Hong Kong, 2013) .
Painting title:Hibernation,( colour brown) 
Acrylic, ink and textured material on canvas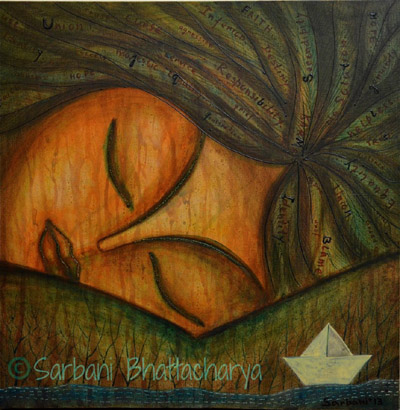 Painting title: Blooming Instinct,
Acrylic, ink and textured material on canvas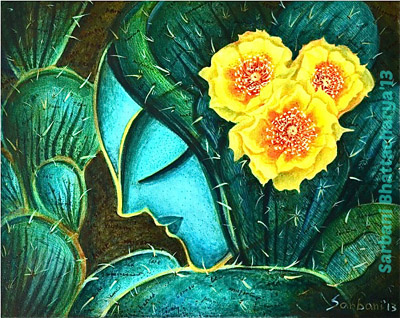 This continued till I was able to produce "Blooming Instinct" series (Exhibited in Power Symbol, Gnani Arts, Singapore, 2013). In Bloomimg Instict I found an answer as One can bloom if has an indomitable blooming instinct, despite of any odds'. The blooming journey thus continued and culminated to Ascetic God of life seris (Exhibited in Art Expo Malaysia, 2014) and Nurture Nature (Exhibiting now in Utterly Art Singapore, 30th April-17th May, 2015)
1.Fearless poster 
2.My work for "The Flowering of a Child" is at the Home page of  Strait Times's( Singapore popular newspaper) Its a project of Clay Street and Child @Street-11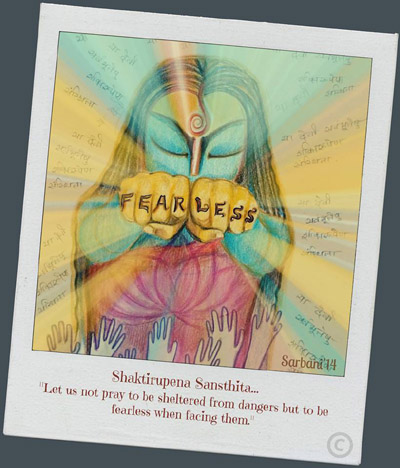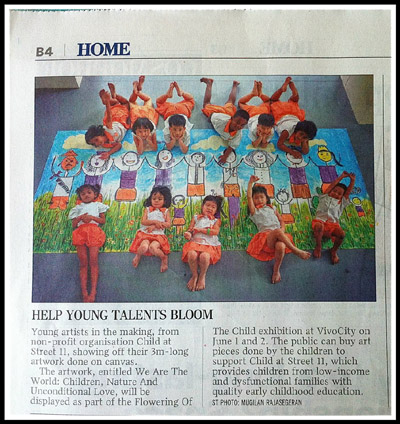 11) What are your plans in this year?
 Well again, as my Solo is going on, my plans will depend more on the outcome of it….so at this state I am feeling like telling 'I will Meditate and Time will plan for me'.
But, practically as an Artist I want to explore more on 3D environmental art, that urge is building up, I can feel it.
12) Describe Sarbani The Artist in one line?
 This branding is a binding 😀
Actually I would say again my favourite quote of Emile Zola
"I am an artist… I am here to live out loud." But let me tell
Sarbani The Artist: "Nature's song and Nurture's singing".
Nurture Nature
Second Solo Exhibition of Sarbani Bhattacharya
Exhibition Period: 30th April to

17th May,2015

 
Venue: Utterly Art, 
20B Mosque Street, Singapore-059500. 
Opening was on 30th April,

Thursday

at

7pm
Gallery Opening hrs

2pm – 8pm

,

Monday

to

Saturday

, 
Sunday

-12pm-5:30pm
Please call Keng Hock at 94872006
Nurture Nature

 is about perceiving the joyous celebration of Nature in every living being and praying for the nurturing of their spiritual bond with the Cosmic World.
Pic-1 n Pic-2 Art-lovers and guests on the opening night.
Picture-3: Sarbani Bhattacharya and Sonal Kapoor with Cosmic Cycle.
For Nurture Charity part: 50% of the proceeds from the sale of "Cosmic Cycle" will go to Protsahan India Foundation, a social enterprise that uses creative education and art innovation to empower street children & young adolescent girls. 
http://www.protsahan.co.in
Picture-4: Sarbani Bhattacharya with Dr Shawn Lum,( President of Nature Society Singapore) and Dr Hua Chew Ho of Nature Society Singapore in front of 'In Harmony with Nature-I"
For Nature Charity part: 50% proceeds from the sale of "In Harmony with Nature-I" will go to Nature Society of Singapore, to work on saving Nature!  
http://www.nss.org.sg